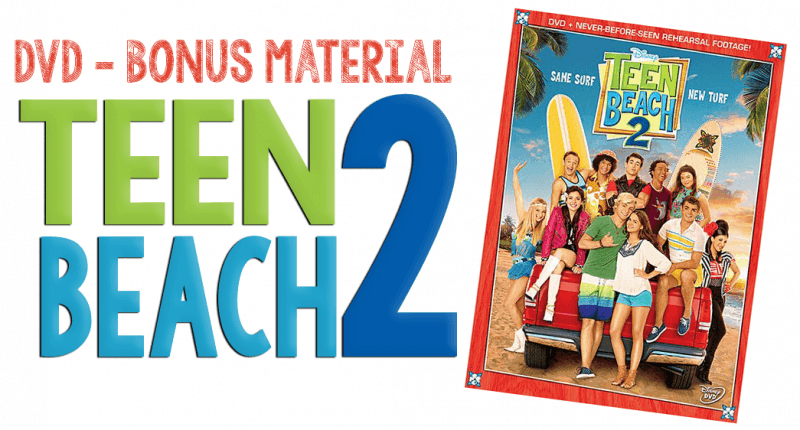 Did you watch Teen Beach 2 on Disney Channel yet?
Mack and Brady are back and it doesn't take long for them to reunite with their 1962 Wet Side Story friends Lela, Tanner, and the rest of the gang as they stumble into the modern world. Singing ensues, love stories are told, and there's an overall theme of girl-power which changes the fate of everyone involved.
RELATED: Interview with Chrissie Fit & Jordan Fisher, CheeChee and Seacat from Disney Channel's Teen Beach Movie and Teen Beach 2
Teen Beach 2 premiered on Disney Channel and is currently in syndication (as of this post date) as well as streaming on the Disney Channel app – BUT you will not see the behind the scenes footage anywhere except the dvd.
https://www.youtube.com/watch?v=dlo9E_RYiBg&feature=youtu.be
DVD includes bonus features:
Exclusive: Cast Dance Rehearsals — Join Ross Lynch, Maia Mitchell And The Rest Of The Cast As They Learn Some Of The Crazy Dance Steps For The Movie
Commentary from the cast
More behind the scenes excitement
RELATED: Recipes, decor, and more ideas for a Teech Beach 2 Party
Check out my review of Teen Beach 2 when I went to visit The Disney Channel in Los Angeles earlier this month where I checked out bonus material as well. The DVD bonus features are not to miss.