Teen Beach 2 air Friday June 26th at 8pm on Disney Channel!
If I mustered up every bit of talent I couple possibly amass and tried to stick it all in a box, it would (barely) fill a pinkie-sized little package belonging to Teen Beach 2's Chrissie Fit and Jordan Fisher. These two are insanely gifted and immensely energetic. It's quite obvious these two are *ahem* half my age… I remember when I was in my early 20's and didn't need coffee to get me going, but I digress…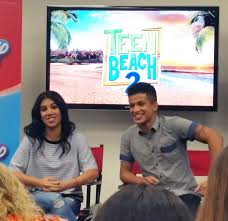 I got a chance to meet these two skillful triple threats last week in anticipation of the upcoming Disney Channel's Teen Beach 2, the long-awaited sequel to the runaway hit Teen Beach Movie. And by triple threats – wow. Chrissie and Jordan have a number together in Teen Beach 2 that shows just how much chemistry and expertise they have in the world of singing dancing, and acting.
https://www.youtube.com/watch?v=utqGRGmz7B4
Actually, Chrissie is not a trained dancer (which had me shocked): "I am Cuban. So I grew up in a household where we were dancing salsa & merengue", she said with a laugh, "I was a singer and then I became an actress so I don't really have a dance background. I think I learned the most doing Teen Beach and I appreciate it so much. I'm in awe of these guys".
Jordan started singing, dancing, and acting at the age of 10 when he joined his school's drama club: "I had a crush on a girl in the 5th grade who joined the Drama Club. I didn't fall in love with the girl, but fell in love with the art." Chrissie had a similar story – she pitched the idea of being a "bad girl" in her school play when she was in 5th grade to get the attention of a boy.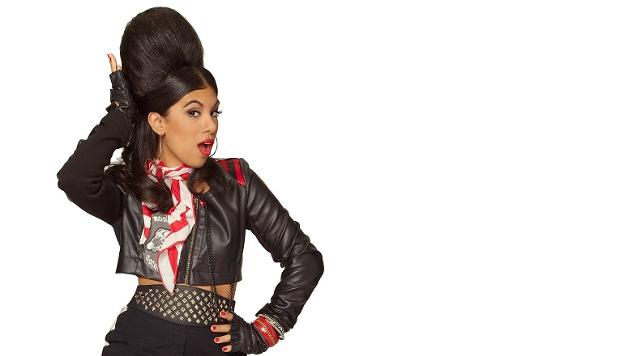 Teen Beach 2 is set in a fictional coastal beach town but was filmed in Puerto Rico. There was no shortage of fun and becoming good friends during the two month long shoot.
"We were always just having a good time with each other", says Chrissie. "There were many times where I just showed a video about the sand that was in my shoe because we were dancing on the sand and it was like never ending." She motioned like she was pouring sand out of her shoe "Like it would just keep coming out. And these guys would always like sing. There's one video that I have of Jordan singing Stay With Me by Sam Smith and Ross (Lynch, who plays Brady) playing the guitar, and it was just beautiful, and so gorgeous."
Another big part of Teen Beach 2 aside from it taking place on the beach (natch) were the costumes. Namely Chrissie's 'CheeChee Wig': ""It was hard to move around with dancing, and keep it place. More so than the first time when it was all my actual hair and because I was doing my BUBBA-BUBBA (she bobs her head around) and feeling that thing go BOOOM-BOOM it was kind of distracting a little bit. But it was definitely like a lot better for my hair, all that teasing and stuff."
What advice do Jordan and Chrissie have for aspiring singers, dancers, and actors? Persistence.
There are a lot of people that come out to, to L.A. and move to New York with the idea of becoming famous. And typically those people don't find success in their field because their passion is driven from a very different place, they do what they do because they love it that tend to find success. Understand why you're doing it.

Um secondly, it's cliché and you're gonna' hear it at times, but just don't take no for an answer. One of my favorite song writers of all time is Diane Warren. Her discography's ridiculous. She's written with everybody from Cher to Beyoncé. She wrote If I Can turn Back Time. She writes songs every day. She does what she does because she loves it.

That hustle started when she was 17. She worked for a publishing company that would deliver packages of songs that producers and writers would put together. And she would deliver her songs. That hustle started then and it never stopped. The reason being is because she loved doing what she did. She couldn't imagine a life where she wasn't writing songs and making music.

That kind of world it's not like a sprint, it's a marathon. Have patience, educate yourself.
Teen Beach 2 air Friday June 26th at 8pm on Disney Channel!