The video of all videos dropped on Friday. Ariana Grande's highly touted (and much anticipated) video for her post-Pete-Davidson breakup Thank U, Next ended the day with over 30 million views on Youtube and is quickly becoming one of the most popular videos of 2018.
So naturally I needed to analyse the video to find all of the hidden little things in it. Bring on the Easter Eggs….
First, watch the video:
Opening Scenes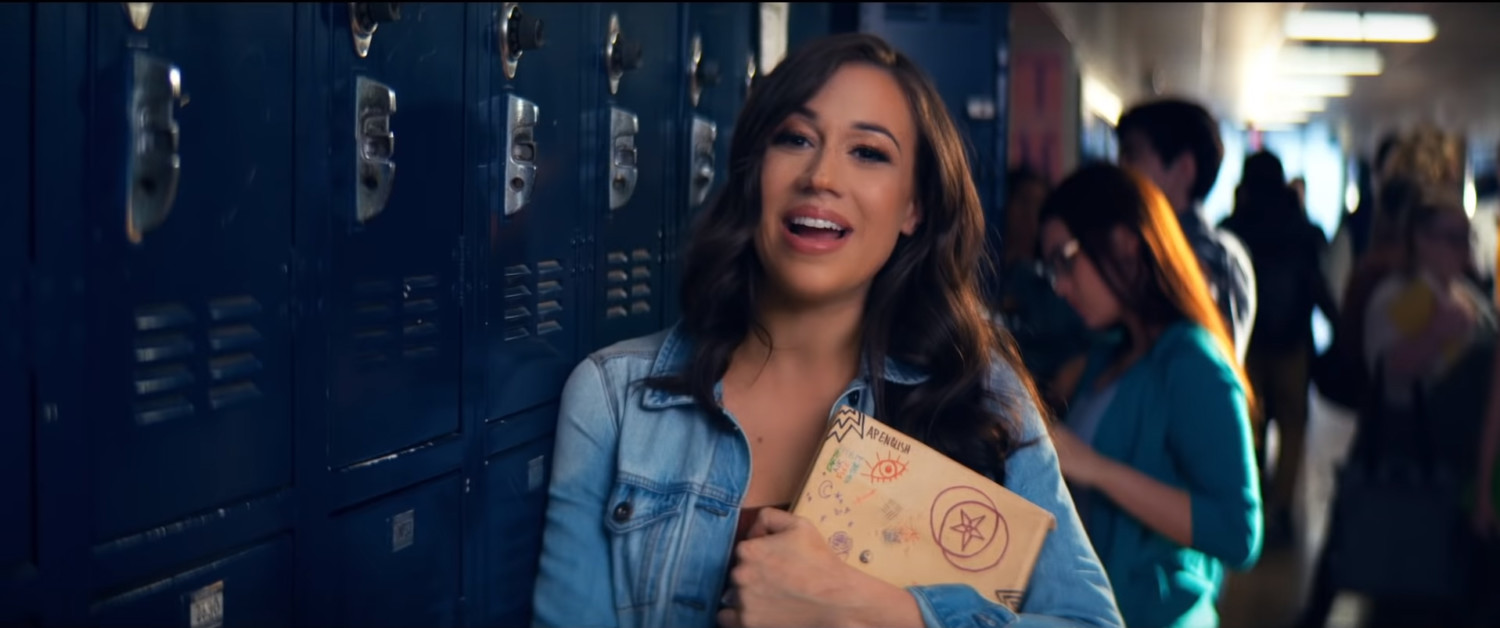 Colleen Ballinger (Miranda Sings) in her second cameo this week as a pregnant high schooler
The real Aaron Samuels (without his hair pushed back). The line is a reference to a scene in Mean Girls (obvs).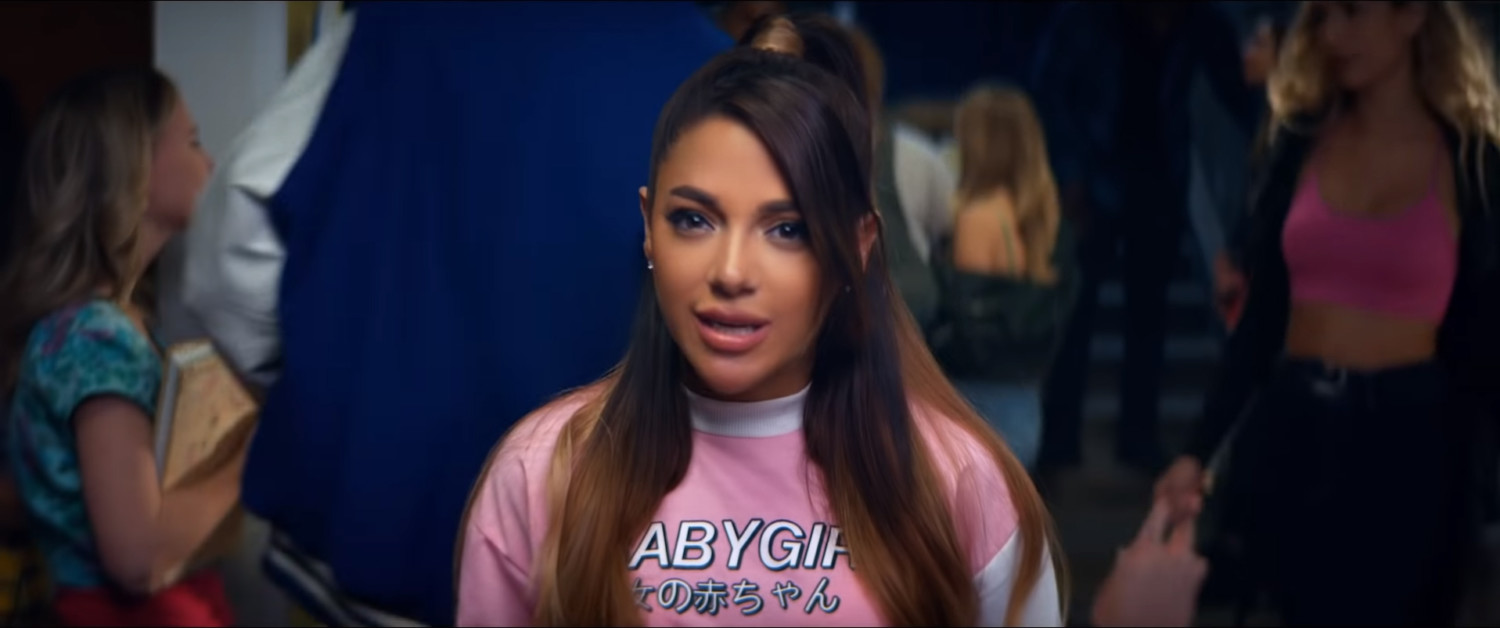 Gabi DiMartino who famously lives like Ariana on Youtube has her own cameo. It was awesome…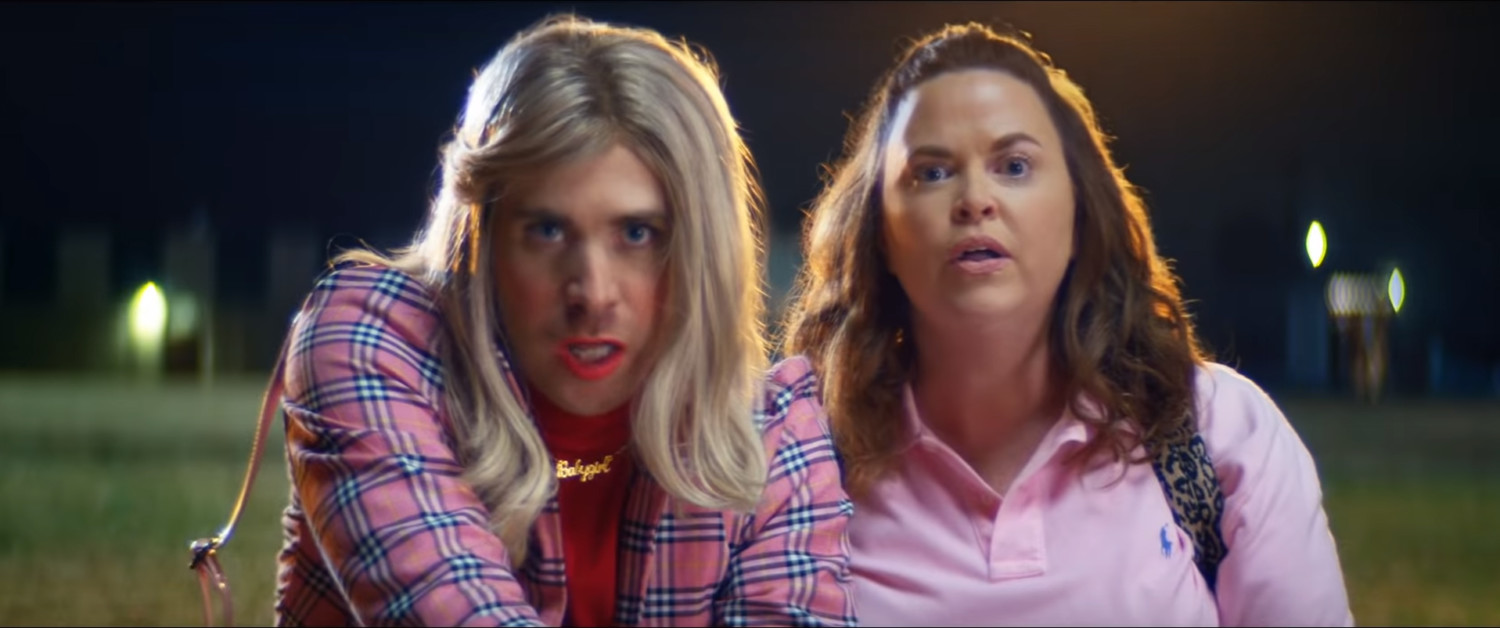 Stefanie Drummond reprising her role as Bethany Byrd from Mean Girls poking fun at Grande's recent engagement. With Stefanie is Ariana's backup dancer Scott Nicholson. Stefanie also wears Cady Heron's pink polo shirt.
Scott wears a "babygirl" necklace and Gabi wears a "Babygirl" hoodie.
Mean Girls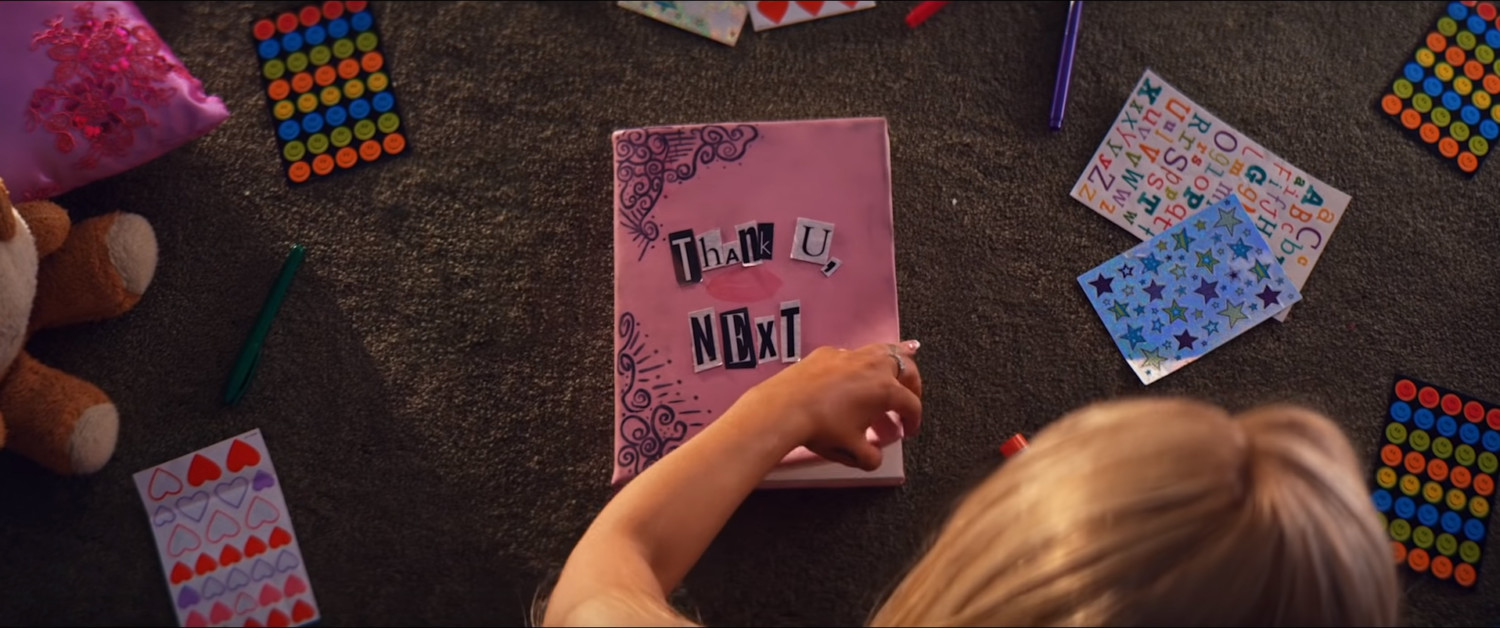 Burn Book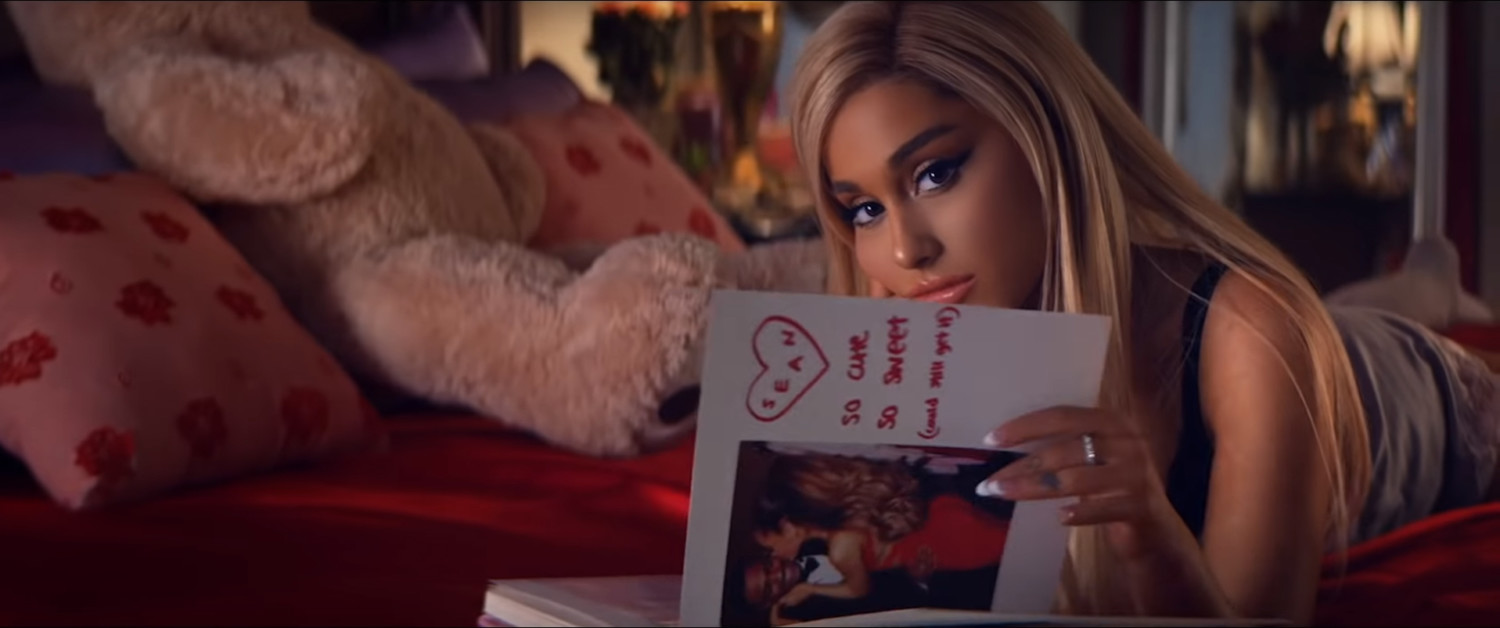 Sean's page says "So cute, so sweet (could still get it).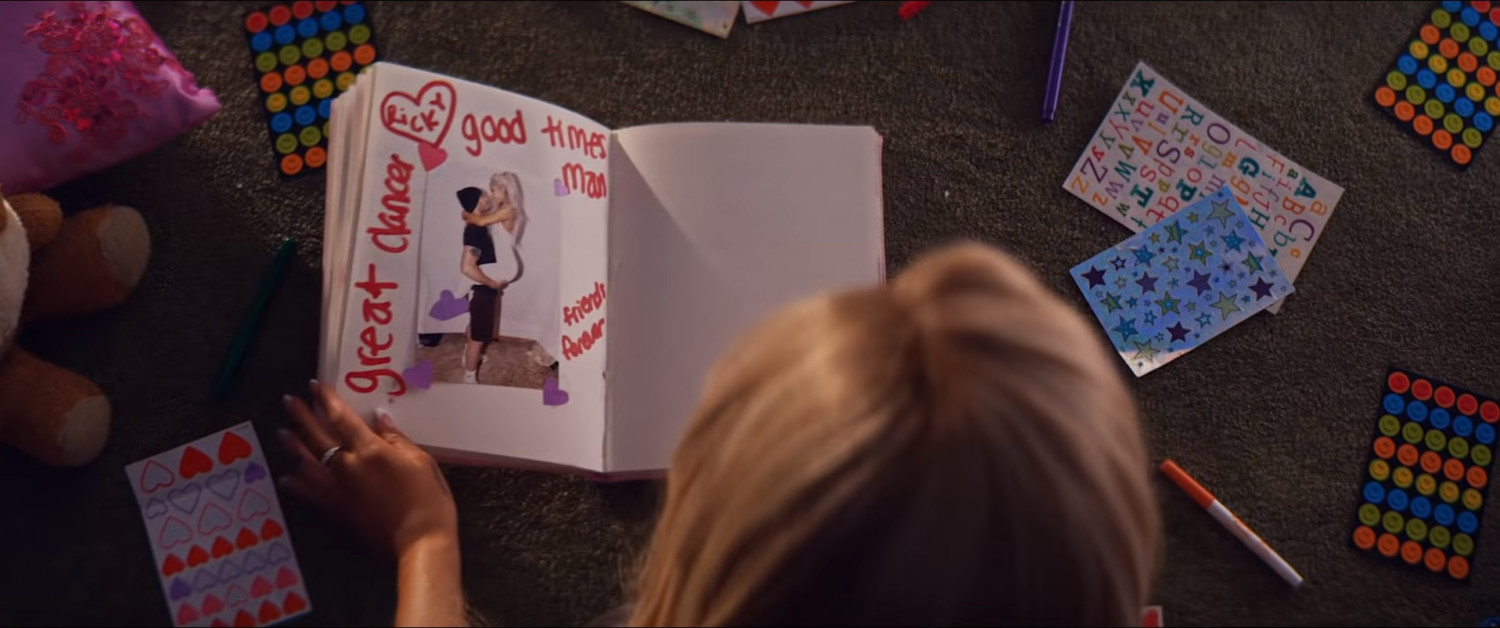 Ricky' page: "Great Dancer, Good times man, friends 4ever"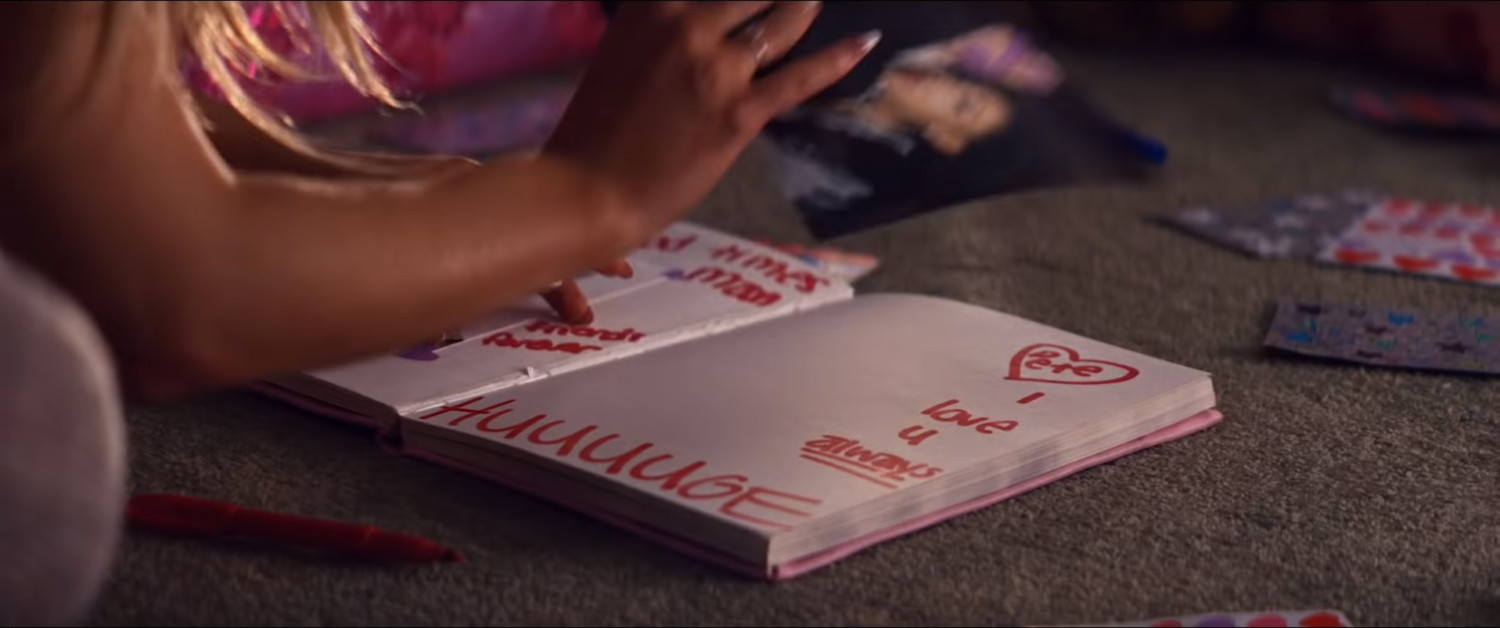 Pete's page: "I love you always" "HUUUUGE", and the she writes "sorry I dipped"
The friends: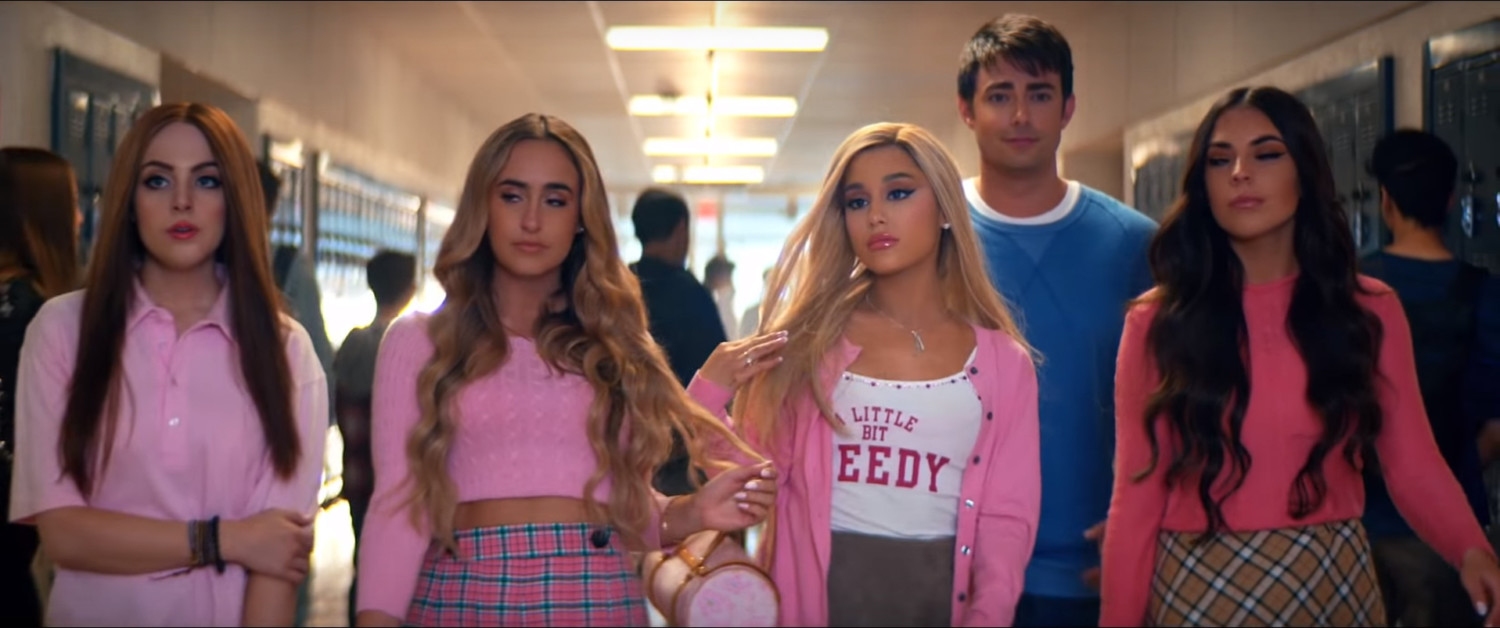 Elizabeth Gillies – Grande's former costar from their series Victorious (Nickelodeon)
Alexa Luria – Grande's best friend
Courtney Chipolone – Grande's other best friend. In one scene she grabs her chest referring to Karen's ability to tell the weather in Mean Girls.
Ariana wears a tee that says " A little bit needy", possibly referring to past rumors of always having a boyfriend.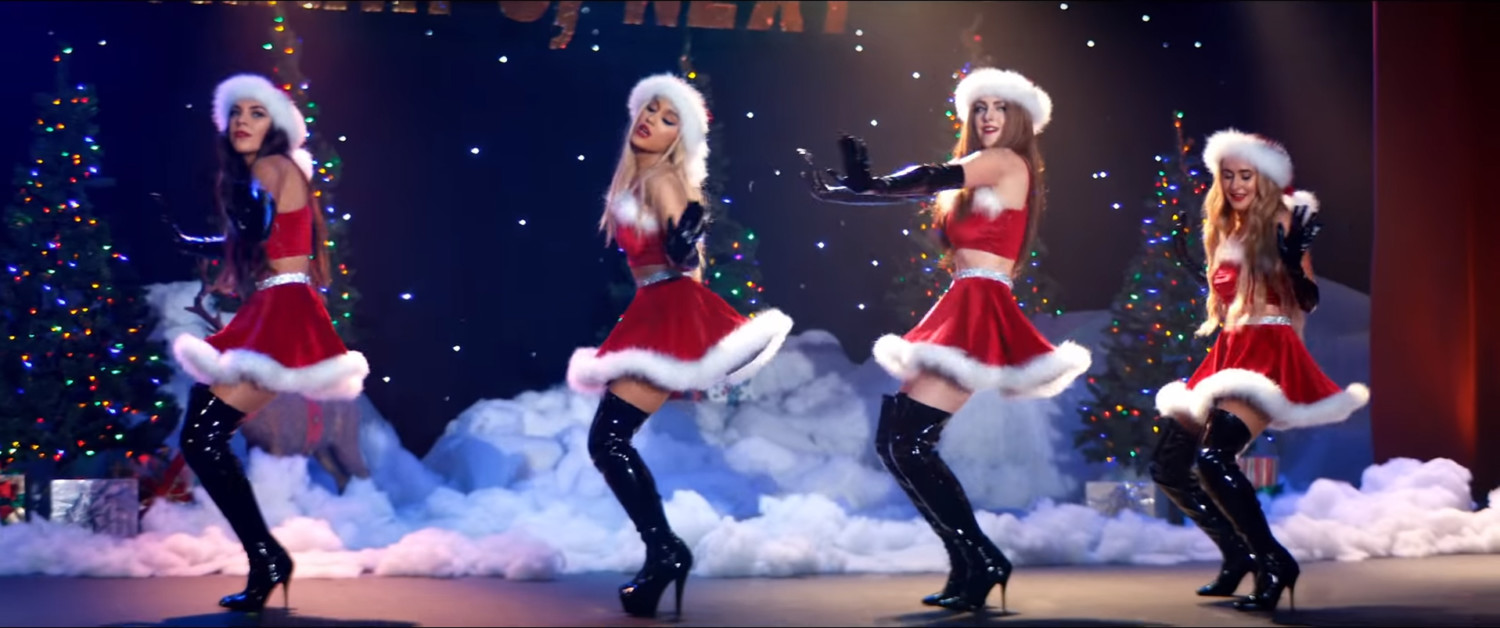 Jingle Bell Rock – Kris Jenner, the mom of all momagers, directing the four girls on stage. Ariana is also the only one wearing platform boots (she's only 5 feet tall).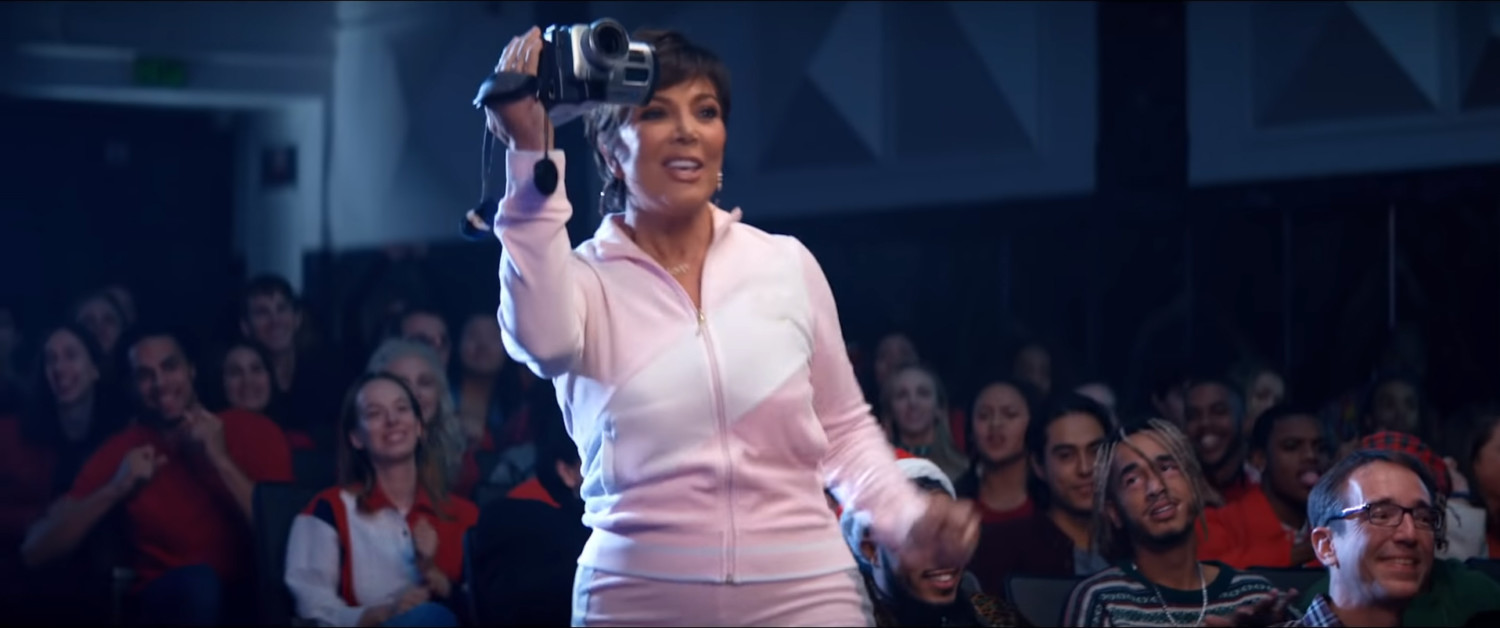 Bring it On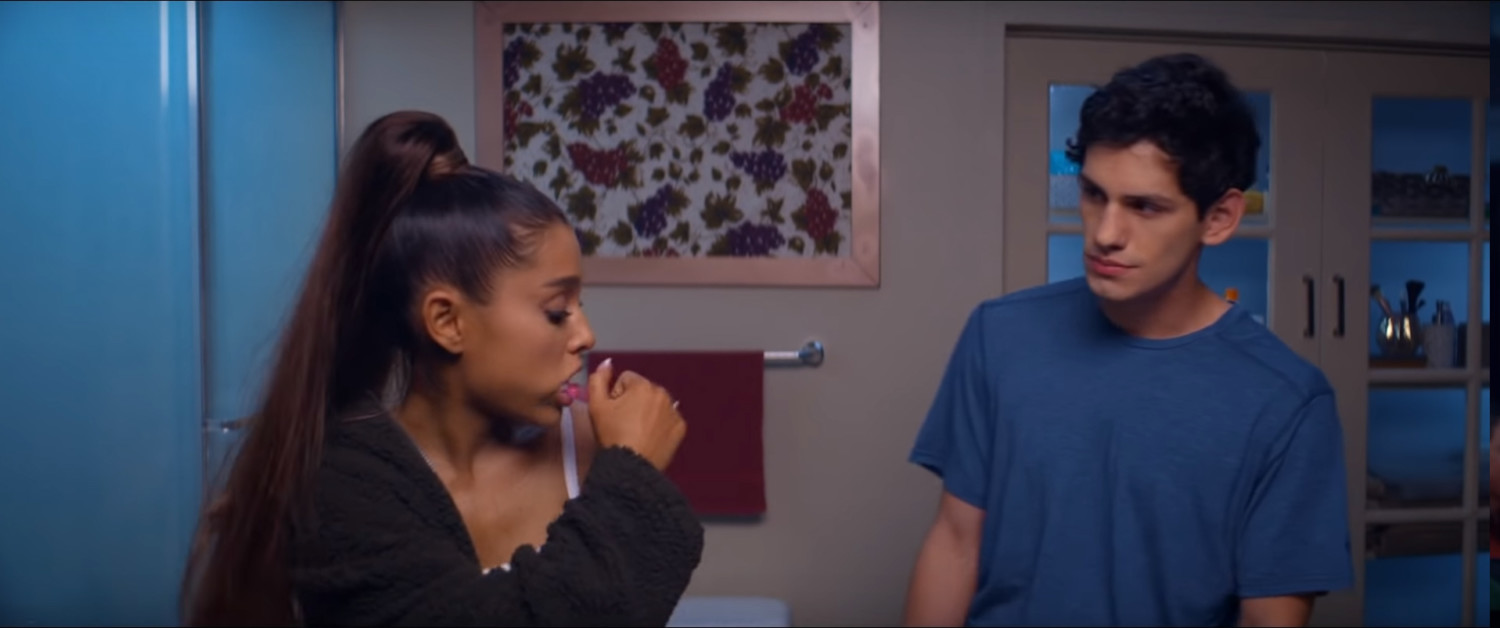 Matt Bennett (her other Victorious costar) plays her love interest.
Colleen Ballinger is back again as a pregnant cheerleader, a possible reference to another teen film "Sugar and Spice".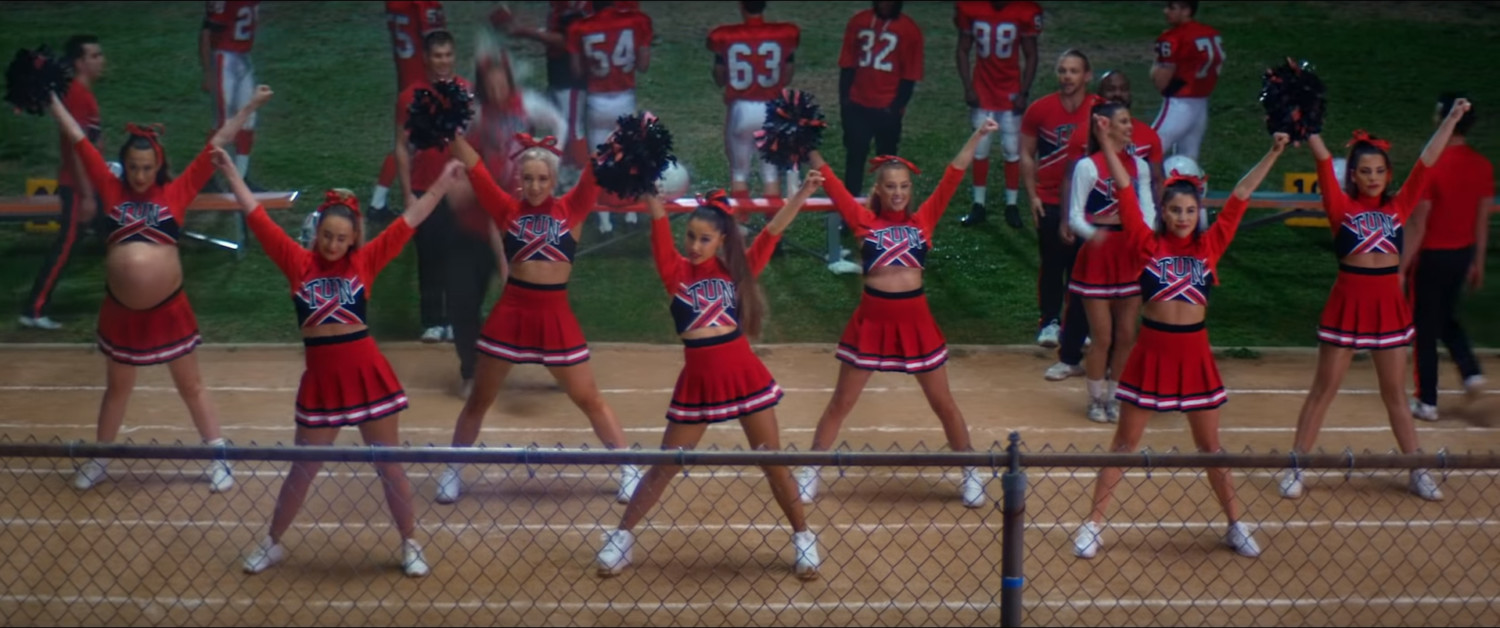 Her two BFF's are back as cheerleaders too.
Uniforms say "TUN" (thank u next) instead of Toros.
13 Going on 30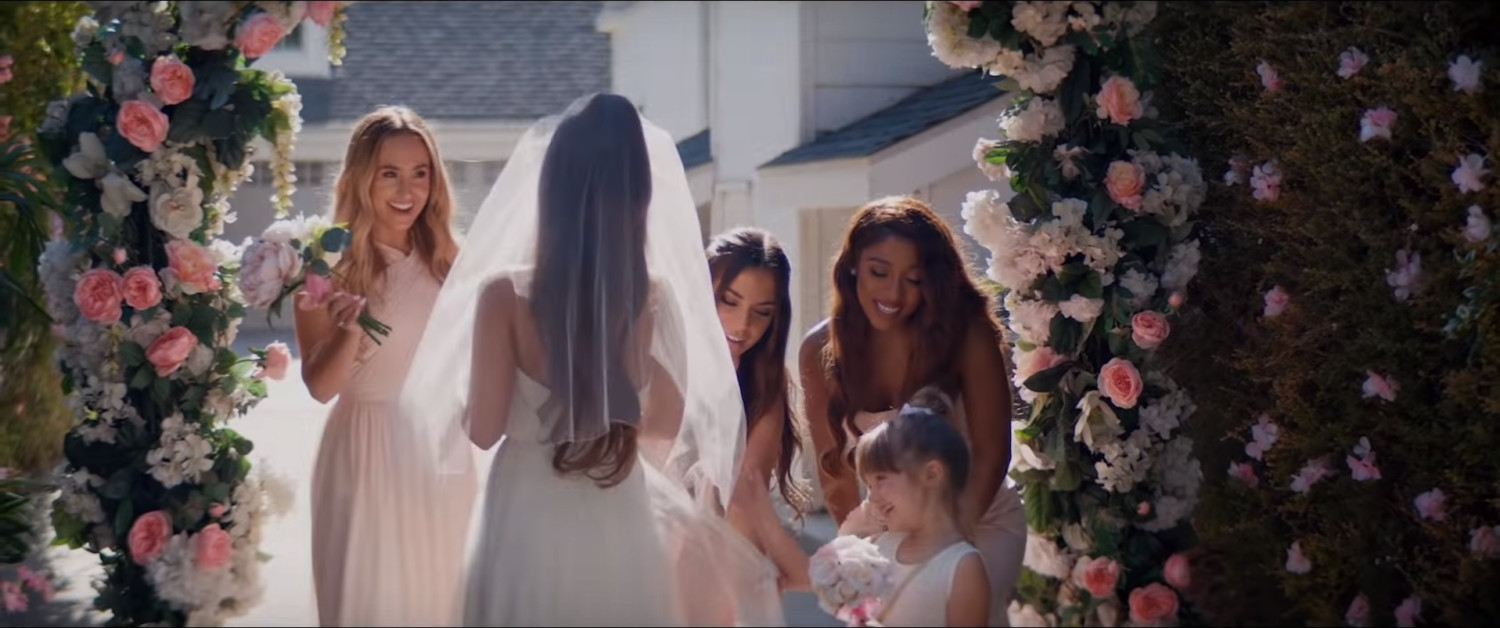 BFF's are back as the bridal party. I am betting they would have been real bridesmaids had Ariana gotten married.
The bride is never shown but suspiciously looks like Ariana from behind.
The dollhouse has paper dolls with Ariana's face (Jennifer Garner's character Jenna also had a dollhouse with her face on the paper dolls).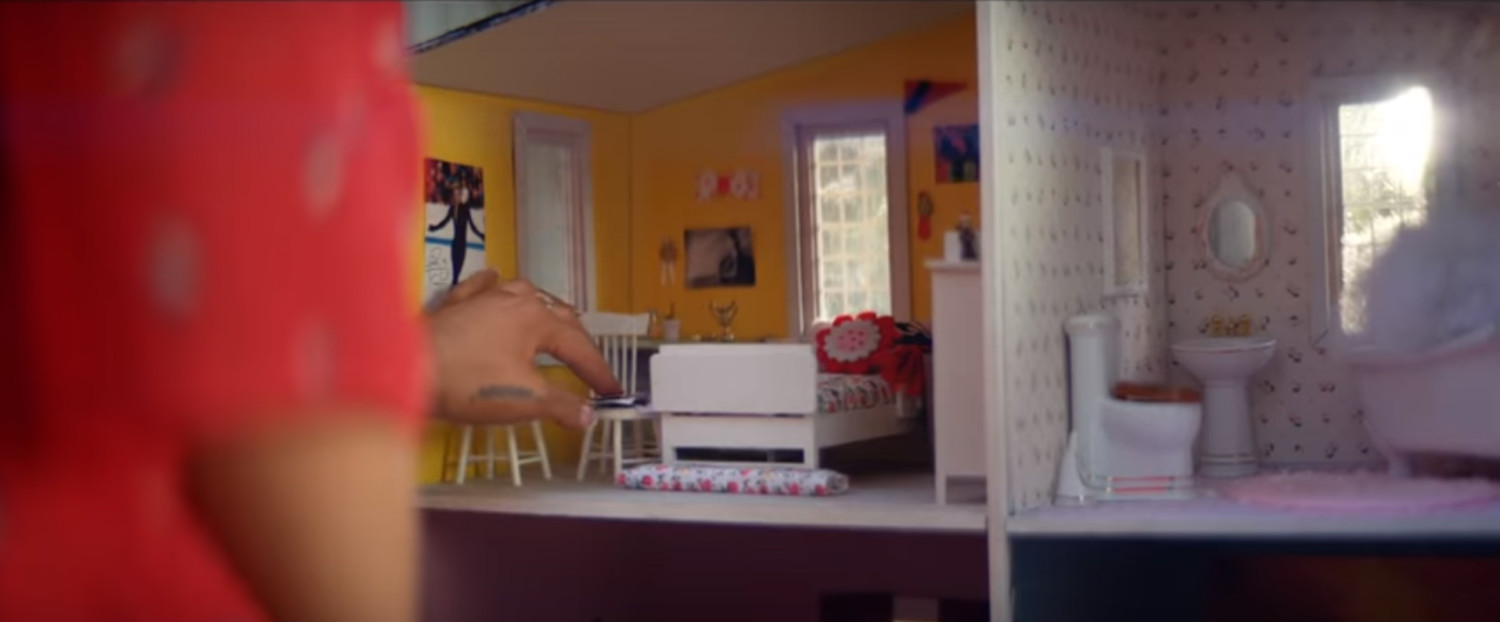 The bottom left room is a recreation of her room from the Mean Girls segment, bottom right is a recreation of the Legally Blonde bedroom. The top left is the room from the Bring It On segment (note the red/black pennant flag above the window). Also – that ice skater poster? Ariana's real life brother Frankie!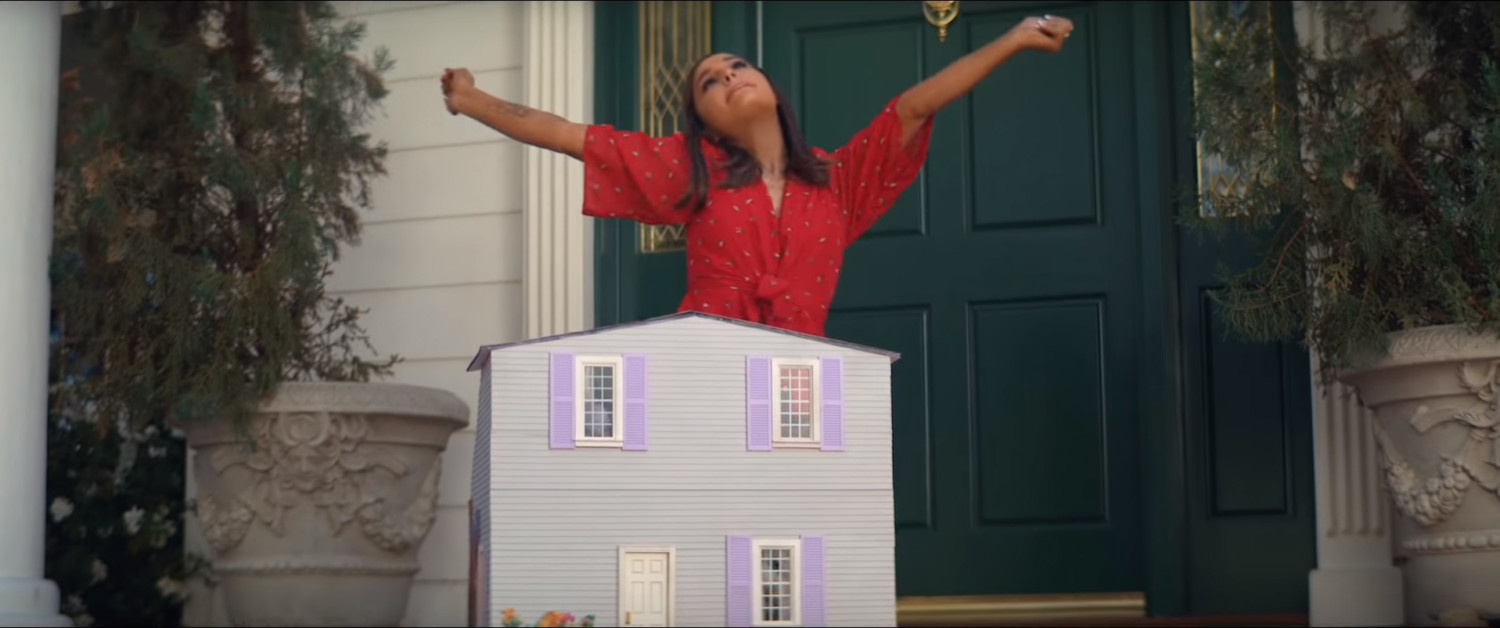 Ariana's outfit mimic's Jenna's from the original scene.
Sparkles above the house mimic the sparkles when Jenna turned 30.
The dance is a reference to the Thriller dance at Jenna's party.
Legally Blonde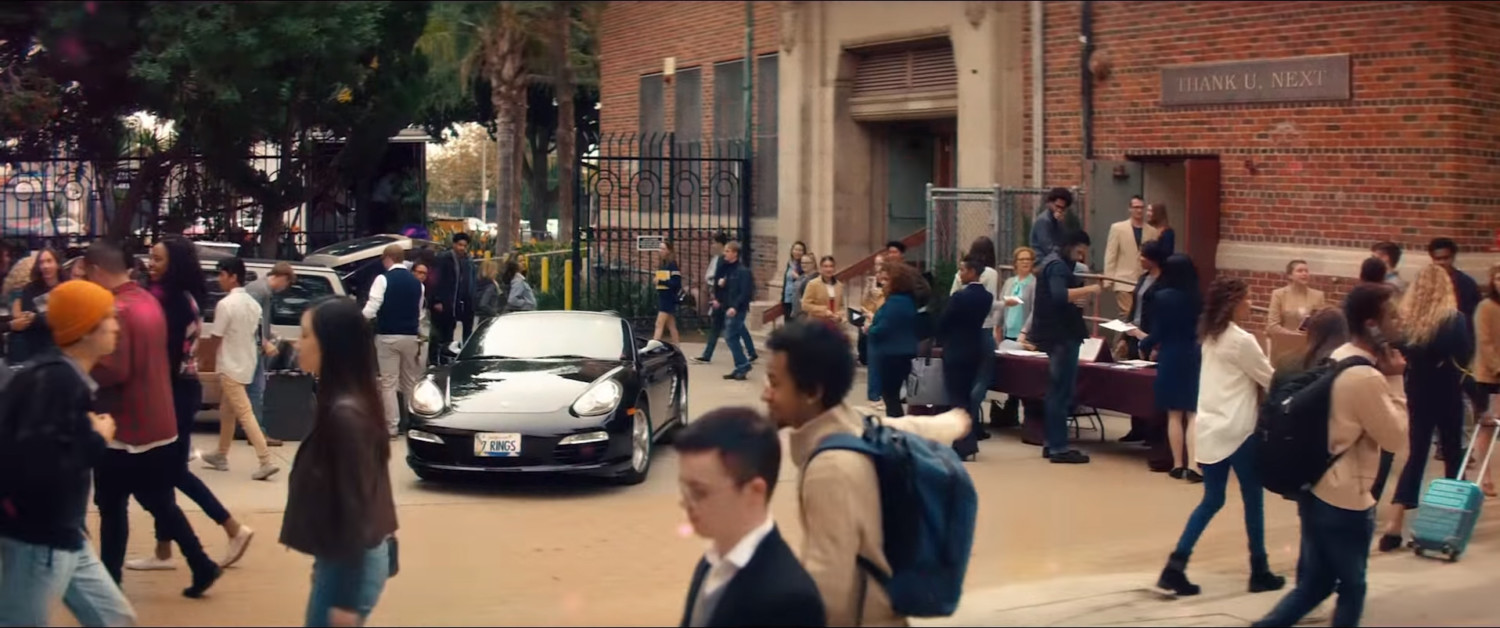 "Thank U Next" plaque on the campus building. There are also collegiate posters in her room that say Thank U Next.
Ariana's license plate says "7 Rings", possibly about the next single? But not sure!
Bruiser lookalike is Ariana's dog Toulouse who is a Chihuahua/Beagle mix. Ariana has 9 dogs total, all rescued from shelters.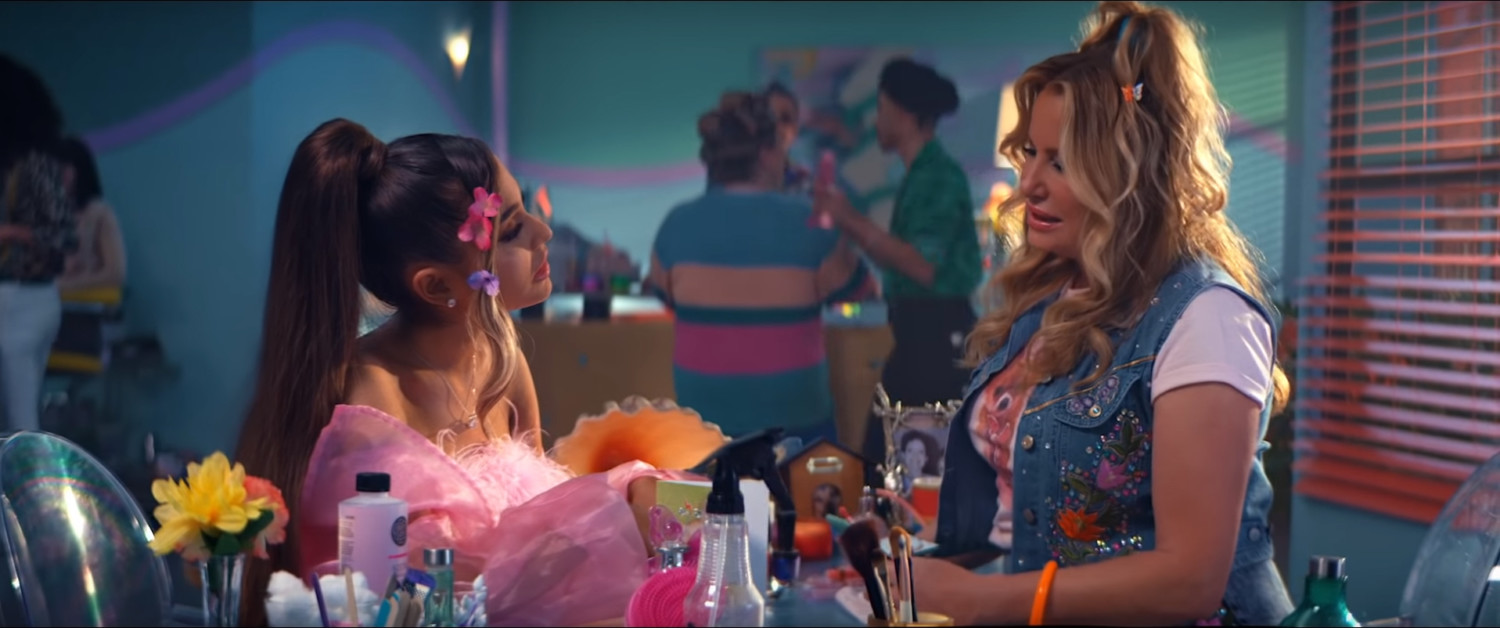 Jennifer Coolidge back and in her nail salon.
Ariana wears pink and purple flowers in here hair like Elle Woods had.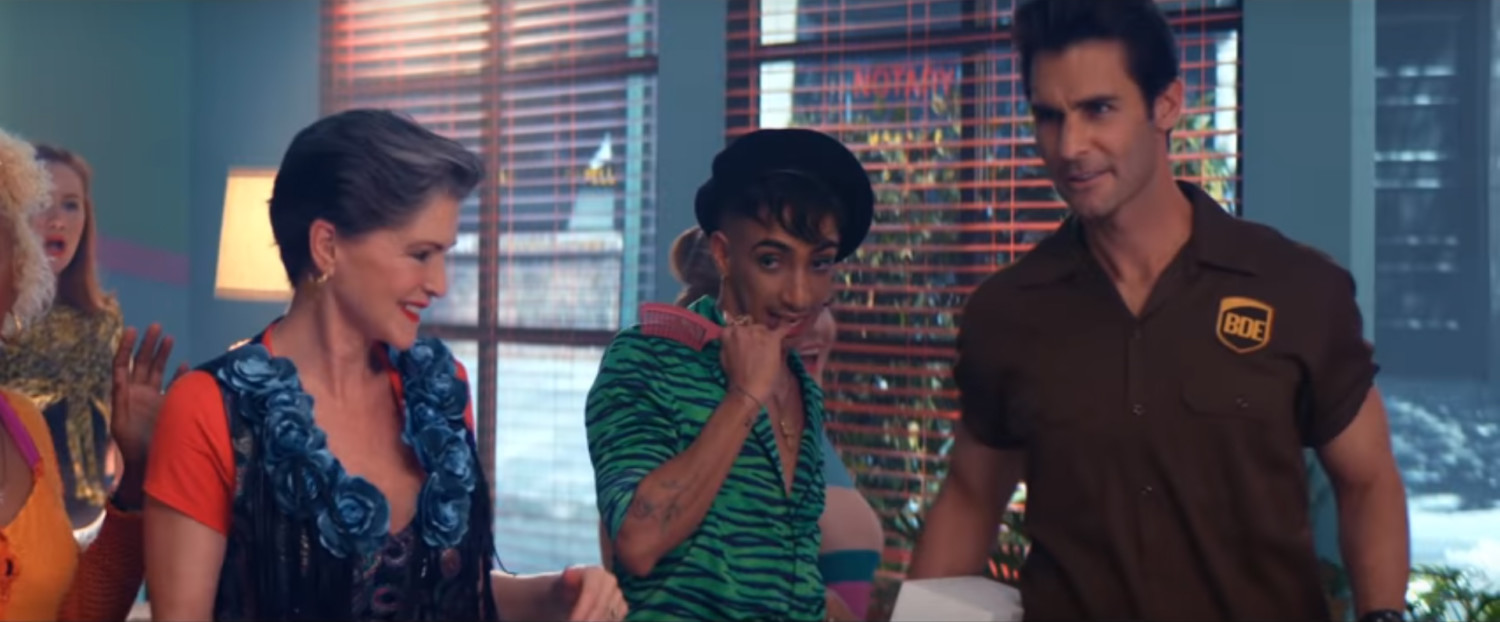 The delivery driver's patch says "BDE" instead of "UPS", which stands for "big d*** energy". Probably referring to Pete Davidson since she wrote "Huuuuge" in the burn book. Also there had been tweet references to him referring to BDE.
WHEW.. that's a lot of references… any I missed?