**warning – there may be some spoilers**
Ant-Man is in theaters July 17th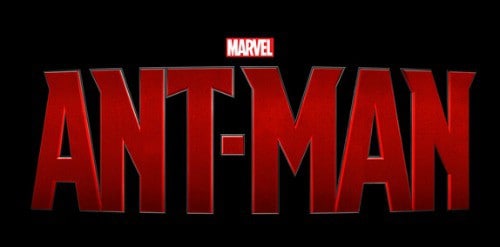 Paul Russ burst into the room like he was on a primetime talk show. He and Evangeline Lilly beamed as we applauded their performances in the upcoming Marvel's Ant-Man (in theaters July 17th).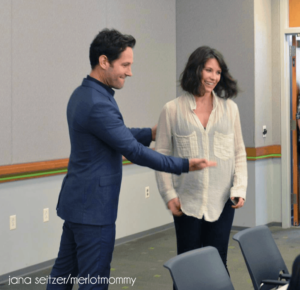 "Wow!" he exclaimed, beaming as he lead pregnant Evangeline to her chair (ever the gentleman). He continued to smiled at us, obviously taken aback by the round of clapping coming from the long conference table we were all sat at.
"I feel like we should have a big Thanksgiving feast," joked Evangeline, looking at our smiling faces down either side of the table. "Or the world's largest poker game" added Paul. Immediately I could tell that these two were close and this was going to be a fun interview. They have a chemistry that shows on the big screen and in real life.
So how was it going from comedic roles to action for Paul?
"I always felt that Ant-Man was going to be funny. I mean, all their films have funny moments but they're not necessarily straight up comedies. And, with this one I knew that the action was going to be really good. I knew the visuals were going to be crazy good. I also knew that there was this relationship that Scott Lang (his character) had with his daughter and that there was the relationship that Hank Pym (Michael Douglas) has with his daughter that was going to be really the thrust of the film. And that's relatable and empathetic and something that you can hang the whole thing on. And that's pretty dramatic."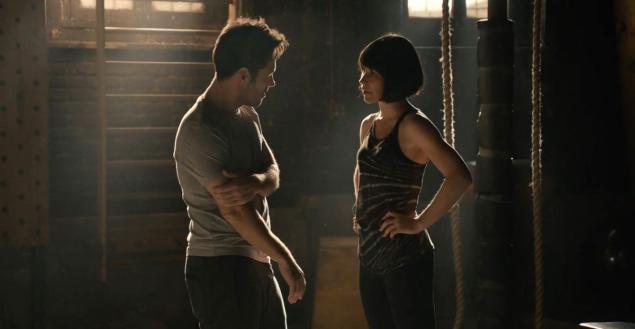 "With that said," added Evangeline with a laugh, "he did not stop improving and cracking jokes" – She turns to him – "there wasn't one scene no matter how serious where you didn't make me break character. And I kept asking him 'what am I supposed to do when you do that? Do I riff with you? Do I shut up and let you do your thing?' I am so out of my element because you are so comfortable in that comedic space".
Evangeline turns back to us, "and he being the sweetest man alive as we all know…" Paul blushes… "I'm preaching to the choir here, do you see those faces?" Evangeline says as she turns to Paul and feigns a girlish woo. She was right and Paul Rudd knew it.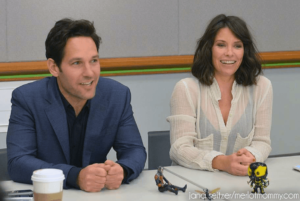 "I really think that we left that kind of thing to Michael Douglas," Paul adds, "just like such a quick mind and so funny and fun to watch in those scenes".
Added Evangeline – "Well then which made me even more insecure 'cause even Michael Douglas can riff and improv. I was the only person on set who wasn't improving."
"I think you are selling yourself short." It was Evangeline's turn to blush at this affirmation of her talent. "like 'ant' short?" she joked. You could tell that this duo had some natural chemistry. They played off each other like old friends.
When asked if they were instant friends -"Oh we fell in loooooove!" Evangeline joked.
"Yeah we got on right away," added Paul, "Absolutely".
Evangeline has some creative license when it came to developing her character Hope Van Dyne, the daughter of Dr. Hank Pym (the creator of the Ant-Man suit) and Janet Van Dyne, played by Hayley Atwell. In a previous interview Evangeline referred to her character as "being raised by two superheros", (although Janet dies when Hope is a child) and wanted to make sure she had a strong voice for the female audience. "I think that female strength has many more dimensions than that and I think that a lot of our strength comes from our women's vulnerability, our compassion, our maternal instincts, and I don't think that those things should ever be labeled as weaknesses," she acknowledged. That's one of the things that I always look to infuse these characters with is the sort of moments where you suddenly realize underneath that very hard facade, underneath what she's trying to project to the world is a little girl within all of us."
As we all know, Paul Rudd and Adam McKay were head screenwriters on Ant-Man, but that didn't mean that there was some creative confusion onset about what to name Ant-Man's favorite ant, the winged Anthony (or is it Antony?).
"I have a very personal relationship with Anthony, which was something that we put in the film. And I think even giving him the name Anthony kind came around later and I thought like oh, could it be Anton? It was even almost said early on when we were working on the script before we started shooting, like oh, like maybe if we give him a number? That was also early on, I was like well do we go with Antony, wait is it Antony? Anthony? Antony seems to me to be the way to go because it's too late to go with Antoine."
Although Evangeline is no stranger to having her own action figures from her roles as Kate from Lost and Tauriel in The Hobbit Trilogy, this was the first time Paul Rudd really had a line of toys in his likeness.
"I uh, I have a Brian Fantana bobblehead", he teased, "but I was so excited to learn that there was going to be an Ant-Man Lego set. I think that was the thing that I was most excited about." He plays with the action figure that's sitting in front of him of his character. "I'm just sitting here looking like 'I've never seen this thing'," inspecting his likeness and the likeness of Antony.
Related: 5 Ant-Man Toys You Totally Need Right Now
Paul and Evangeline both agreed that they were in awe of working with the legendary Michael Douglas.
"It wasn't until I was working with him and witnessing the sort of magic that is the legend of Michael Douglas and what he brings to a film set and how he performs and what he does to the energy in the room when he performs that made me suddenly sit up and take notice and go, oh my God. I'd better bring it," she recalled – "I'm working with Michael Douglas and he's a living legend and, and that was an honor."
I never shook that feeling every single scene working with him," Paul added, "wow, this is– this is acting royalty".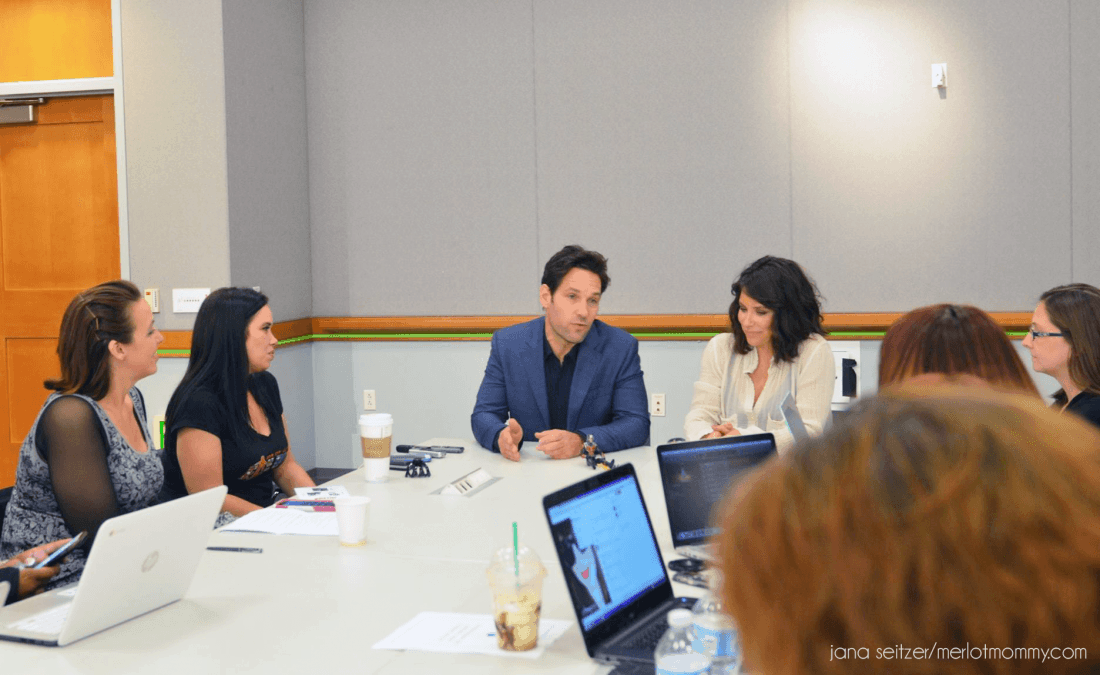 Paul had another memorable moment on set – the first time he put on the Ant-Man suit:
"But I remember the first time walking onto the set in the suit. And, the first time I ever put it on at a fitting was thrilling. And I felt like I was 10 years old. Every single time after that, it was whoa, I can't believe this is so cool. And then we shot the scene where I discovered the suit for the first time, I'd stand in the bathtub and I – that was the first time, putting it on when we were shooting it as well. And to go from the tent, because there was a tent that I went into and had a small pit crew helping me get into it, walk on set and the camera department and everyone stopped and saw Ant Man for the first time was totally exciting. And I'll always remember that."
So will we, Paul.
Ant-Man opens nationwide July 17th