Finding Dory is in theaters everywhere June 17th
When I was down in Monterey earlier this year I got to know a new character in the highly anticipated film Finding Dory. He's a cantankerous "septopus" (an octopus missing a leg) that helps Dory back into the ocean to find her parents after getting caught by a west coast aquarium (inspired by the Monterey Bay Aquarium), voiced by Ed O'Neill of Modern Family and Married… With Children. But how did Hank come to be? I sat down with Supervising Technical Director John Halstead, Character Art Director Jason Deamer, Supervising Animator Mike Stocker, Character Supervisor Jeremie Talbot, and Character Art Director Jason Deamer to learn more about this gruff, been-through-it-all sea creature.
Hank started out as a concept. They knew that they wanted an octopus, but the animators had never done octopus characters, so it was new waters for Disney/Pixar. How does an octopus move? Where would his mouth be?
It turns out that the animation team needed to get up close and personal with real octopus life in order to see how the tentacles moved and the overall "mood" of an octopus. They discovered that those tentacles move in a very fluid manner, kind of like a snake. The tentacles are not connected at the end of the body, but run up into the body, helping it float and move in the water.
The "suckers" on the underside of the tentacles feel sticky but aren't actually adhesive – they have fine muscles that expand and contract to help the octopus grasp objects prey, and assist in climbing. FUN FACT – an octopus cannot stick to itself or other octopus due to a chemical secreted from the skin.
The team then had to figure out how Hank would talk. They tried putting his mouth below his eyes (that didn't work and looked very odd), tried hiding his mouth altogether, then ultimately decided that Hank should show a sliver of a mouth when he talked, shown between his two front tentacles. Sitting still you can't see it, but his "lip" flutters when he does talk to give the idea of a mouth without actually sticking an unnatural mouth on him.
The skin of an octopus is very gelatinous – almost gooey, but still a solid (of course). That wobbly bobbly feel was important to the team to replicate, along with the colors and textures of the skin. Another very important aspect was the fact that octopus can essentially hide in plain sight by camouflaging themselves into their surroundings. Hank does this a lot in Finding Dory, but check out this AMAZING clip of an octopus doing it in the wild.

In the end, Hank was everything the team at Disney/Pixar wanted him to be – gruff but caring, true to an octopus in movement, and one of the best characters in Finding Dory.
P.S. Yes I totally got to play with an octopus at Monterey Bay Aquarium. It was crazy 😉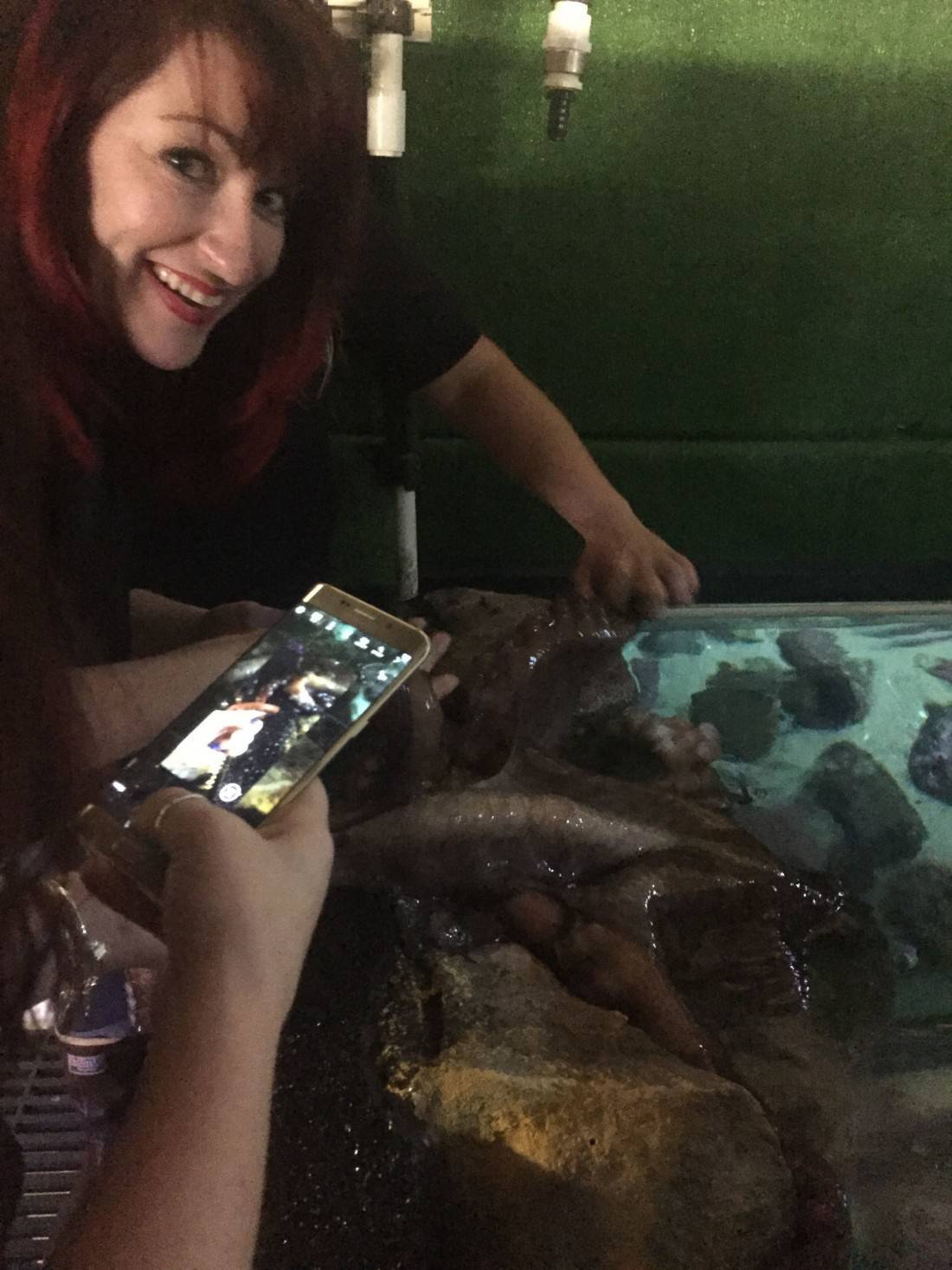 Finding Dory is in theaters everywhere June 17th