I'm not 100% sure Kathleen Kennedy sleeps. Well I KNOW she does, she has to. Despite flying into Los Angeles from San Francisco at 1am that morning she looked well rested and full of energy when I saw her at the Star Wars: The Force Awakens press event last week.
She just does SO much – president of Lucasfilm Pictures, producer (according to IMDB she has 11 major motion pictures in production, post-production, or announced), and she's a wife and mother. While you may not know her name, you certainly know her past work – Jurassic Park, Back to the Future, and Schindler's List to name a few. And now the top grossing picture of all time (probably) – The Force Awakens.
Having a strong female lead was very important to both Kennedy and director J.J. Abrams, as they are both parents of daughters themselves and talked about it from day one. "Rey is, I think, one of the most wonderful heroines to come along in movie history".
When the first Star Wars film came out (Episode IV: A New Hope came out in May 1977), Kennedy was in film school – "as you can imagine, it was just jaw-dropping, mind-blowing. Everybody in film school was talking about it. You realize that there was so much possible beyond anything you could imagine once we all saw that movie".
Kennedy went on – "I think that what has always been very obvious to me is that George (Lucas) created this from a very strong personal point of view. When he made movie A New Hope he was a young man coming out of film school and he was try- he had something to say. He didn't step into it and decide that he was going to make some huge blockbuster movie that we would be sitting here 30 years later talking about.
J.J. Abrams was at first a controversial choice to direct, but Kennedy was confident in him from the start. "I think [good directors] want to find something of themselves as a reason to tell the story. So they're looking for something that they want to infuse into the characters and the storytelling and the emotion of the piece. J.J. did the same thing with this movie".
"As a producer, I love recognizing that in somebody and then helping to find the resources to nurture that and guide that. And when somebody can't find that, then I get a little concerned because if somebody's just gonna go through the motions of making a movie without having that personal connection, then usually they're not gonna be able to excavate what's emotionally powerful in Star Wars, or in any movie for that matter".
In all Kathleen Kennedy does, she find balance – a feat for someone with the drive to achieve perfection and quality in everything she does. "I think, instinctively I know how to make those choices, at least that's what I've ended up doing is in the heat of the moment, I weigh what is the right thing to do. Obviously nine and a half out of the ten times it's the family".
Kennedy is married to another powerful producer – Frank Marshall, producer of Raiders of the Lost Ark, The Goonies, and most recently Jurassic World. "For a long time, before we had kids, we worked together. Then when we had kids we started leap-frogging and it was this unspoken agreement that depending on how things were shaping up we would shift responsibilities. And for the most part we just supported one another in that as often as we could, and then we'd make it work. And some things you just sacrifice as a consequence. But I, you know, I think that that's pretty normal in the course of, you know, trying to weigh how to handle a career in general and kids just make it more complicated".
As far as her day-to-day, she has it down pretty well to be able to spend as much time as possible with her family. "Every now and then if there's a complication somewhere I'll be on the phone late. But I've gotten to the point where I can keep that pretty much under control," she says, "I just had to lay down the law that when I get home we have dinner, when I get up in the morning I go in a little bit late. I'm not there at call so I can be home when Megan is eating breakfast and get her on the bus".
One part of the Star Wars legacy that is especially important to Kathleen Kennedy is the humanitarian philanthropic foundation Force For Change.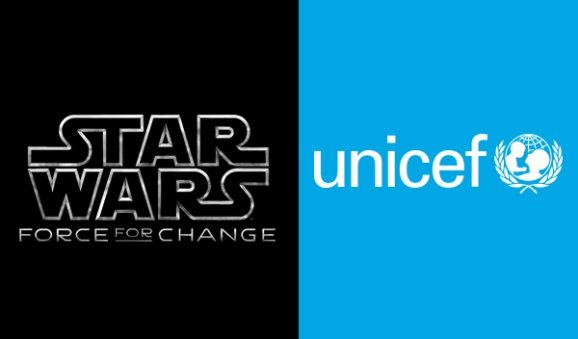 "J.J. and Bad Robot, Disney, all of us sat down and said, 'Okay, we're, we're lucky enough to be involved in a franchise that's gonna generate tremendous goodwill. What can we do to give back as a part of this phenomenon?' So we sat down very early to start to talk about where that might go. The idea for calling it Force For Change, I think, was a pretty brilliant one. I sat down with Carol Stern at Unicef. She is brilliant. It was funny how you sit down with somebody and, and you don't know why you click right away".
"Carol and I just clicked immediately in recognizing that what they were doing with their initiative called Kid Power fit perfectly with some, some of the objectives that Disney and Lucasfilm had with some of the philanthropy that we were starting to look at. So that was a partnership that we formed almost immediately. And by the time we went to celebration, that's when we announced it. And then we started the Omaze programs. And now under the umbrella of Force For Change we've gone to each of the cast members. We've let them identify what it is they'd like to pull under the umbrella of Force For Change. And it really does feel like it's an initiative that can take on a lot of flexibility in how we acknowledge what the philanthropy is that we're looking at. But it's primarily looking at how do you recognize empowering people around the world who are making a contribution? And, that, that gives us a lot of empowerment ourselves".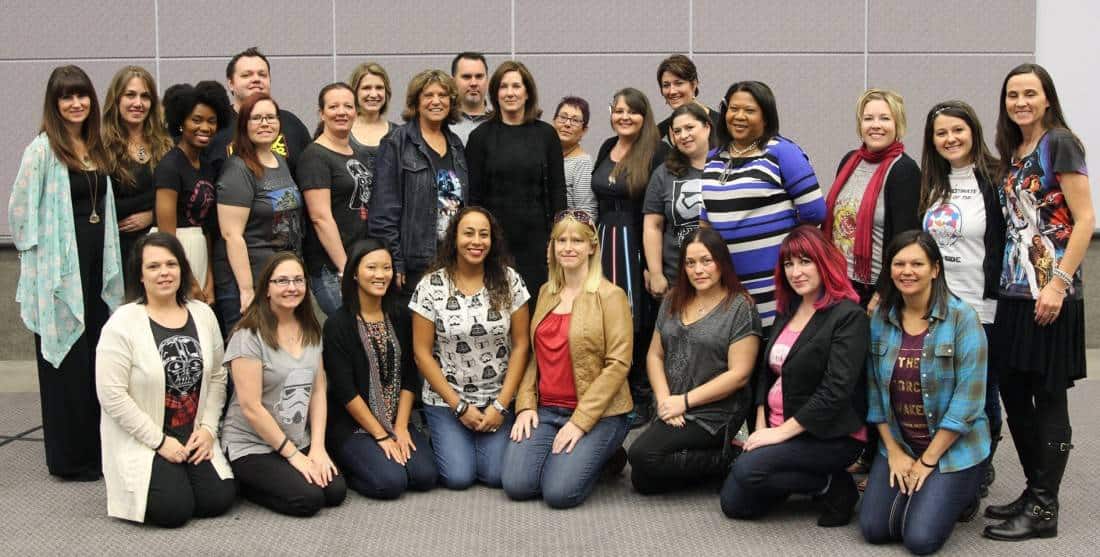 As far as Kathleen Kennedy's next project The B.F.G (Big Friendly Giant) it's something she has wanted to do for years. She knew Steven Spielberg was the only choice as director – "I had many, many conversations with Steven who I kept saying, "This is really right for you." And then, of course, within a month after I decided to take over Lucasfilm he called me up and he goes, "You know, I read the script again and I really wanna make the movie." And I was, like, ready to go through the phone and strangle him".

As far as if little girls will like Star Wars: The Force Awakens? "I think they're gonna be very happy. They're gonna have their own Luke Skywalker now".
Star Wars: The Force Awakens is in theaters THIS FRIDAY! Check out the trailer below and be sure to see it in theaters!
Photo credit: Louise Bishop/Momstart unless otherwise noted