I got to jump in Scrooge's Money Bin. All in a day's work 😉
The hardest part was keeping my skirt down! But it was super fun to experience Scrooge McDuck's money bin for a minute. I just wish it was real!
https://www.instagram.com/p/BWko99MhHZh/
Most know I am a HUGE fan of Lin-Manuel Miranda. How could anyone NOT love him? So when it was announced that he would voice Gizmoduck/Fenton Crackshell-Cabrera in the upcoming (and highly anticipated) reboot of Ducktales on Disney XD, I needed to know HOW he became attached to the series.
"I wrote him a letter" – Francisco "Frank" Angones said when I asked him about it. It turns out Frank's letter was one of the most important things he had ever written (according to him). As a huge fan of Miranda's from the In The Heights days, and of course Hamilton he was nervous. He knew it was a shot in the dark.
"I wrote Gizmoduck with Lin in mind", Frank mentioned. He had always had Lin-Manuel Miranda and his mannerisms as a base for the character – excited, highly animated and the enthusiasm of a kid at Christmas. Plus, being Cuban he wanted a Latino superhero, something severely lacking in the world of good guys. He had always thought of Gizmoduck as Lin, so when casting came he and co-creater Matt Youngberg thought "why not Lin?" They both knew it was a shot in the dark, but Frank took a chance at it by writing a heartfelt letter. The letter took hours for him to write, he wanted to get it perfect. Then he sent it along with a script to Lin-Manuel Miranda and waited.
Turns out the letter did more for getting Lin than they thought. Lin was taken by the heartfelt letter so much that he accepted without hesitation. According to Frank, Ben Schwartz (the voice of Dewey), who has been friends with Lin for years, said that Lin cried when he read the letter. Apparently Lin was also a lifelong fan of Ducktales and was honored to be asked to portray Gizmoduck.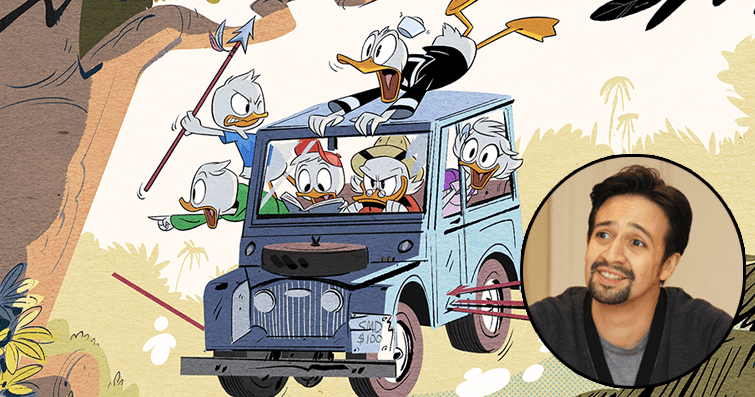 And the rest, as they say, is history….
Chatting with Francisco and Matt I could tell they were huge fans of the original. There are plenty of easter eggs paying homage to the original, such as little trinkets, phrases, and more to look out for. The animation is different than what we have seen lately from cartoons as well. Matt mentioned he wanted it to feel tangible, like a comic book.
The new #Ducktales has a cool comic book feel to pay homage to the original. There's even a layer of pulpy texture to enhance it! #D23Expo pic.twitter.com/5DCEuq2qg8

— Carol Jones (@AllMommyWants) July 15, 2017
We got to be one of the first to see the pilot episode which sets up exactly how Huey, Dewey, and Louie meet Scrooge McDuck (and discover he is their uncle) and the introduction of Webby Vanderquack, the granddaughter of Bentina Beakley who is the housemaid of Scrooge. We also get a fun introduction to Launchpad McQuack with a running joke of how he's part of the team (spoiler – nobody really knows). Additionally the first episode sets up a nemesis who will play a part in future installments.
Disney XD's DuckTales will premiere in a one-hour television movie, titled "Woo-oo!" to be presented for 24 consecutive hours on Saturday, August 12th, THEN Ducktales crashes into our lives September 23 2017 on Disney XD and I for one can't wait!