Galavant Season 2 Starts January 3rd 8/7c on ABC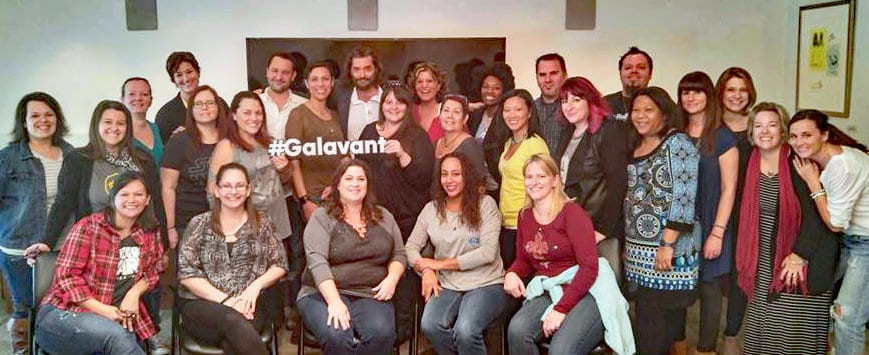 I went into my interview with Galavant's Timothy Omundson (King Richard), creator Dan Fogelman and executive producer Kat Likkel not really knowing what to expect. I mean I had seen a few episodes from season 1 and liked them, but I wasn't a diehard fan, more of a casual watcher of the series.
But that all changed.
We started out by watching the first episode of Season 2 of ABC's sleeper-hit Galavant (Sundays!) and laughing my face off. For one, the show is like a mashup of old favorites like The Princess Bride and Game of Thrones (without all the killing of course) with a subversive air to it with the cheeky writing and hilarious song-and-dance numbers. Who doesn't want to just break out in song every once in a while? Galavant gives you that opportunity with gusto.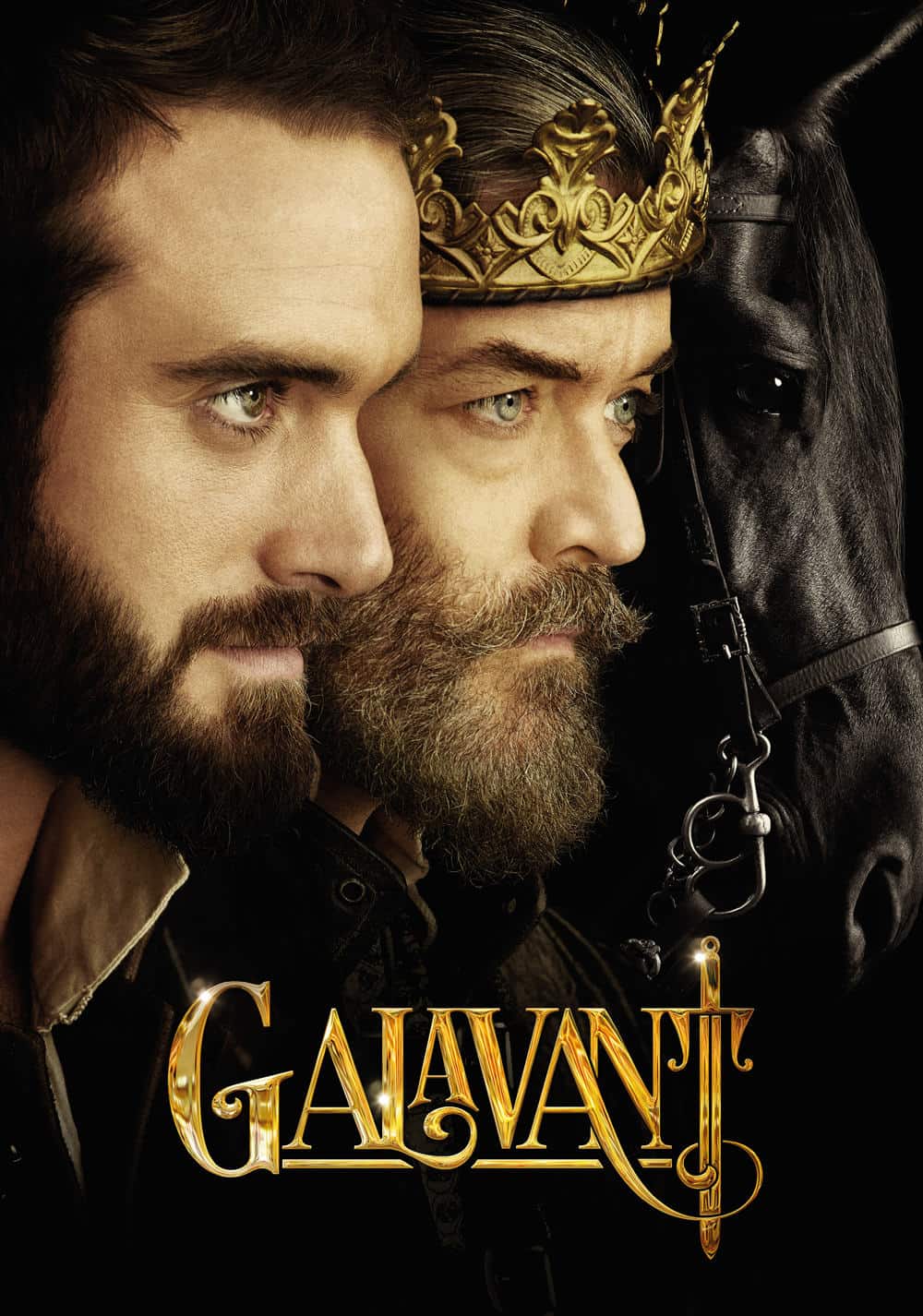 "We actually just finished filming in Morocco", Dan Fogelman says casually as we settled into our seats for what was to be a pretty fun Q&A session. "I think it's the biggest thing that's ever been done in a half hour comedy with 300 extras", referring to the background actors and dancers. Apparently there is also a "zombie army", according to Fogelman.
Dan Fogelman is no stranger to appealing to the masses. As creator & director of countless hits – including Cars and Tangled – he knows how to keep adults and kids alike entertained.
"That's the great thing about this show I think and being a part of it because I've got kids and there's stuff they're not supposed to get", added Timothy Omundson. "They don't get but – but there's plenty of humor for me, and you know for us it's a lovely balancing act".
Kat Likkel, an accomplished writer and producer talked about putting it all together with the music and the writing.
"We kind of break out the season, the direction that we're going to do for all ten episodes. Dan and me and John (Hoberg, writer) and then two other guys who are sort of like our second in command, Kenny and Rick, and we all sat together and broke out all 10 episodes. And then once we had that, we gathered the entire staff and Alan Menken, who had been kind of in the loop already, and then Glenn Slater, the lyricist, they'd already pitched in a couple of ideas, and directions we could go on things".
Dan went on to tell us about the actual performances, mentioning the fact that many of the songs are sung live and recorded on set rather than in a studio (very much like the motion picture Les Miserables).
"Towards the end of the season we have a big important song towards the end that where they were filming it, they were doing it in a sandstorm in Morocco. And so they were trying to film this important song, you know, while like everything was blowing. So it can be super challenging" laughed Kat.
Many of the fun guests are back, like Weird Al Yankovic, Hugh Bonneville, and John Stamos. Plus Nick Frost who will play a giant named Andre the Giant who hates dwarves.
"We have a war, which is this big West Side Story type number. It has a Tim and Galavant and Richie come across a band of warring dwarves and giants. And it's fun and it's crazy and they're doing this whole kind of Jets and Sharks kind of West Side Story. It's really crazy".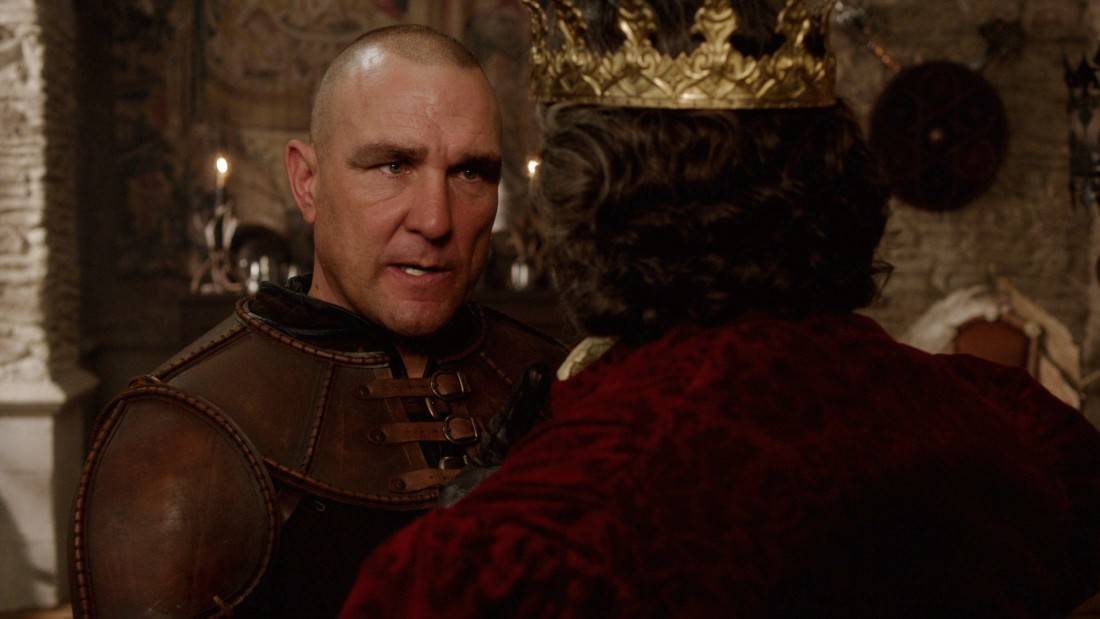 One regular is Brit actor Vinnie Jones, who plays Gareth in Galavant. While you may not know his name, you may have seen him in movies like Snatch, Gone in 60 Seconds and The Midnight Meat Train. Vinnie is an unconventional choice for a comedic role because he mostly plays the big burly bad guy, but in Galavant we actually get to see him fall in love and sing Beauty and the Beast-style.
"Vinnie is, I mean he's the ace in the hole. His work is unlike anything I've ever seen him do. I've worked with him for a year. He's one of the nicest human beings I've ever come. When we were in Morocco, he threw the Casting Crew a Pool Party", mentioned Omundson. (you can see some of those photos on his twitter account).
Timothy Omundson has been a regular on Supernatural and many know him as Detective Lassiter "Lassie" from Psych, but you may not recognize him on his looks, as he's changed his appearance drastically for the role of King Richard.
"I prefer this look over Lassie. My wife prefers a more cleaned up version of this. I had a break and I showed up this season looking like I walked on the mountains. Um, why not? It was like we go with this and there was actually a method to the madness where we slowly clean him up and we tie the ends but I had been gone for quite a while. I came home to see my wife and kids and I walked in the door and she was like 'what? How are you in TV looking like that?' And wait it'll be fine. It'll be find by the end. So yeah, she doesn't like it when I look like Charles Manson".
Kat added some words about how Timothy was simply perfect as King Richard: "One of the coolest things about this show has been Tim in this show, because when we first started Galavant last year, that King Richard role was a role that very much felt like if you were ever gonna put a famous, a big famous star in this show of otherwise kind of unknown people, it was gonna be probably in that role. And Tim just came in and we met and we felt this is the guy. And the network comes, embraced it even though sometimes they'll want that big, big name or that person who's done it before".
At this point Timothy is practically blushing.
"I mean he's so funny, he's so talented like as literally, a real theatrical song and dance man. As I do other shows, you work with all these great actors. Universally in this town they're all saying 'I am so happy that Tim is getting his chance to kind of show — showcase this stuff'. I think it's a really cool underwritten story of this role kind of landing with the right guy at the right time. It's hard because we can only do 10 episodes and they happen so quickly and early in the year but I think Tim should be in these conversations about the awards stuff that happens at this time at this year, this time next year. I really think he should be".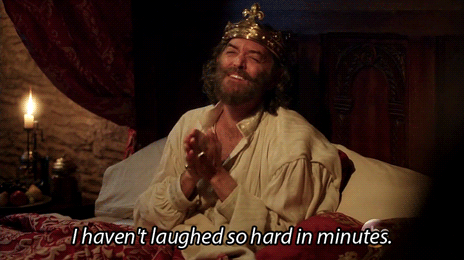 "I find this writing tremendously funny. It's everything I love", added Timothy.
Dan commented – "I mean, just the fact that accent. I mean, our Musical Director who directs all the Music, Tim went and took his family to see Aladdin, and he came up to me, and this was after a year of working with Tim, and he goes, did you know Tim's not British? Like he'd been working on the Show for a year and he had no idea".
@Lassie_Fan @Omundson he was super sweet, totally cool. Not British but he plays one so well! #Galavant #ABCTVEvent pic.twitter.com/DC7szZTzdj

— Carol Jones (@AllMommyWants) December 8, 2015
Timothy added – "I've been so incredibly lucky to play some really varied stuff on some amazing shows. And this one, this is the capper. I don't know how I'm ever, ever going to go back to, you know, CSI Barbados or…. This is particular, I don't, every day. There's Romantic Lead stuff I've never gotten to do. Um, it is, this year in particular, it's been an incredibly, incredibly satisfying journey. I just can't wait to see it".
Alan Menkin wrote 32 songs for the first season, only 10 episodes. He was also the music mastermind behind Disney's hit Tangled, which was also created by Fogelman.
"I can never pick one song, like I wish I had all the songs here right now, I'd be showing you like, there's "West Side Story" there's stuff like, treading "Grease" and treading every Musical genre. And it's really kind of outrageously ambitious stuff so", says Dan. "He's doing Disney stuff too. He wrote a song this year called, like "What is This Feeling?" that our evil queen sings for the first time. She starts feeling an emotion and it's a Disney song and it's a Classic Alan Mencken Ballad, and she's like, what is this feeling, is it a feeling that I feel like somehow. And it's really, it's beautiful and it's just like, it's really I don't know, I'm so proud of it so everybody watches it this year, I think it's really special".
Season 2 of Galavant is all about love and redemption. "there's some beautiful stuff in there", adds Kat.
See Galavant every Sunday starting January 3rd at 8/7 on ABC