Moonshine makes a GREAT mixer!!
I love keeping moonshine on hand for easy mixed drinks – try 2oz Red Velvet Cupcake Moonshine with 10oz cream soda – it's SO amazing! Scroll down for a delicious recipe for a Red Velvet Moontini!

Yield: 4 8oz jars
Red Velvet Cupcake Moonshine Plus Red Velvet Moonshine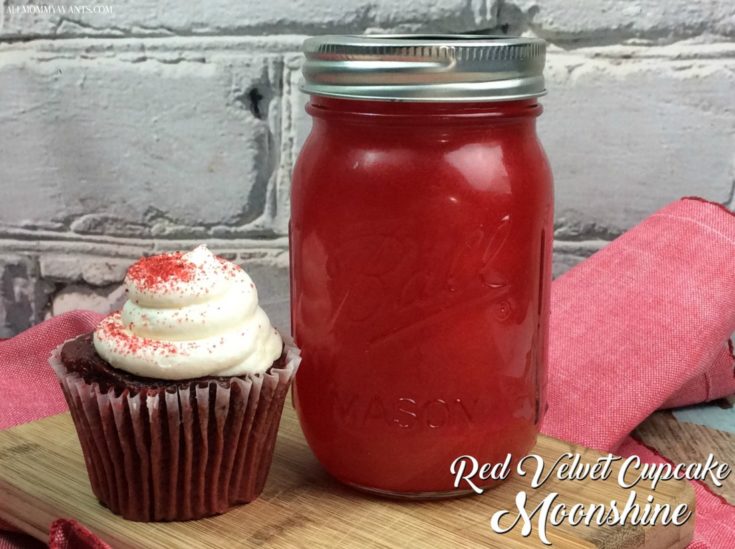 Ingredients
4 cups of Everclear (1 cup in each jar) OR 151 proof vodka if Everclear isn't in your state
4 tsp. Red Velvet syrup (1 tsp. in each jar) (DaVinci syrups are awesome)
6 tsp. Vanilla extract (1 1/2 tsp. in each jar)
4 tsp. Cupcake syrup (1 tsp. in each jar)
4 – mason jars
Optional but looks SUPER cool - silver shimmer powder
Instructions
Add the Red velvet syrup, Cupcake syrup and vanilla extract into each jar.
Top off with Everclear (or vodka).
Place your mason jars in a cool dark place for 4 weeks.
Shake the jars every two days to help with the infusion process.
Place in a refrigerator up to 30 days.
To add a sparkle shimmer add 1 tsp. of silver shimmer powder and shake well
Here's an AMAZING cocktail you can make - the Red Velvet Moontini!
Red Velvet Moontini
1.5oz Red Velvet Cupcake Moonshine
2oz Godiva White Chocolate Liqueur
2oz heavy cream
sprinkles
whipped cream
Rim a martini glass by dipping the edge in cream and then dip in sprinkles. Add moonshine, white chocolate liqueur, and heavy cream into a shaker of ice and shake for 30 seconds. Pour strained into martini glass and top with whipped cream.