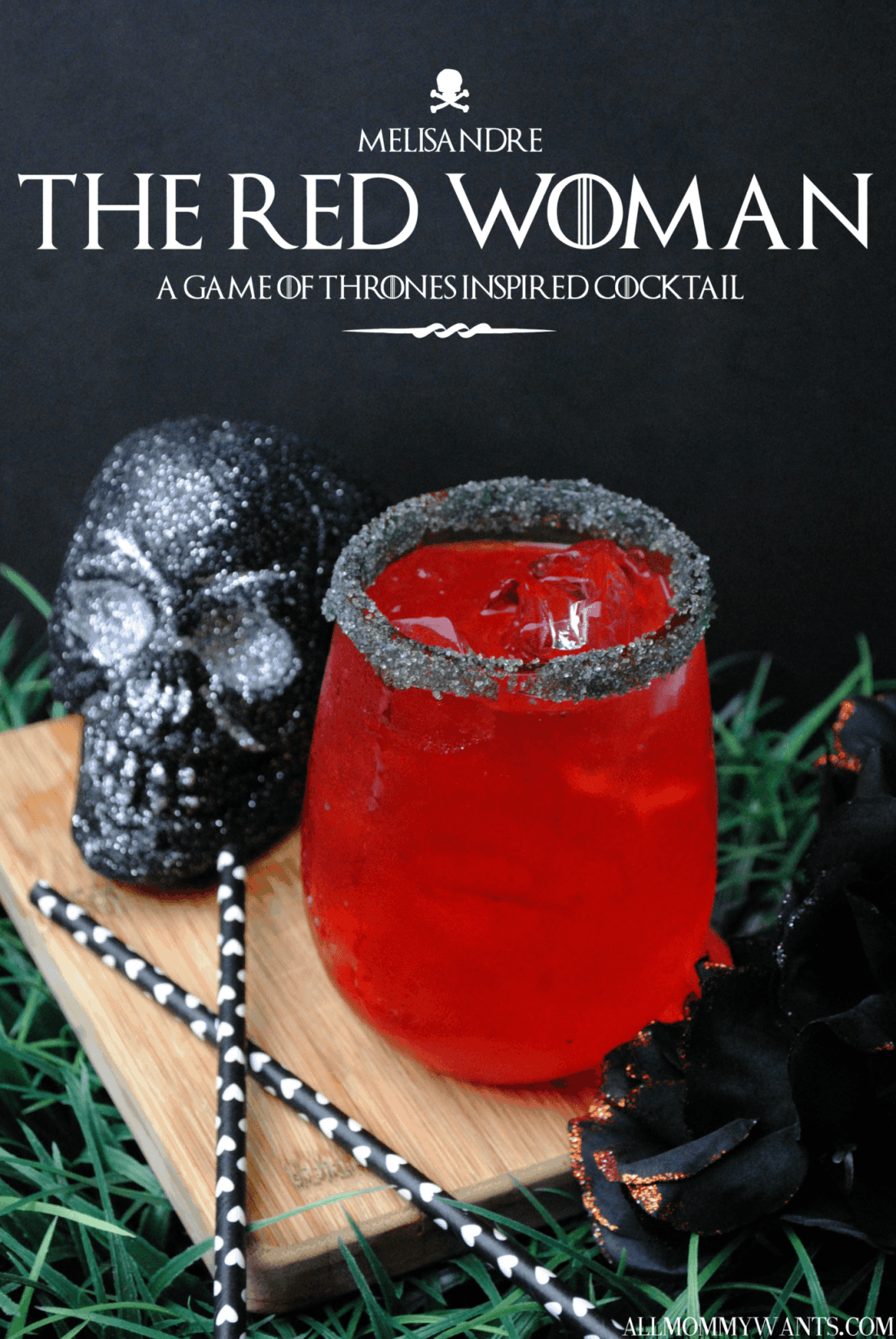 …The night is dark and full of terrors, but the fire burns them all away. (Melisandre, Game of Thrones)
Game of Thrones is definitely a huge fan favorite, and one of the best shows on television (in my opinion anyway). Get ready for the newest season with this Melisandre-inspired cocktail "The Red Woman"!
Also known as "The Red Woman", Melisandre is a shadowbinder and a priestess of R'hllor in service to Stannis Baratheon. Originally a slave from Asshai called Melony, she is chosen by the Red Temple and recruited as a red priestess, and as a result has prophetic powers that give her partial knowledge of future events. She is also referred to as a shadowbinder, being able to cast glamours and perform certain feats of dark magic.
Melisandre is introduced in A Clash of Kings and serves as the third-person narrator for one chapter of A Dance with Dragons. She is described as a beautiful voluptuous foreign woman with red eyes and red hair, always dressing in red robes and wearing a red gold choker set with a large ruby, and rarely sleeps or eats. She possesses magical abilities that can cast glamour and manipulate fire and shadow, has prophetic visions by looking into fire, and takes an aggressively militant stance against the other religions of Westeros. (wikipedia)
Melisandre was instrumental in the battle against The Wights in her final episode "The Long Night" where she used her powers to light the swords as well as the barrier.




It's only right to have a cocktail to honor the Red Woman who ultimately gave her (400 year old) life to the cause. With Fireball, of course.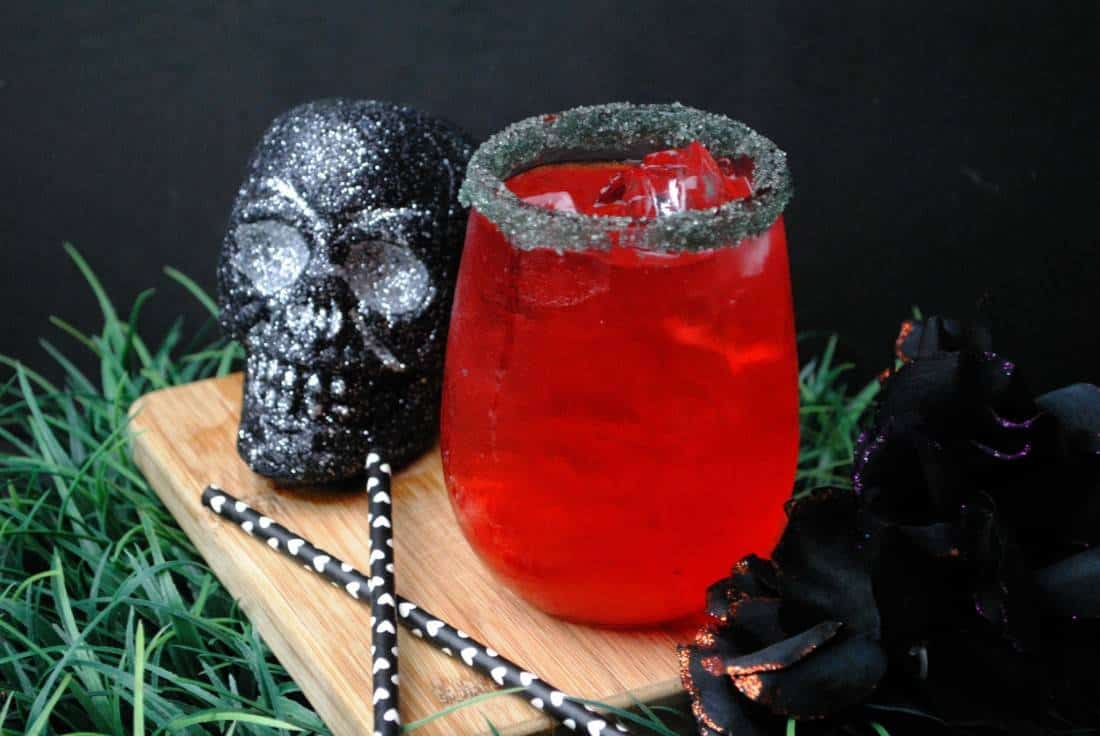 Yield: 1
The Red Woman Cocktail - Game of Thrones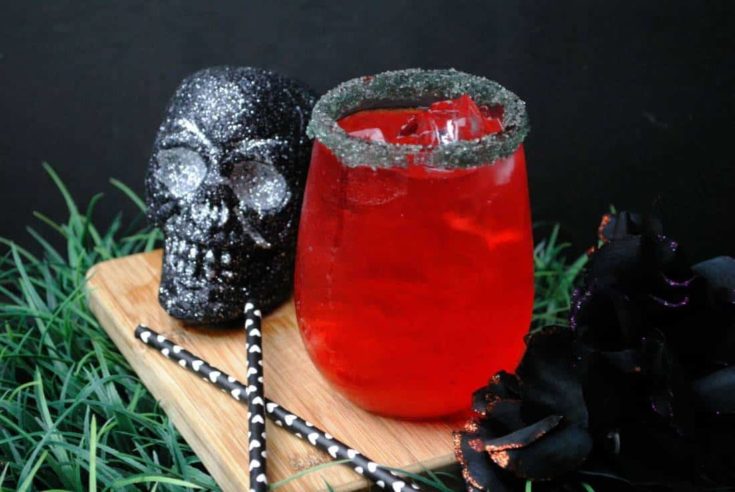 A Fireball Cocktail inspired by Melisandre (The Red Woman or The Red Witch) in HBO's Game of Thrones
Ingredients
1.5 oz Cherry Vodka
1 oz Silver Tequila
1 oz Fireball
1 tbsp Grenadine
3 oz Pineapple Juice
Sanding Sugar
Simple Syrup
Instructions
Using 2 appetizer plates pour your simple syrup on one plate and the silver sanding sugar on the other.
Dip your glass into the simple syrup and then into the sanding sugar.
Set to the side.
Fill with glass with ice 3/4 of the way full.
In a bar shaker add 3-4 pieces of ice, vodka, tequila, fireball and grenadine -- shake well to combine.
Top off with pineapple juice.
Nutrition Information:
Yield:
1
Serving Size:
1 drink
Amount Per Serving:
Calories:

959
Total Fat:

0g
Saturated Fat:

0g
Trans Fat:

0g
Unsaturated Fat:

0g
Cholesterol:

0mg
Sodium:

12mg
Carbohydrates:

194g
Fiber:

1g
Sugar:

185g
Protein:

1g
See more cocktails here!