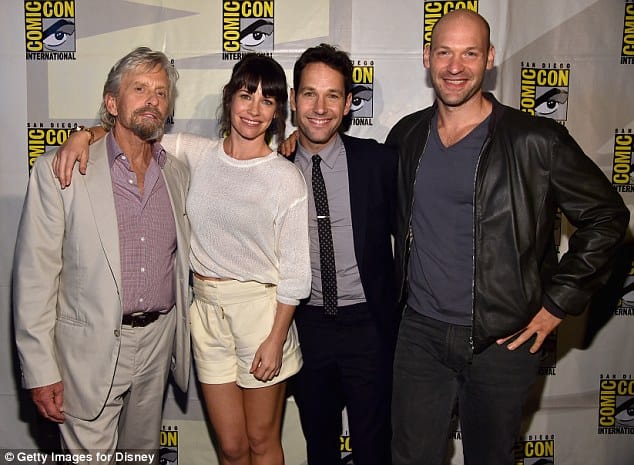 So THIS is happening!!
Yeah I know I just got back from Los Angeles promoting the new Disney/Pixar film Inside Out, but time to switch gears… Marvel style! Disney invited me and 24 other bloggers to come back to LA for some super fun events! I leave this Thursday June 25th – so FOLLOW ALONG as I report back! These are the hashtags:
#AntManEvent (in theaters July 17th)
#DescendantsEvent (premieres Friday July 31st at 8pm)
#LivAndMaddieEvent (Airs Sundays)
#GamersGuideEvent (premieres 7/22 at 9:30pm)
#BUNKDEvent (TBA)
I will be checking out Disney Channel's new movie Descendants, Liv and Maddie, Gamer's Guide to Everything and Bunk'd. Oh, did you see this HUGE image of Ant-Man up there in the photo? Yeah that's happening too! I am super excited! I will be interviewing:
Paul Rudd ("Scott Lang / Ant-Man")
Evangeline Lilly ("Hope Van Dyne")
Michael Douglas ("Hank Pym")
Corey Stoll ("Darren Cross / Yellowjacket")

T.I. ("Dave")

Michael Pena ("Luis")

and newcomer David Dastmalchian ("Kurt")
Plus screening Antman and checking out some great merchandise that will definitely be a hit with adults and kids alike!
Awesome, right??!
Plus – I will head to Disney Channel for a special screening of the highly-anticipated DESCENDANTS followed by a Q&A with Director Kenny Ortega ("High School Musical" & "High School Musical 2")!
I will also travel to Hollywood Center Studios to visit with two of the DESCENDANTS villain kids Dove Cameron and Cameron Boyce on the sets of their TV series, Disney Channel's "Liv and Maddie" and Disney XD's "Gamer's Guide to Pretty Much Everything." These kids are BUSY!
AND I will visit the set of the new Disney Channel series "BUNK'D"! BUNK'D is a spinoff of the HUGELY popular Disney Channel show Jessie and should be popular in itself!
I leave this Thursday June 25th – so FOLLOW ALONG as I report back! These are the hashtags:
#AntManEvent
#DescendantsEvent
#LivAndMaddieEvent
#GamersGuideEvent
#BUNKDEvent