On May 23rd. 2016 the Hollywood Premiere of Alice Through the Looking Glass (in theaters May 27th) happened. And I was there.
As a special guest of Disney I was honored to have the experience of not only walking the red carpet, enjoying the film at El Capitan, and enjoying the afterparty where I met some industry powerhouses, I also enjoyed a special performance of P!nk and her new song from Alice "Just Like Fire" and the Jefferson Airplane classic "White Rabbit".
OMG. Best. Night. EVER.
My red carpet outfit:
Gabby Skye Blue Lace Dress (Nordstrom)
Enzo Angiolini black snakeskin strap heels (Nordstrom)
Crystal earrings (my own)
Teacup ring (Fandom of the Month Club)
Black studded clutch (JC Penney)
Silver & crystal bracelet (Guess)
And of course my latest tattoo, Alice…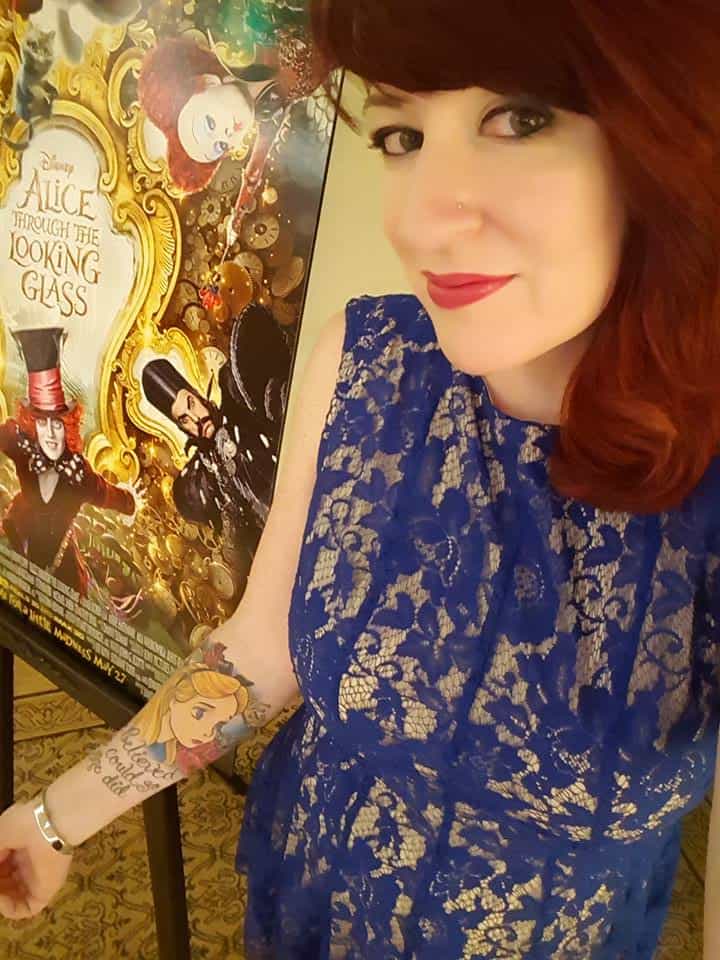 Ladies & Gentlemen… P!NK!
If you have never seen P!nk perform live, you need to. This woman is a powerhouse of an artist. She belts out some amazing notes (and looks flawless doing it) and is not only talented, but funny.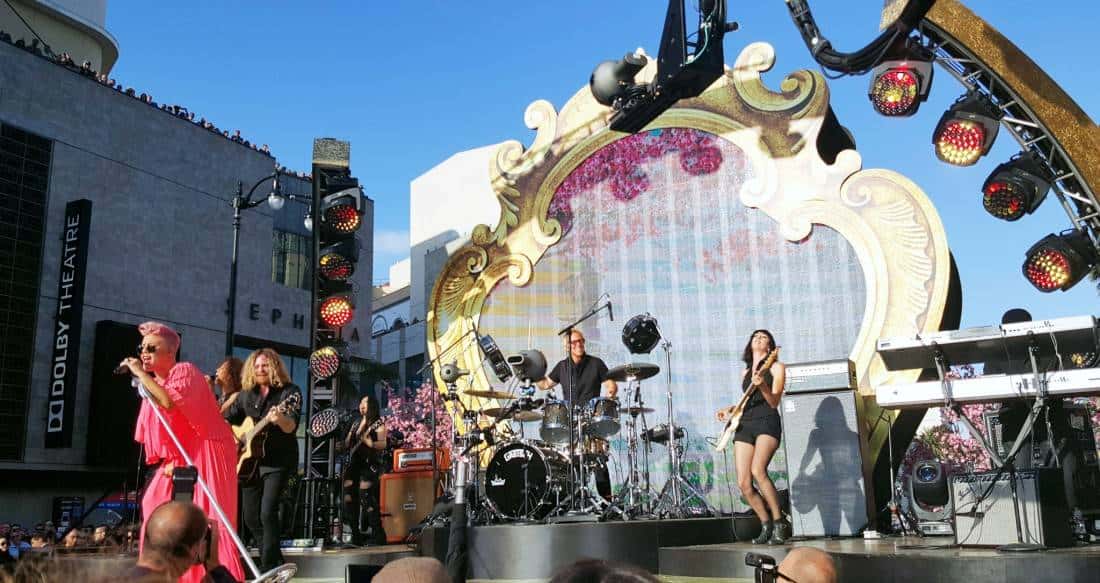 She sang her new hit "Just Like Fire" from Alice Through the Looking Glass – twice – along with "White Rabbit", a Jefferson Airplane classic that she slayed. While watching her I glanced over to the front of the Jimmy Kimmel Live building and noticed an adorable little girl singing along. I realized that was P!nk's daughter Willow, sitting there with her daddy (P!nk's husband) Cary Hart. She's pretty darn adorable!
I can't believe how close I was to the stage. I have been a fan of P!nk's for a long, long time so it was a huge treat to see her live.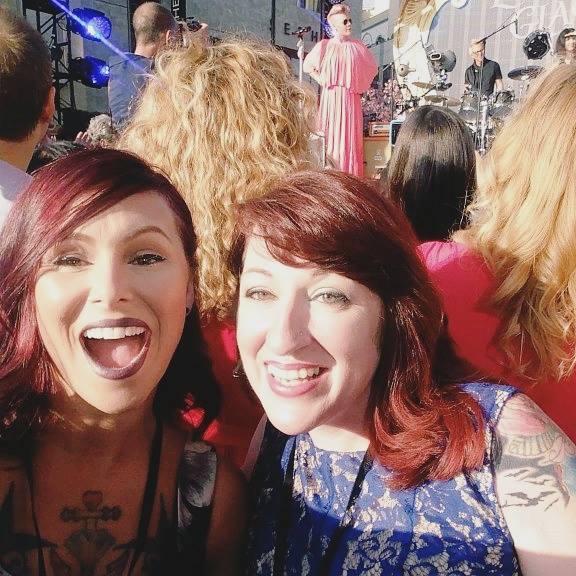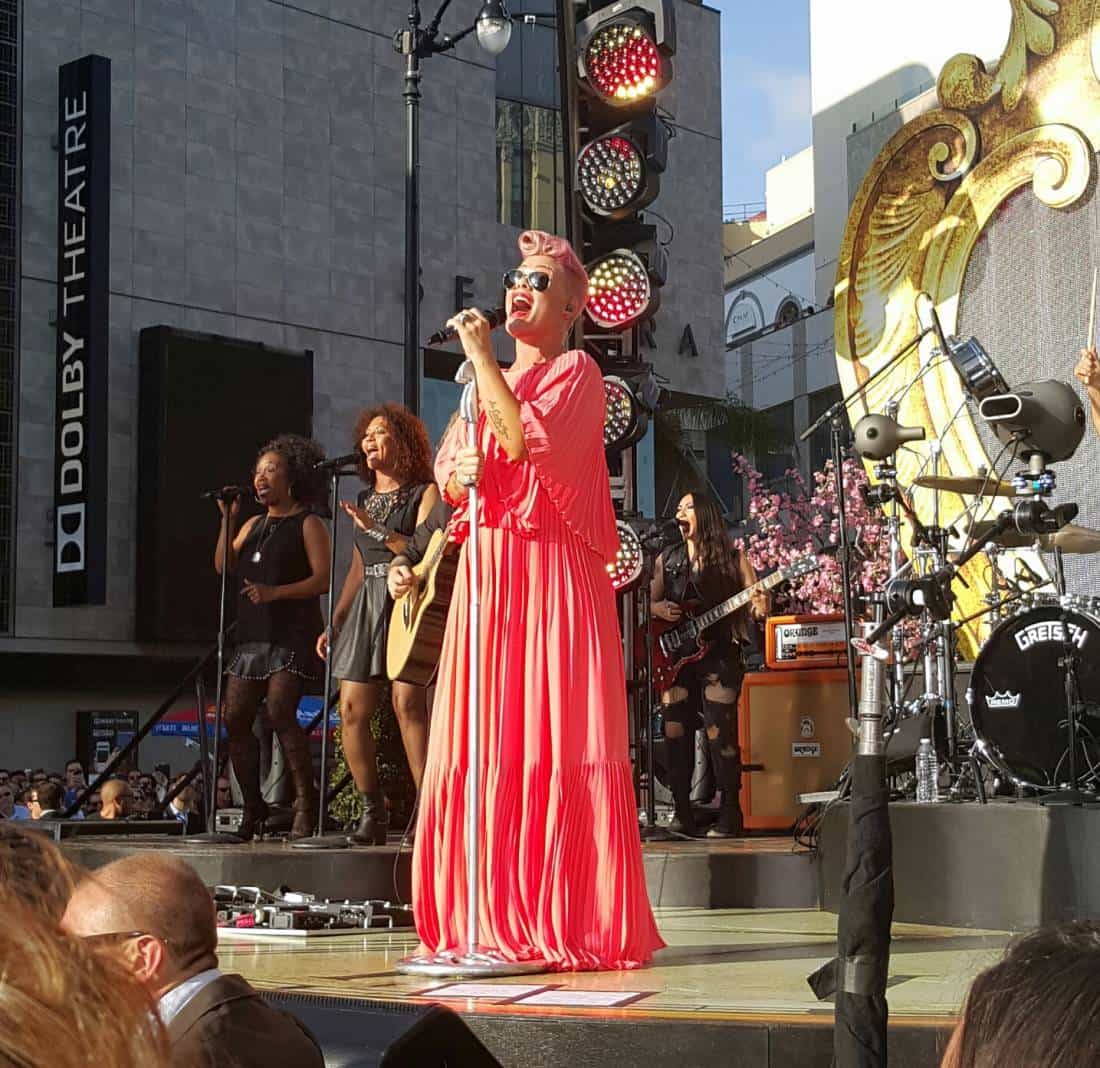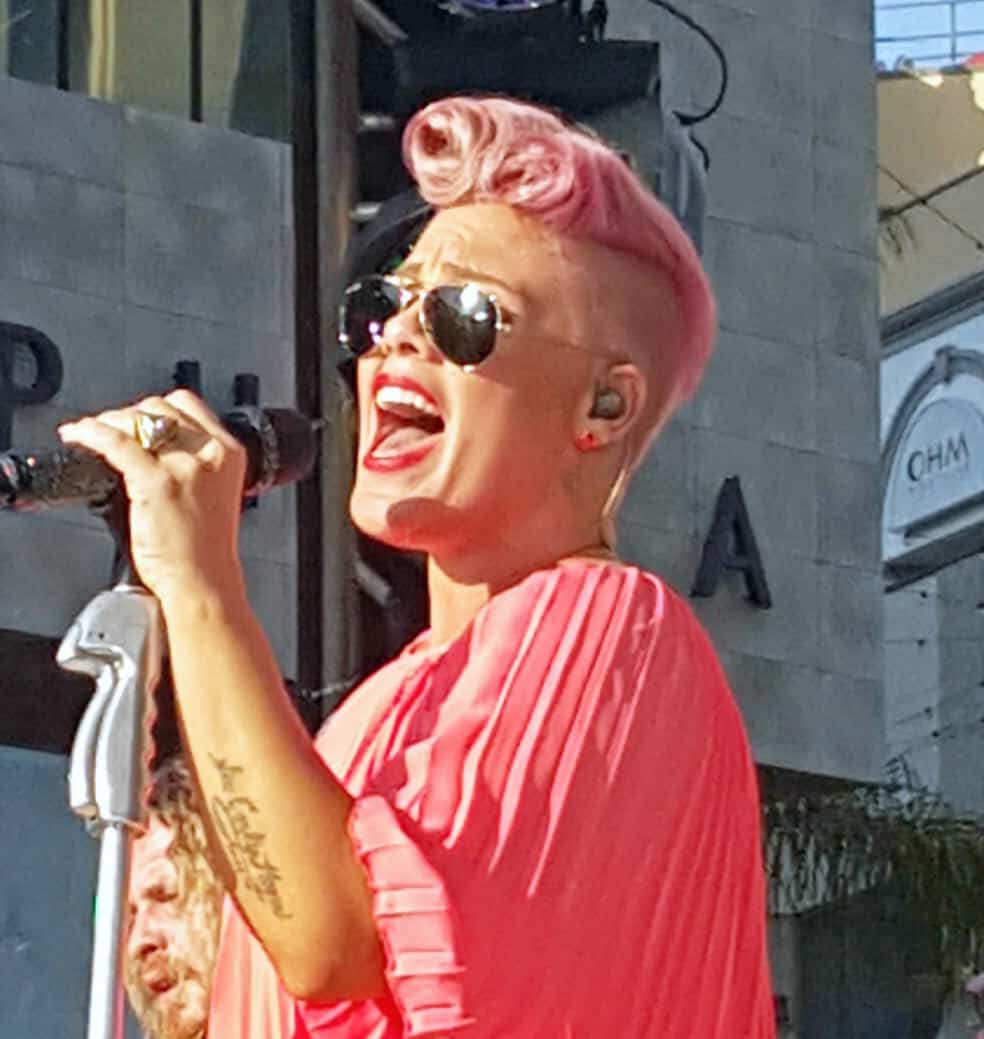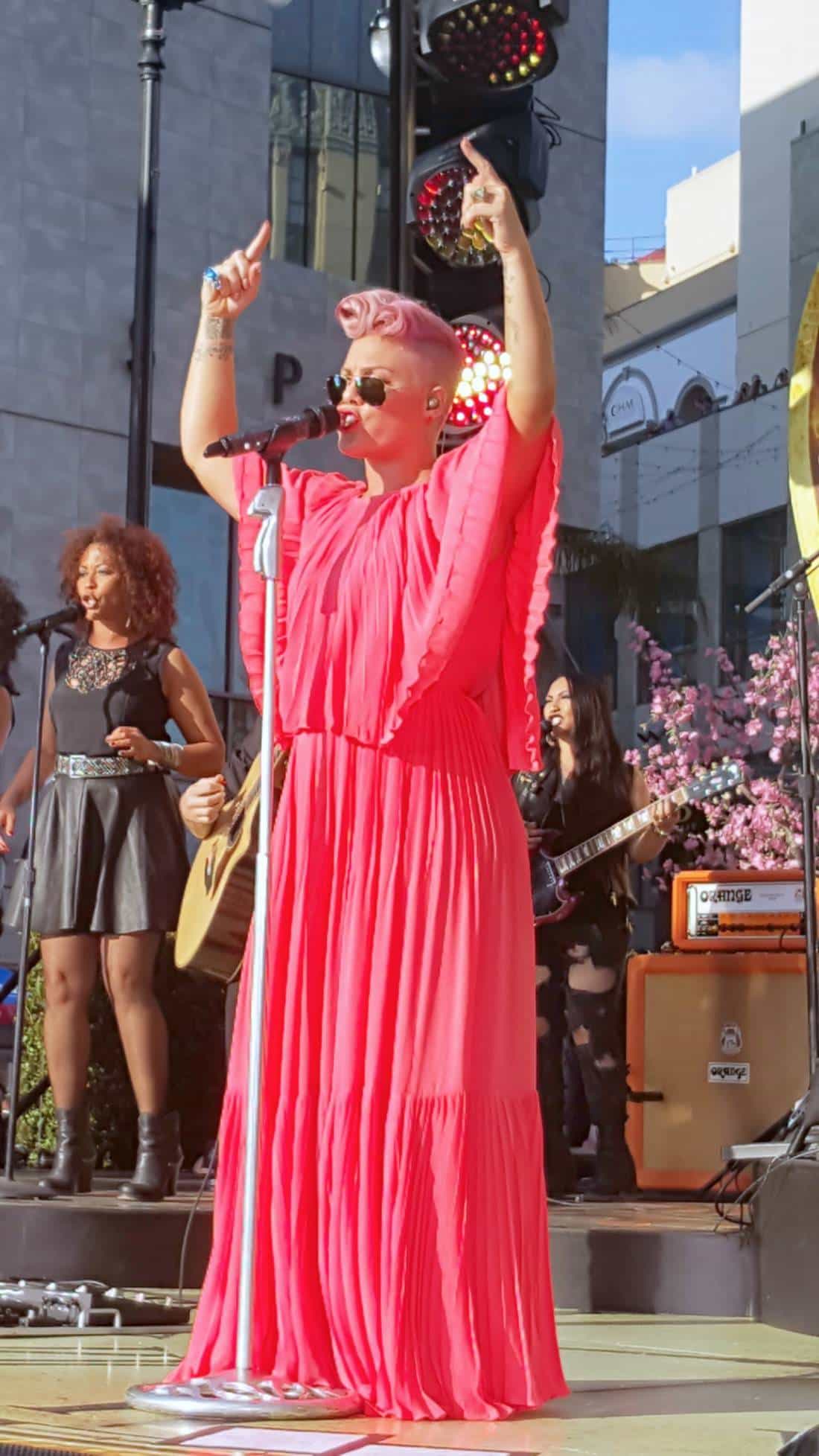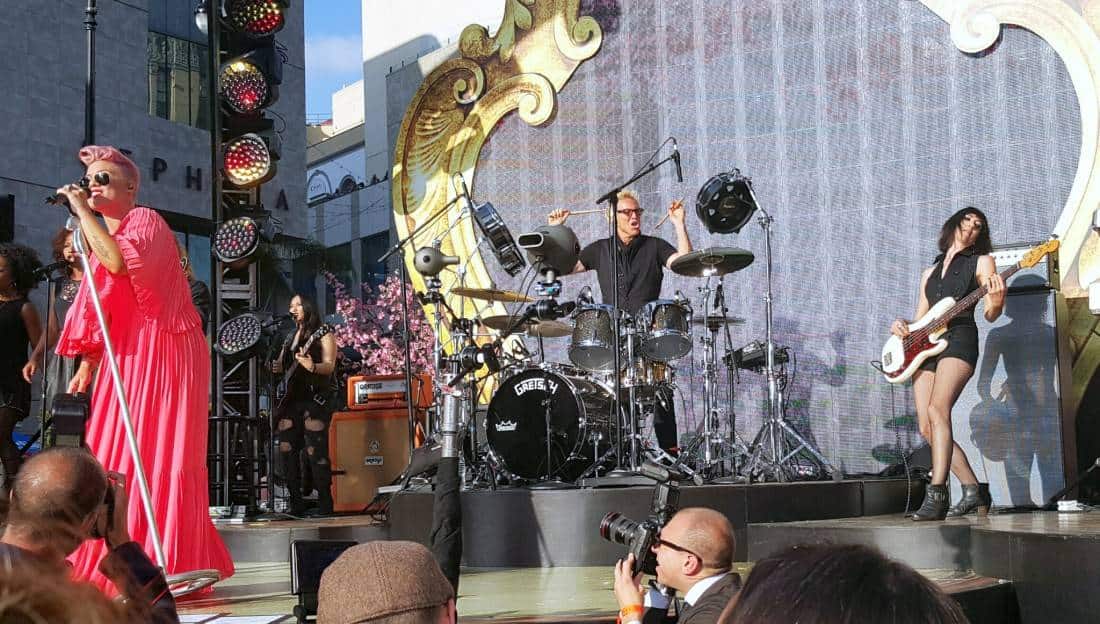 Let's Walk The Red Carpet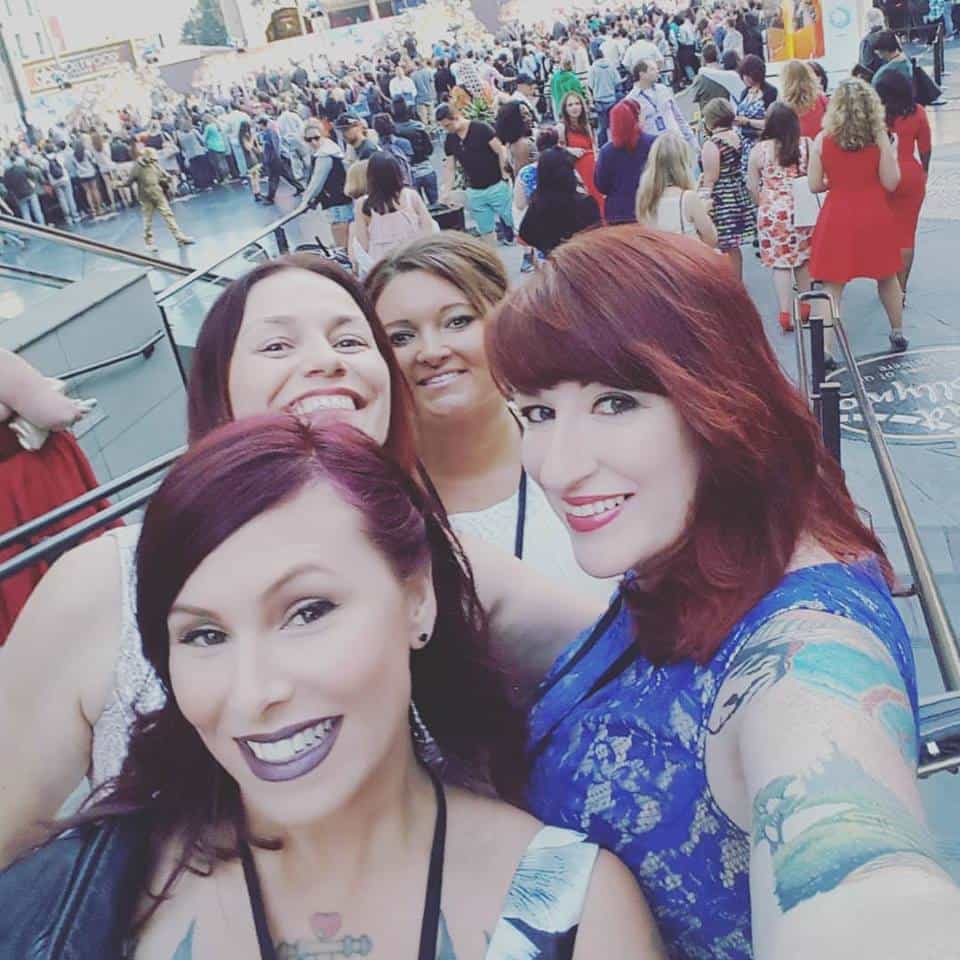 The red carpet was actually red this time! Well, red with some beautiful damask designs…
At the end of the carpet was a lovely display of HSN products inspired by Alice Through the Looking Glass…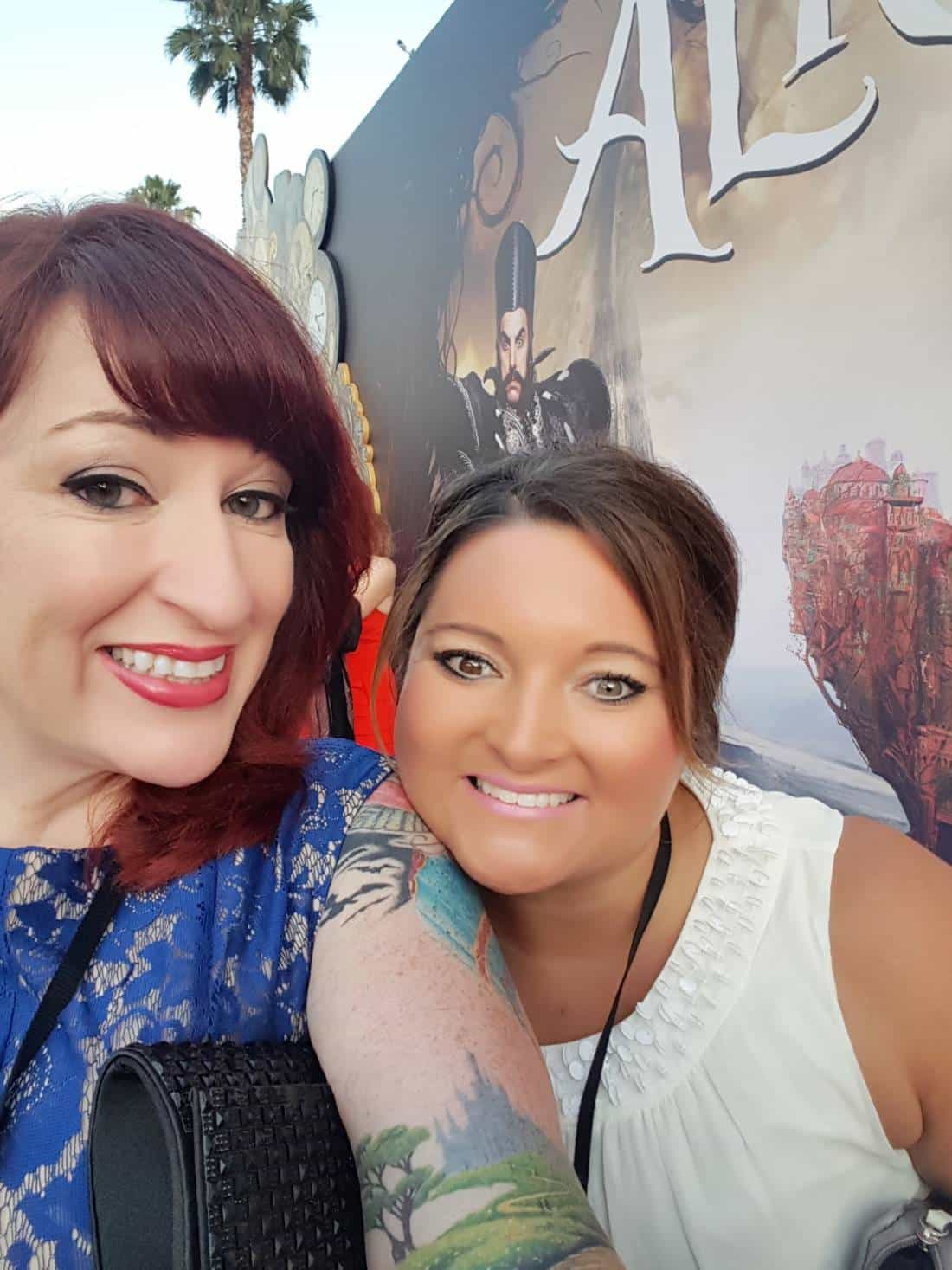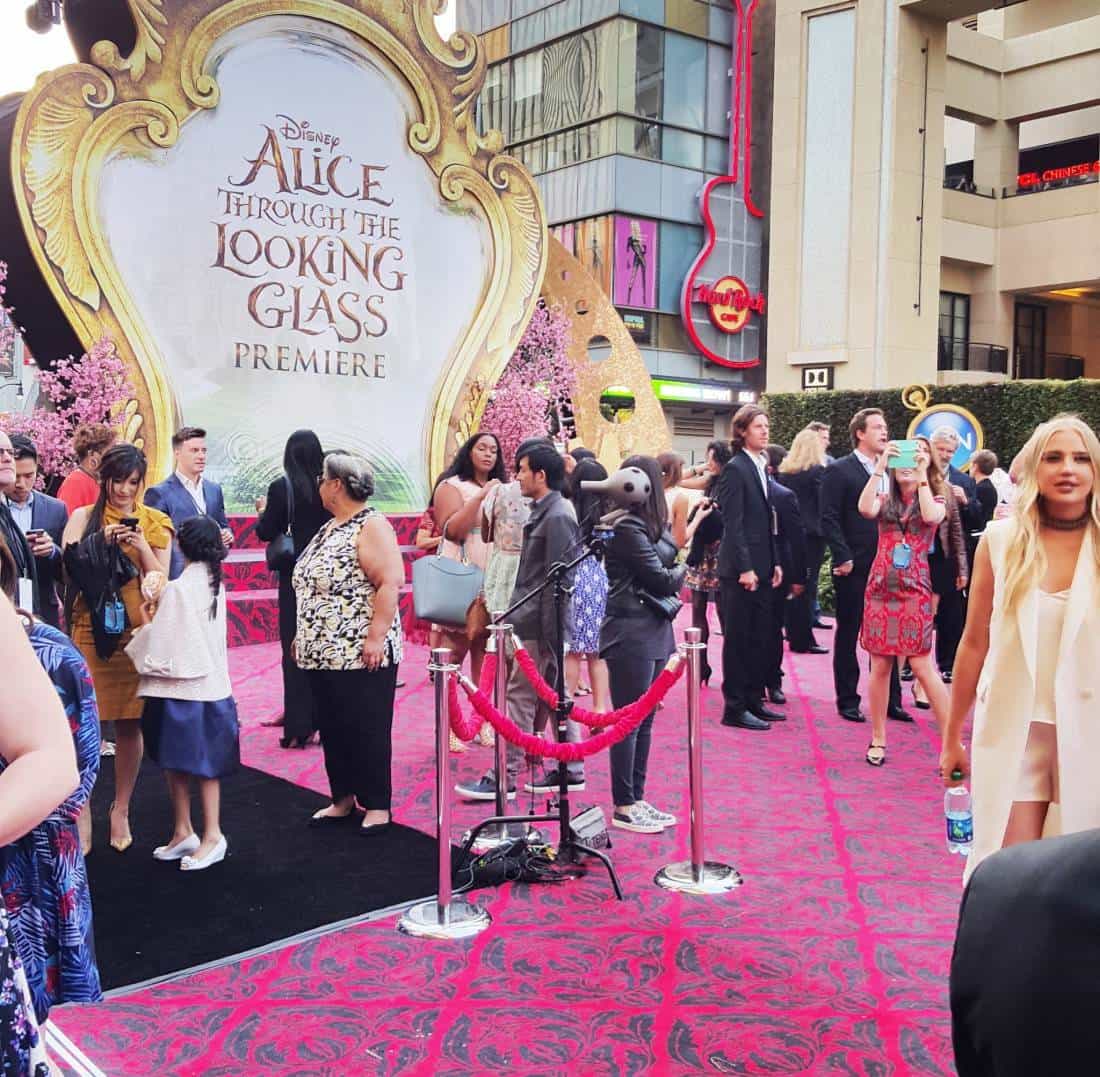 We got there right as Johnny Depp and Sacha Baron Cohen got there! I caught a quick glimpse of the stars as they chatted…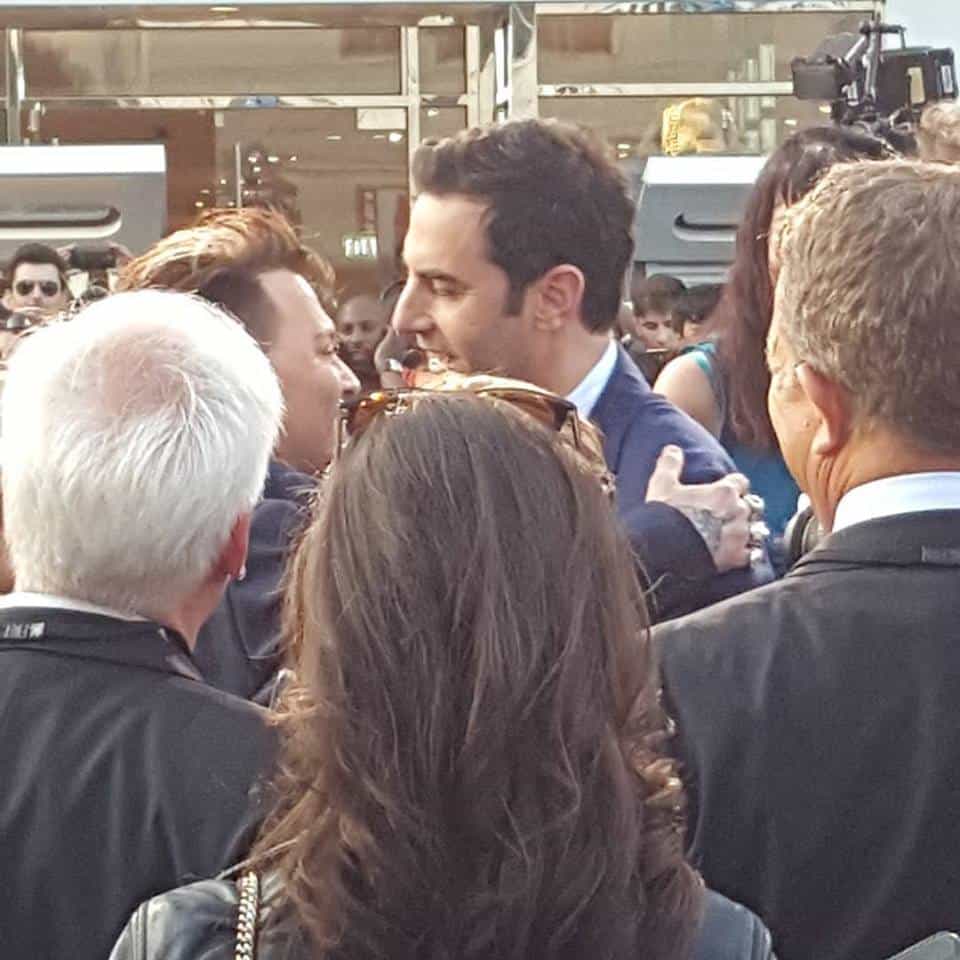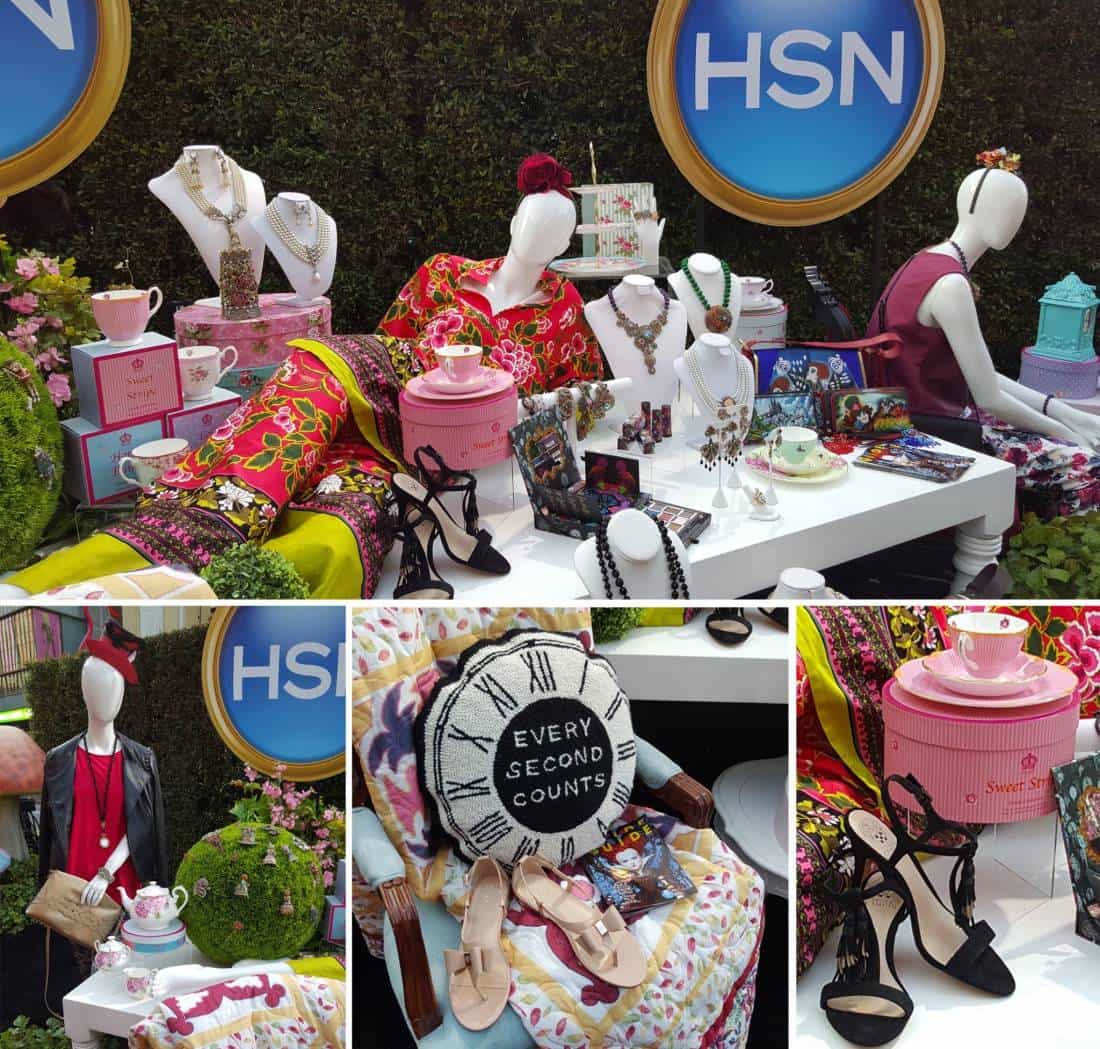 The After-Party
The premiere party was held at the famed Roosevelt Hotel, just down the street from El Capitan. It was beautifully set up with mood lighting, delicious food, and swarming with celebs. Suzanne Todd (producer) pulled a few of us aside to introduce us to some of her industry friends. One of my favorite conversations of the night was with writer Linda Woolverton, the award winning writer behind Alice Through the Looing Glass, Maleficent, The Lion King, and other highly acclaimed films. She saw my Alice tattoo right away and was in awe of it, she kept looking at it back and forth. We talked about the message that Alice has for children, especially girls, and how "nothing is impossible".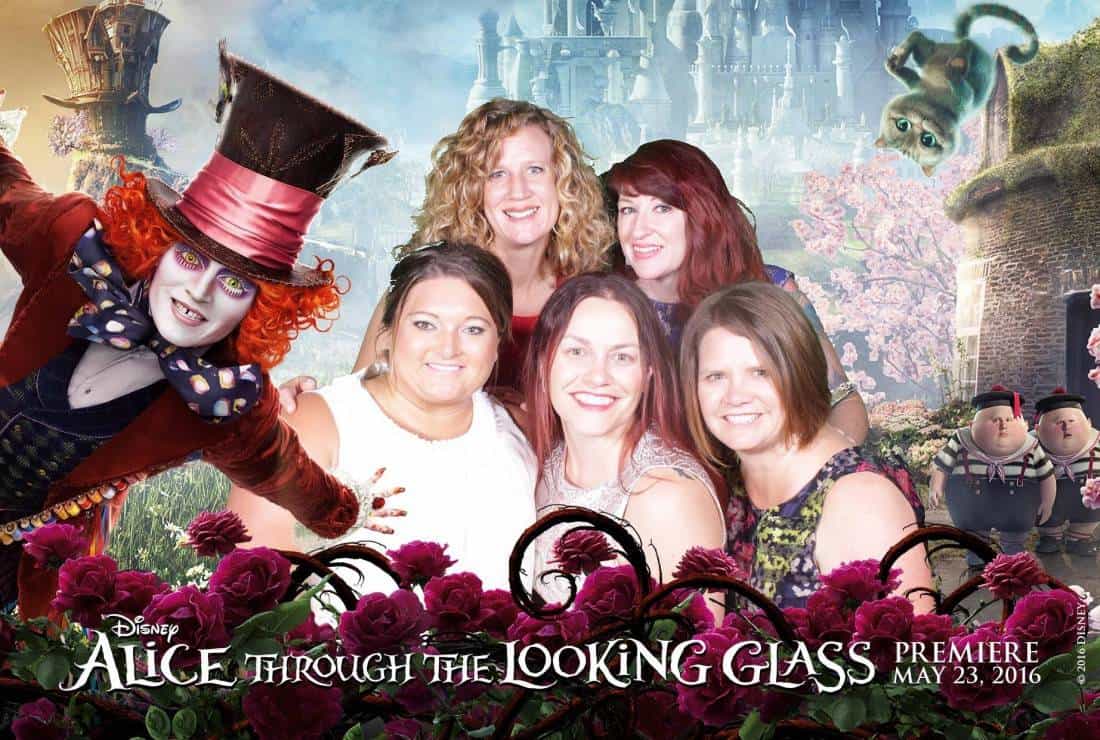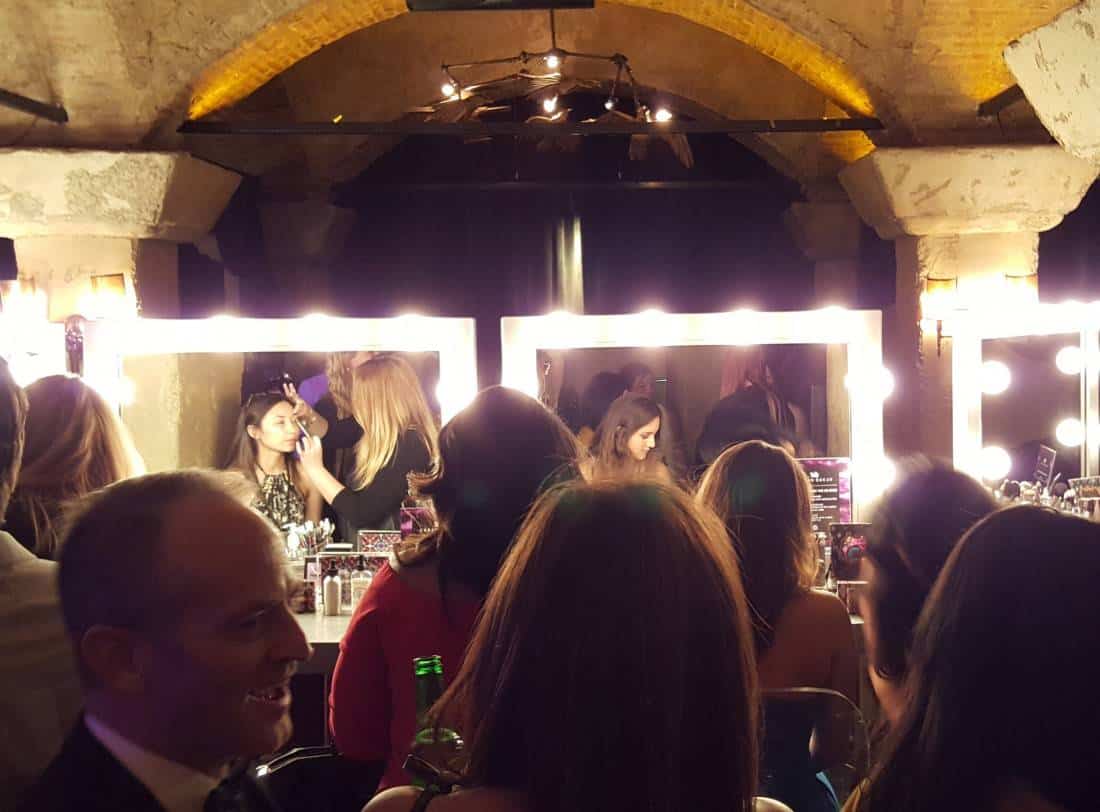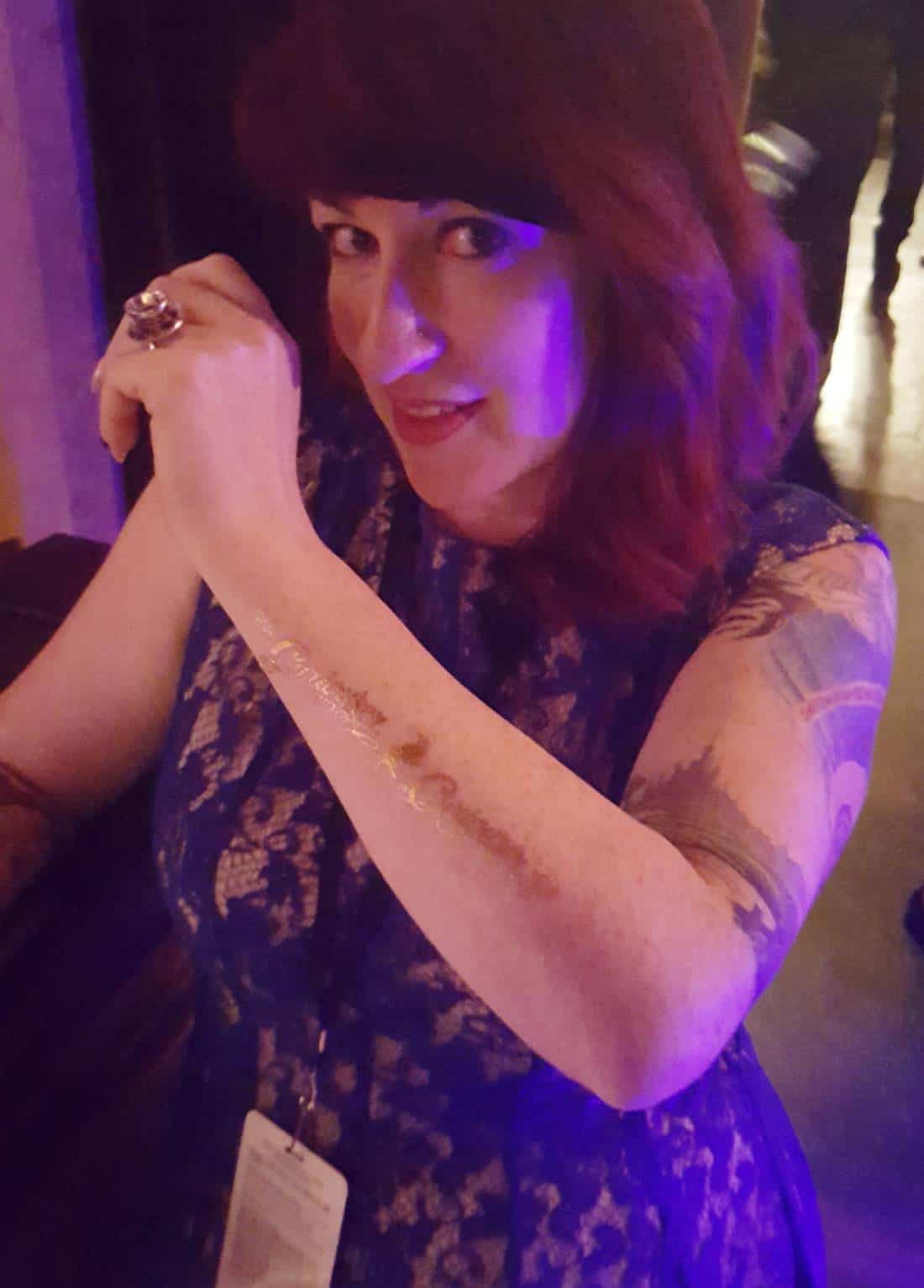 It was a magical night…
See Alice Through the Looking Glass in theaters May 27th!