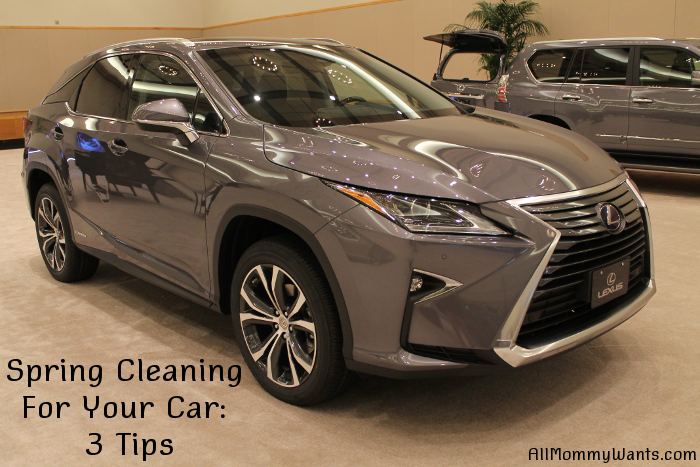 Spring has sprung, which means it's time to start tackling those overdue projects around the house and do a little Spring cleaning! One prime hotspot for clutter is, of course,
your vehicle
. From kids spilling cheerios to your spouse leaving old coffee cups, the family car can get messy in the blink of an eye. Taking the time to do a thorough clean-out will help you get rid of accumulated junk and make your vehicle sparkle again, so here are three tips to form your plan of attack and get the mess under control:
1. Pull Everything Out
Get a trashbag and recycling bin, and take every item out of your car. Throw out any garbage, put away stray items, and take the opportunity to review what you have in your glove box. Are there old insurance cards that can be archived? Paper map from 1997 that you can toss? Look through everything from top to bottom and get rid of any non-essential items. This is also a great time to review your emergency supplies and see if there's anything you need to pick up, like a roadside assistance kit or jumper cables.
2. Clean All The Upholstery
Use a hand vacuum to thoroughly clean off the seats and floors, getting into all those hard-to-reach nooks and crannies. If you have one, a steam cleaner is also a great tool to utilize here! If you encounter dried-on spills or stains, try using a foam rug cleaner to lift them. Leave the doors open to allow the upholstery to air out and dry, then finish with a spritz of fabric refresher. This would also be a good time to replace any air fresheners you have hanging off the rear-view mirror!
3. Visit a Car Wash
Once your upholstery is looking good, head to your local auto supply store and check out their car care section. You'll find a number of detailer sprays and related cleaning products that can be used both inside and out. Start with the inside of the car and thoroughly clean down the inside of the doors, handles, and dashboard. Once you've got the inside sparkling, drive down to a car wash and give the exterior a nice thorough bath. Your car will be looking like new by the time you leave!
Now that you have your vehicle as clean as a whistle, this is a great time to put some new systems in place to contain the clutter moving forward. For further inspiration, I recommend heading over to Cars.com and reading their tips on how to manage a messy car – it has great hints on how to mitigate mess as it arises, and what preventative measures you can put into place to reduce the amount of deep cleaning you'll have to do later. Cars.com has all kinds of great information and advice on everything automotive, so it's a great resource to bookmark for Spring cleaning inspiration and beyond!
How do you keep your vehicle clean? Do you have any good tips I didn't cover here?