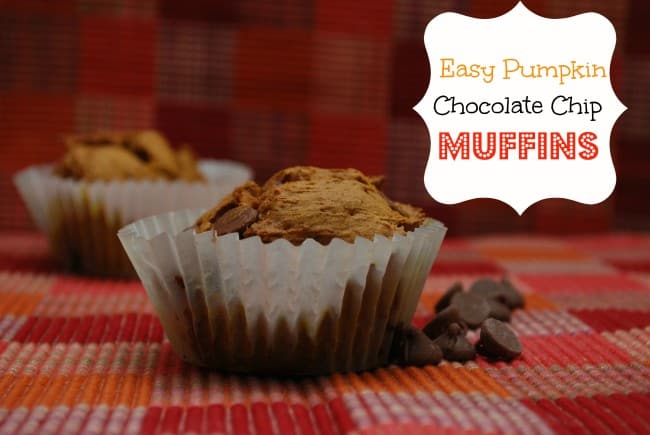 I LOVE pumpkin muffins, but I never have eggs on-hand to bake with. But, you know what? Those aren't even needed to make pumpkin muffins! Check out what I used for the easiest Pumpkin Chocolate Chip Muffins ever – spice cake mix, pumpkin puree and chocolate chips.
Yes. That's it! It was seriously one of the easiest things I've ever made. Now, full disclosure – these will not necessarily LOOK completely baked when they're done, but don't worry – they are. I don't know if it's because no eggs are used or because I tried to mix with a spoon rather than my mixer at first or because I had the oven up too high to begin with (it's  all about trial and error, folks), but they pretty much looked like they did when I first put them in to bake. However, they were completely done, and BOY were they good. Even my super picky daughter who doesn't like anything pumpkin gobbled them up!
Ingredients:
1 Box Spice Cake Mix
1 Small Can Pumpkin Puree
1 Bag Chocolate Chips
How to make it:
1. Pre-heat oven to 350 degrees and put cupcake liners in cupcake pan.
2. Mix cake mix and pumpkin puree in a bowl with your mixer.
3. Add chocolate chips. I used about half of a 12 oz. bag, and I like mine extra chocolatey. Put in however many you want or omit completely if you'd like.
4. Spoon into cupcake liners and bake for about 20 minutes.
That's it! Oh, my house smelled like HEAVEN while they were baking, and I'm totally whipping up another batch when we get back from our Thanksgiving travels. These are so yummy, and they're SO easy to make that there's no excuse to have some on-hand!