If you have been consciously trying to eat healthily and focus on your weight loss efforts, you might have found Weight Watchers recipes pop up every now and then in the search results. This lifestyle program has been around for quite some time now, and quite frankly, it is one of the simplest, effortless weight loss strategies you can implement, especially if you are in it for the long run.
But if you're new to the concept, and are still trying to figure out your way around the point-based system and how to use it to craft your meals, here's a bit of help your way. Scroll down and read on to find an exhaustive list of handpicked Weight Watchers recipes that you can easily embed into your lifestyle without a lot of effort.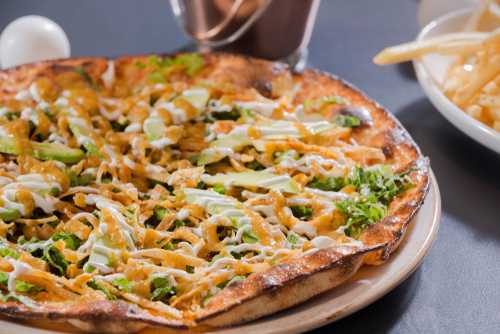 Most of these recipes are super easy to make, need minimal ingredients and taste absolutely divine. You'll find breakfast recipes, lunch and dinner meal ideas, and even low point dessert recipes that you can safely treat yourself to. Go ahead and give them a try!
Soft, fluffy, and oh-so-delicious, these Weight Watcher pancakes weigh just one point, which makes them an excellent choice for your breakfast or as a healthy snack. Plus, you'll also be getting a little dose of protein with the Greek yogurt added in!
The perfect blend of mac and cheese and pizza is what makes up this Weight Watchers casserole recipe. This recipe is incredibly easy to put together, takes just a simple set of ingredients and a few minutes of kitchen time. Plus, it quite literally takes comfort food to a whole new level!
Here's everything you need to know before you give this family-friendly recipe a try!
Got a chocolate lover in you? These decadent chocolate muffins fit right into your Weight Watchers plan and take just three simple ingredients to put together. It doesn't get better than this.
What's best is the fact that everyone in the family will love them!
Curb your Oreo cravings while still staying on track with your efforts- this easy Oreo fluff recipe might just do that right for you. You'll need 4 simple ingredients to make it, and it tastes absolutely divine.
Go give it a try and you might just have your new favorite dessert!
If you have been on the hunt for a zero-point dinner recipe that doesn't take a lot of effort in the kitchen, this Weight Watchers recipe might be worth a shot. This easy turkey chili recipe is freezer friendly and has the perfect balance of flavor and texture that you're looking for in your weeknight dinner.
If trying out wacky combinations of different foods is what you love, this Weight Watchers recipe might be the thing for you. It combines two incredibly delicious foods- pizza and tacos and puts them together. The marriage ends up tasting better than you'd hope and is actually great to serve at a party or a get-together you're hosting as well.
And here's a salad recipe that doesn't taste bland or tasteless, and is, in fact, one of the most filling and delicious salad recipes you could have come across. It packs the protein punch from the chickpea and the tanginess from the feta, and is an excellent healthy, and satisfying lunch recipe worth trying out.
Got a pasta lover in you? This creamy and satisfying Tuscan chicken pasta recipe is worth a try! It makes for the perfect weeknight meal and packs in a combination of some of the most delicious and nutritious ingredients. That's not all-you can meal prep these too!
Light, refreshing, and super creamy, this berry-loaded cheesecake salad is another WW recipe you should definitely try out. It is so easy to put together- all you need is a few minutes of kitchen time and you're sorted! This summer-friendly salad can be an excellent healthy sweet treat for your kids too!
Creamy and loaded with flavor, this cracker chicken recipe is another must-try if you have been on the hunt for a versatile Weight Watchers recipe that works in multiple ways. The best part is that you can prep the dip and put it to use in so many different ways, and if you're making it in your Instant Pot, even better!
Craving for some flavor-loaded Mexican food? These Weight Watchers-friendly chicken enchiladas weigh just 3 points each, and might just become your go-to homemade dinner when you're stuck for inspiration. Plus, it is actually a great way to put that extra rotisserie chicken to use- perfect if you have been consciously trying to reduce food waste.
So easy to make and the most convenient grab-and-go healthy snack, these Weight Watchers energy balls are definitely worth a try. They are chock full of nutritious and healthy ingredients, and taste incredible too!
Your search for a low-point Weight Watchers soup recipe ends here! This taco soup can be a fantastic delicious and filling lunch or dinner option for when you want to just stick to a light, basic meal.
Make ahead and freezer friendly, this hashbrown casserole recipe takes just six simple ingredients to put together. Give it a try on a lazy weeknight, and you might find yourself digging into your next favorite comfort food!
A fun and interesting twist on the classic egg roll in a bowl, this easy Weight Watchers recipe tastes just like takeout- only so much better. Go ahead and indulge in those Southwest flavors, while still staying on track.
Got a soft corner for homemade bagels? These 2 ingredient bagels are a total game-changer and are totally worth a shot if you are looking for Weight Watchers recipes that have the perfect balance of taste and ease of preparation.
Scrumptious and yet, super healthy and light, this beef enchilada pie is another excellent choice if you're on the hunt for some classic Weight Watchers recipes that work for the entire family. Plus, the homemade red sauce that goes into it is super versatile- you can batch make it and use it in a ton of other recipes too!
And here's a cozy and comforting soup recipe that isn't just Weight Watchers friendly, but also easy to make- perfect for those rushed weeknights when you don't feel like spending a lot of time in the kitchen. You'll just need a few key ingredients and around 15 minutes of prep time to put this flavor-loaded soup together.
Ready to serve in just 30 minutes, these BBQ chicken tostadas are another great choice for a quick dinner or lunch meal. And if you've got some rotisserie chicken handy, even better- you'll be able to get the tostadas ready in no time!
And here's a WW dessert recipe that you will never want to pass up on! Creamy, gooey, and packed with the flavors of a chocolate eclair, this skinny cake recipe is sure to be a hit with everyone in the household. Here's to enjoying your dessert guilt-free!
Loaded with the protein and fiber you need to keep yourself going through the day, these sheet pan chicken fajitas are not just WW friendly, but are also incredibly easy to put together. What's more, you'll be making these in the sheet pan, which translates into less mess to be cleaned up afterward.
Who says your favorite chicken parmesan recipe can't be tweaked and turned into a WW recipe? This one does just that and more! It can be a super easy classic dinner you can keep coming back to when you're just looking for a simple, no-fuss meal to enjoy.
Packed with the sweet and tangy flavor of strawberries, these muffins are another excellent WW dessert recipe worth trying your hands at. You'll need only three simple ingredients to replicate them in your kitchen, and before you know it, your home will be filled with the delicious aroma of the muffins!
Your Cool Whip and PB2 can be combined and turned into a creamy and indulgent dessert with almost no major effort! This is one WW dessert recipe you definitely have to try out, especially if you're not too keen on spending a lot of kitchen time.
Time to put that versatile chicken to use and whip up an insanely delicious WW recipe! This key west chicken calls for just 6 ingredients, and a few minutes of grilling time, making it an excellent choice as a summer barbeque recipe. Plus, you can also prep for it in advance and just pop it on the grill when you want to.
And here's another delicious Weight Watchers dessert recipe that you'll keep coming back to, especially during the cooler months of the year. The cinnamon muffins are exactly what they sound like- soft, fluffy, and with that little hint of cinnamon that gets you warm and cozy- and of course, just 2 Weight Watchers points each!
Egg roll in a bowl is actually a genius healthier alternative to your regular egg rolls, and if you haven't given them a shot yet, now's the perfect time to. This Weight Watchers recipe is packed with healthy ingredients and has the perfect balance of crunch from the veggies and the flavors from the seasonings and spices.
Don't like your coffee black? Grab any of these low-point coffee creamers, and sip on that cup of deliciously creamy and rich coffee, minus the guilt. This one's not exactly a recipe, but more like a resource guide to help you tackle your coffee cravings.
Burrito bowls are awesome in more ways than one. They use up so much of those veggies and ingredients lying around in your pantry, and taste so incredibly flavorful and delicious while doing that. Plus, they are great for meal prepping too. This recipe, in particular, is WW friendly and yet, doesn't compromise on the taste at all. Go give it a shot!
Warm, sweet and super comforting, these maple cinnamon apples have all the flavors of fall in every single bite. You can enjoy them on their own or use them as a topping for your pancakes, oatmeal, toast, and even ice cream- they're super versatile that way.
Creamy, comforting, and loaded with deliciousness- you can never go wrong with some good old beef stroganoff. And guess what? there's actually a recipe that turns it lower in points, so you can enjoy it while still sticking to the plan. Definitely worth trying out!
Make-ahead meals are great in more ways than one, and this salsa chicken recipe has the potential to become your next favorite WW meal. It will take your taste buds on a ride, and being incredibly easy to make, you can just prep it on a weeknight and have it ready for the weekdays when you want to have it.
Incredibly moist, this Weight Watchers banana bread recipe is perfect to try out when you have some leftover bananas that you want to put to use. To make it fun and interesting, you can also throw in some chocolate chips or nuts!
A classic appetizer or game-day snack turned WW friendly- that's what these buffalo cauliflower bites are all about. You'll need just a few minutes of kitchen time to make these, and you'll have a healthier, vegetarian alternative to your buffalo chicken wings all-ready! Plus, the flavors are so bang on, that it is sure to be a hit with everyone in the family.
The no-fail combination of peanut butter and chocolate is what makes this easy cookie recipe so fun and interesting. Plus, this is a no-bake recipe, which means you won't need to turn on the oven- perfect for the hot summer months when you just want to be out of the kitchen.
Just one WW point per serving, here's another recipe you absolutely need to try out. Loaded with Mexican flavors and veggies, this casserole lends that comfort food feeling without guilt.
A delicious one-pot meal that takes just under 30 minutes to make from scratch, this French onion chicken bake is one WW recipe you definitely need to give a shot. It has all the comfort food vibes you need, and the flavors are so incredible, that you're bound to find yourself making it again and again.
These little baked sweet treats are WW friendly, and are so easy to put together too! Packed with the fall flavor of pumpkins, you are sure to love every single bite! Plus, you can make a big batch over the weekend and store them for later.
Just one WW point each, these soft and fluffy muffins are another sweet treat that will be sure to lift up your spirits. You can also throw in some blueberries to get some extra flavor and healthy goodness.
And here's yet another filling taco casserole recipe that is scrumptious to the next level. You can make it as a quick family dinner or for a potluck, and the results are sure to be lip-smacking delicious every single time. Plus, you can also swap some of the ingredients that have made it into this recipe and try out which version you like best.
Spicy, flavorful, and simply divine, this healthy chili recipe is WW friendly and might top your list of favorite foods before you know it. Use canned ingredients, and you have your chili ready in no time!
Creamy and flaky tuna sandwiched between two slices of bread, toasted until nice and crispy- that's what this tuna melt recipe is all about. The sandwich is 6 points each, and makes for an excellent lunch to pack with you on the go!
When you're stuck for healthy meal ideas, a chicken salad is almost always the safe spot- it is something you can't go wrong with. And this WW recipe in specific is just 1 point, which makes it even more worth your time. This summer-friendly salad is super versatile- you can enjoy it as is or with crackers.
If a WW-friendly make-ahead breakfast is what you're on the hunt for, these zero-point muffin tin eggs might work wonderfully. That's not all- they have the right combination of classic ingredients- so you'll be able to enjoy a hearty breakfast on those rushed weekday mornings without having to spend a lot of kitchen time.
And here's another breakfast recipe that is light, super healthy, and chock full of flavor and deliciousness. They are a slightly different take on your regular omelet, with some crunchy veggies thrown in to make it a fiber-rich meal.