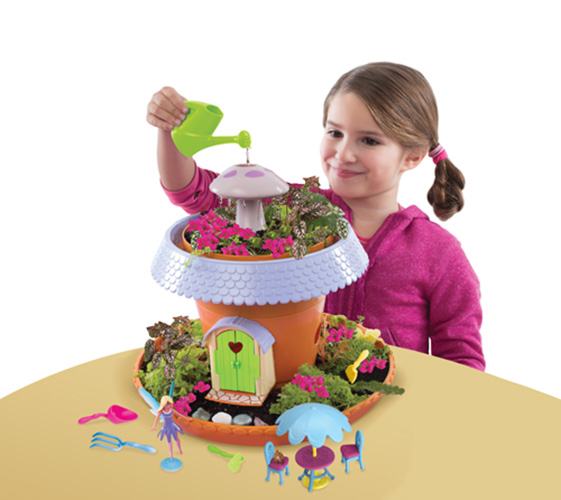 With spring here and so many events like Mother's Day, school ending, and more I like think of ideas for gifts that aren't of the norm. I recently discovered My Fairy Garden (PlayMonster, MSRP $16.99-$29.99) and thought wow, everyone should have one…
Not only does My Fairy Garden have the whimsy of fairies and sprites as its theme, but it also promotes learning. My daughter will be able to plant, nurture, and grow some beautiful flowers all on her own. We plan on placing it right by our front door to greet guests with some enchantment and magic. The set comes with: 2-Piece Flowerpot, Tray, Toadstool, Umbrella Table, 2 Chairs, Seed Packet, Soil, Watering Can, 3 Gardening Tools, Freya the Fairy, Hazel the Chipmunk, Leaflet.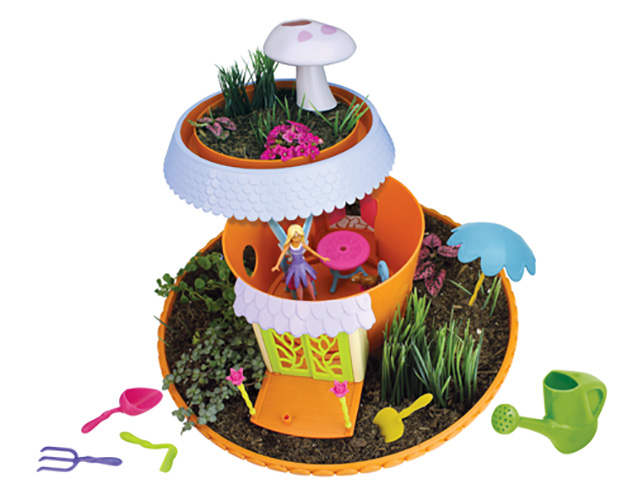 My Fairy Garden™ is the first of its kind: a toy that's also a real, live garden! Children love kits that allow them to grow plants at home; it gives them a connection to nature and a sense of satisfaction at having nurtured a living thing. My Fairy Garden takes it to a new, exciting level by allowing children to interact with it as part of an enchanting play set! Children plant the quick-germinating seeds, and care for their garden, all while setting up and playing with adorable fairies, woodland friends and accessories! It's a great collectible line for children ages 4 and up!
Perfect for Easter Baskets. My Fairy Garden is a sweet alternative to traditional candy and chocolate. And it lasts longer!

Celebrate Spring! Children love kits that allow them to grow plants at home and My Fairy Garden allows them to nurture their very own garden.
Celebrate Earth Day. A beautiful learning tool, My Fairy Garden allows kids to learn about nature by planting their own seeds and watching them grow from sprouts to blooms.

Classroom Show and Tell. Preschoolers can plant their beautiful gardens and share them with their friends.

Perfect for Fairy Parties! My Fairy Garden is the perfect theme for Spring parties, birthday parties or gifting ideas for any occasion.
Find My Fairy Garden at Walmart, Target, and Amazon!