I totally wish I could take credit for coming up with the idea for this project, but I didn't. A woman I interviewed for a story on interfaith families told me her son had made a menorah out of handprints at his preschool, and I thought that was such a cute idea. It was definitely something I wanted to do for my in-laws, who are Jewish.
So, today on our way home from my sister-in-law's house, we stopped by Hobby Lobby and grabbed some supplies. We spent around $10 after two 40% off coupons for two canvases (two pack for $3.99), 2 bottles of paint and a pack of brushes. I didn't realize the yellow paint was more expensive but, I figure we'll be able to use the paint and brushes for many, many other projects, so spending $10 isn't too bad.
My daughter was psyched to paint. She talked about this the whole way home. Thankfully, it was only about a 10 minute drive. 🙂 After we cleared a space on the table (which is still piled with items from my last shopping trip. Ugh.), we put down some paper towels and got to work. The first step was to paint her hands. Rather than painting both and then putting them both down at the same time, we did them one at a time. I think that was much easier for a toddler.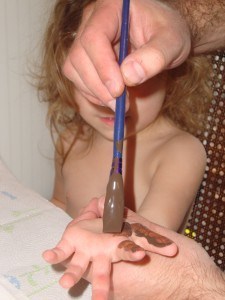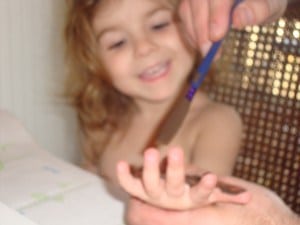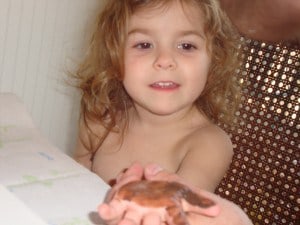 We put her left hand down first and then the right, putting her right thumb on top of the print from her left thumb, which made a candle holder for the middle menorah candle.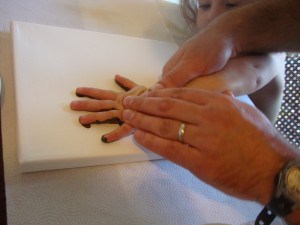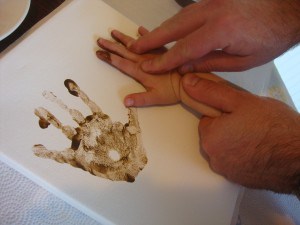 While Joe washed Lucy's hands, I painted the base for the menorah. It was fairly simple, which is saying something coming from someone who has no artistic abilities whatsoever. I just painted a line from one hand to the other, then added a thick base. Then, Joe and Lucy added the flames.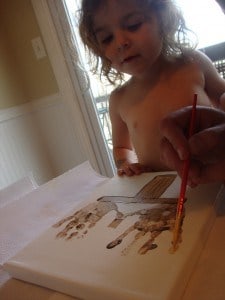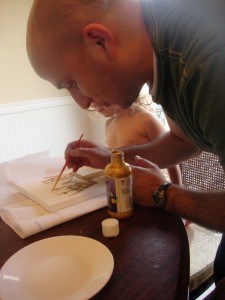 And, this is the finished product!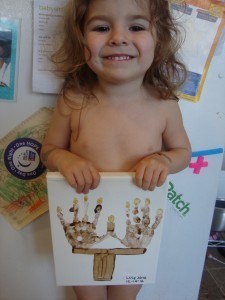 How cute is that?? And, it took us only about 10 minutes to make it, so it's not time consuming. I can't wait to see my mother-in-law's reaction when we give it to her!