This is one of my family's FAVORITE recipes. It's perfect for summer because it is SO light. I usually make this when we either have people over or are invited to someone's house. It's always a crowd-pleaser, and it is SO easy to make. Seriously. If you can make pasta and cut tomatoes, you can make this dish.
The recipe calls for fresh basil, and that tastes good in it, but I kind of like the dried basil even better. Does that make me weird? I also love the pine nuts in it. It gives it a nice crunch. As you can probably tell from the picture, I don't put cream cheese in when I make this dish because I don't eat cheese. If you make this, let me know what you think!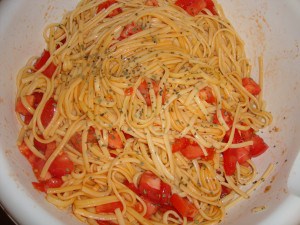 Creamy Tomato and Basil Pasta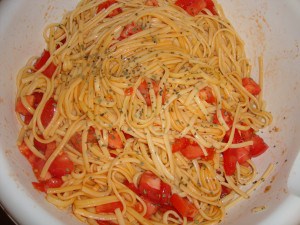 Ingredients
2 lb. tomatoes, chopped (about 3 cups)
1 pkg. (8 oz.) Philadelphia cream cheese, cubed
1/4 cup Kraft special collection sun-dried tomato vinaigrette dressing (or Catalina dressing)
1/2 cup chopped fresh basil
1 pkg. linguine
1/2 cup pine nuts, toasted
Instructions
Toss tomatoes with cream cheese and dressing; cover. Refrigerate at least 2 hours.
Cook pasta as directed on package; drain. Place in large bowl.
Add tomato mixture, basil and pine nuts; toss lightly.
Keep refrigerated.
Like it? PIN IT!