I LOVE Bruschetta SO MUCH but hate the calories. I LOVE the idea of making Cloud Bread – it's low-fat, there are ZERO carbs, and it's gluten-free too! It's easier to make than you think and perfect for Weight Watchers, Keto, and 21 Day Fix diets. It's also SUPER healthy (and feels like you are cheating on your diet!!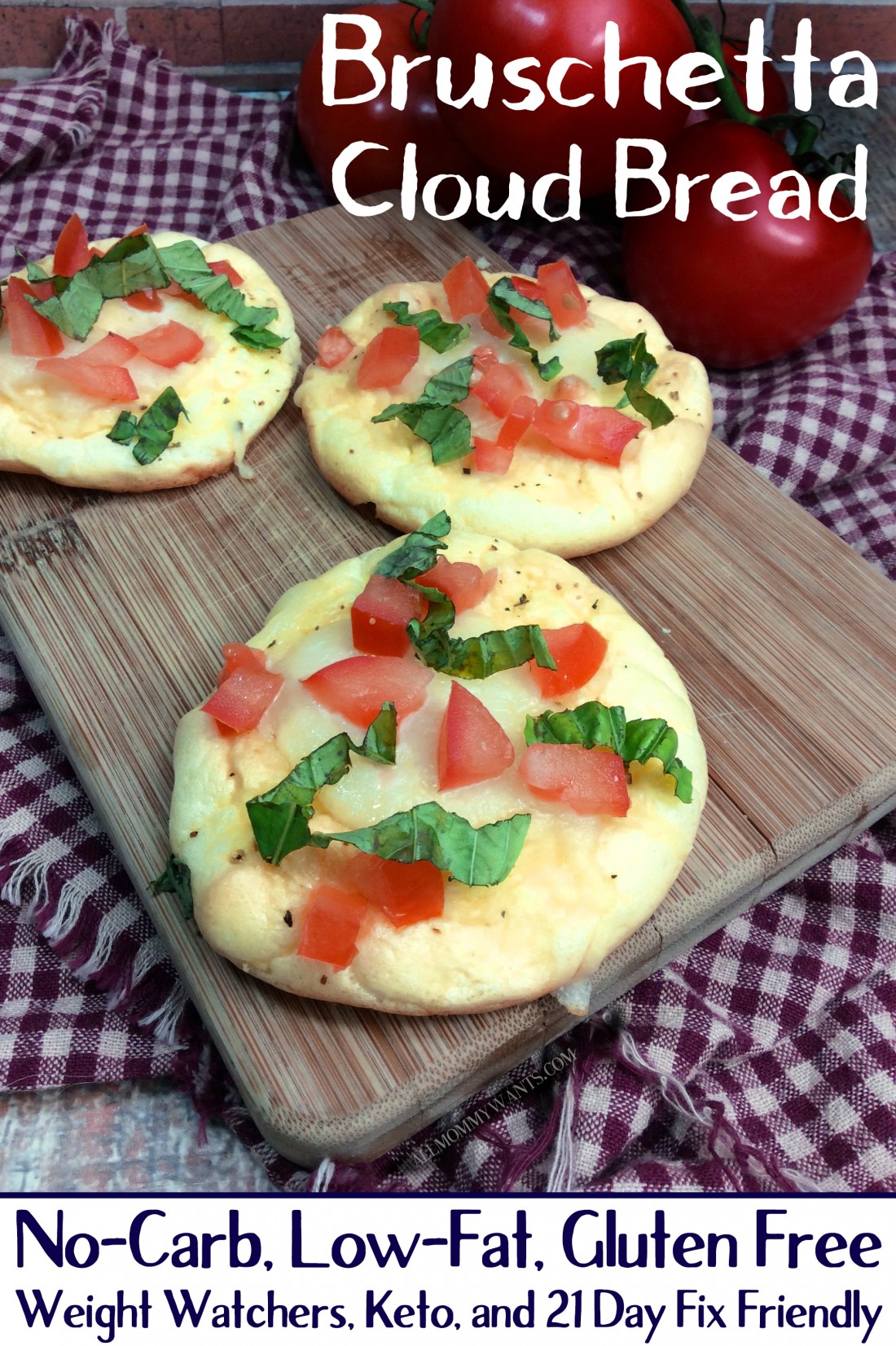 Bruschetta Cloud Bread
Prep Time 10 minutes

Cook Time 7 minutes

Additional Time 5 minutes

Total Time 22 minutes
Ingredients
3 eggs, seperated
3 tbsp softened cream cheese
1 packet of splenda (about 1/2tsp)
1/4 tsp cream of tarter
1/2 C of butter, melted
1 tsp dried oregano
1 tsp minced garlic
1 C shredded mozzarella cheese
You will also need:
1 cookie sheet
parchment paper
small ice cream scooper
Instructions
preheat your oven to 300 degrees and place a sheet of parchment paper onto a cookie sheet.
Seperate the eggs, putting the egg whites into a standing mixer and the yolks into a medium bowl.
Add 1/4 tsp to the egg whites and turn the mixer on to medium and high speed.
Mix until stiff peaks form.
Combine the cream cheese and splenda into the medium bowl with the egg yolk.
Using a hand held beater, mix until combined and smooth.
Gently fold in the egg yolk mixture into the egg whites, making sure that the egg whites keep their fluff.
Take the ice cream scoop and scoop a small scoop onto the parchment paper.
Bake in the oven for 5 minutes until a golden brown.
Pull out and brush on some of the garlic, oregano, and butter mix.
Sprinkle some of the mozzarella cheese.
Put back into the oven for another 2 minutes or until cheese is melted.
Top with chopped basil and chopped tomatoes.
Let sit for a few minutes and then enjoy!
Nutrition Information:
Yield:
6
Serving Size:
1
Amount Per Serving: Calories: 310Total Fat: 26gSaturated Fat: 15gTrans Fat: 1gUnsaturated Fat: 9gCholesterol: 159mgSodium: 309mgCarbohydrates: 11gFiber: 0gSugar: 7gProtein: 8g