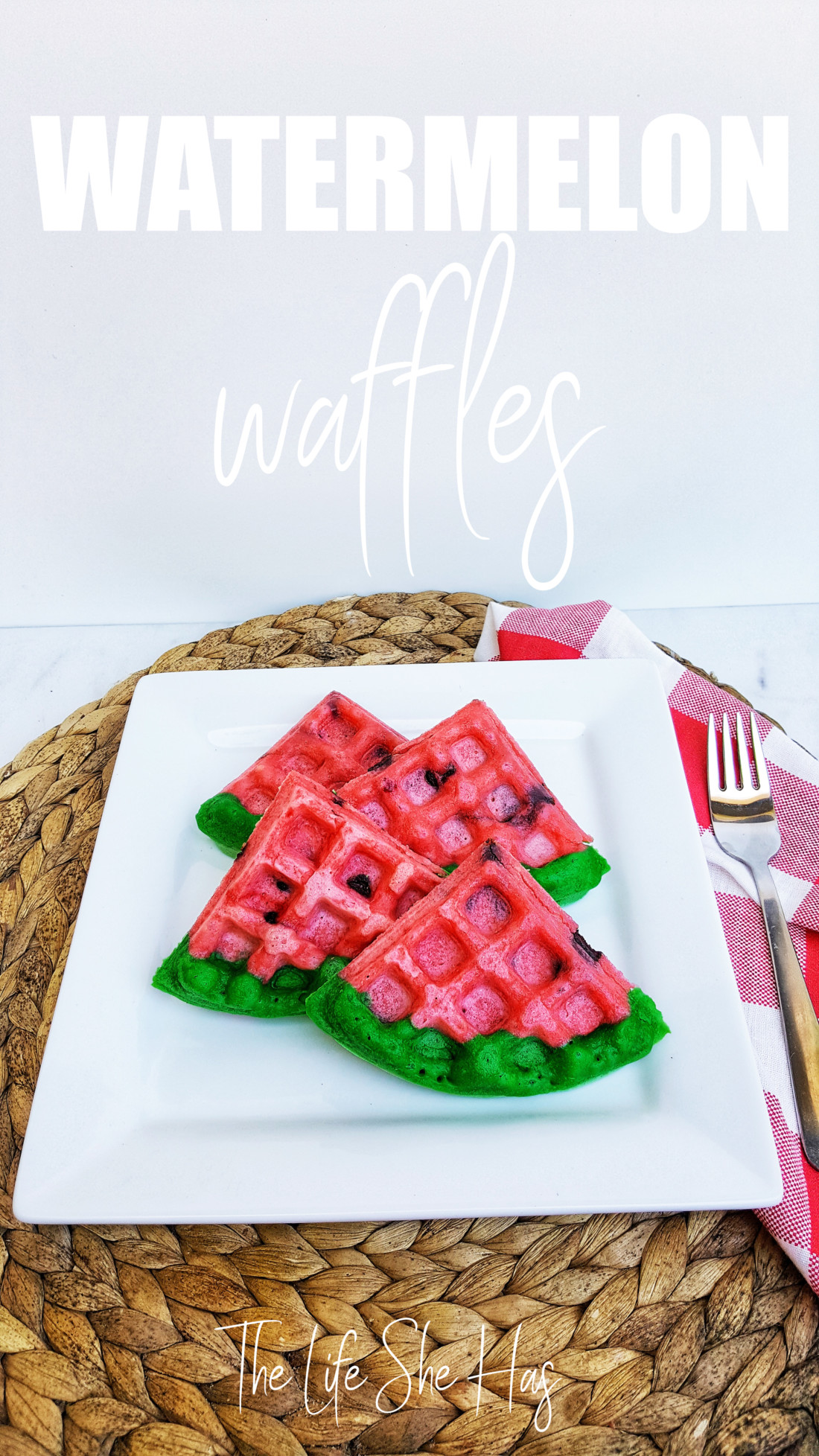 I love summer – and nothing says "summer" to me more than watermelon! These "Watermelon" waffles will be perfect for a summer breakfast – or add a scoop of ice cream for a delicious treat!
I love how bright and summery these waffles are. You can even make ahead and freeze for a quick snack or easy breakfast.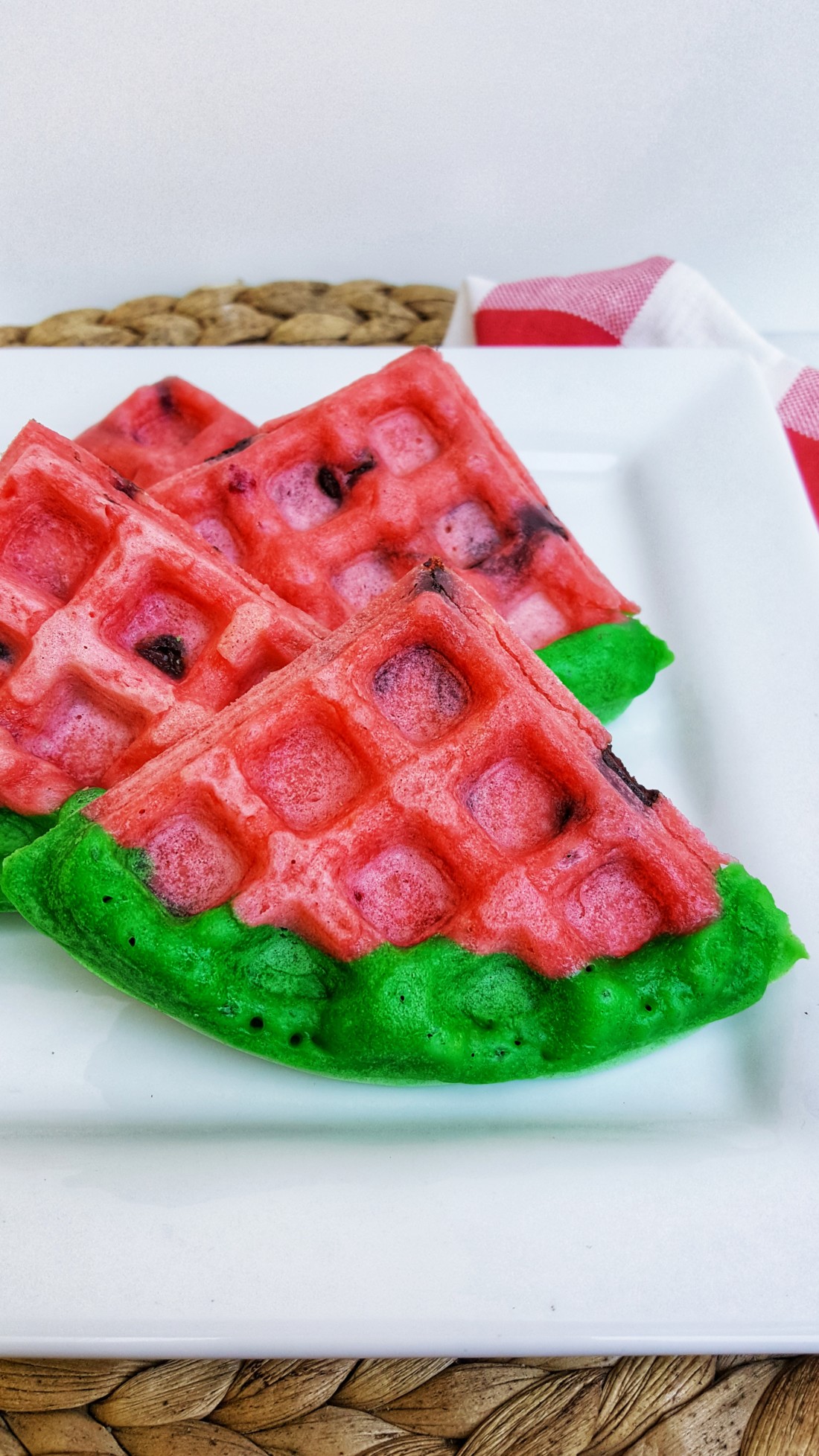 Yield: 4
Watermelon Shaped Waffles - Chocolate Chip Waffles From Scratch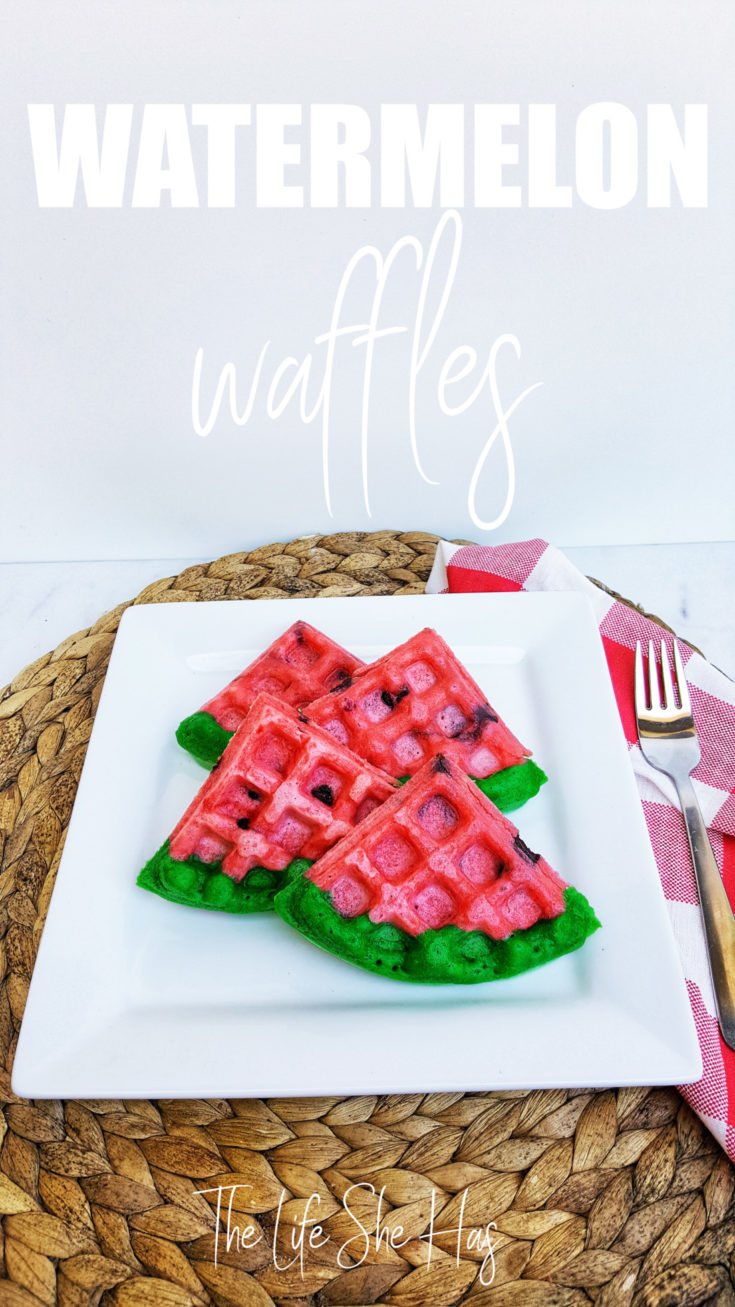 Delicious chocolate chip waffles that look like watermelon slices - from scratch!
Ingredients
2 Eggs
1 ¾ C. Milk
1 Tbs. Sugar
1 Tbs. Baking Powder
½ tsp. Salt
½ Oil
2 C. Flour
1 Handful Chocolate Chips
Red and Green Food Dye
Instructions
In a medium mixing bowl, whisk together the eggs and milk.
Add in the sugar, baking powder, salt, and oil- mix until well combined and there are no lumps.
Whisk in the flour just until combined, do not overmix!
Take 1 ½ cups of the waffle batter and place into a separate bowl.
Add several drops of green food coloring to the small bowl of batter.
In the large bowl, add in several drops of red food coloring, and a handful of chocolate chips.
Grease a hot waffle iron (if yours requires it), and add a large scoop of the red waffle mix to the center.
Use a small spoon to ladle a thin layer of green batter around the edge.
Sprinkle in a few more chocolate chips if desired, and cook to your preference.
Serve warm with syrup, whipped cream, or just by themselves.
Nutrition Information:
Yield:
4
Serving Size:
1
Amount Per Serving: Calories: 415Total Fat: 11gSaturated Fat: 5gTrans Fat: 0gUnsaturated Fat: 5gCholesterol: 102mgSodium: 750mgCarbohydrates: 66gFiber: 3gSugar: 11gProtein: 14g