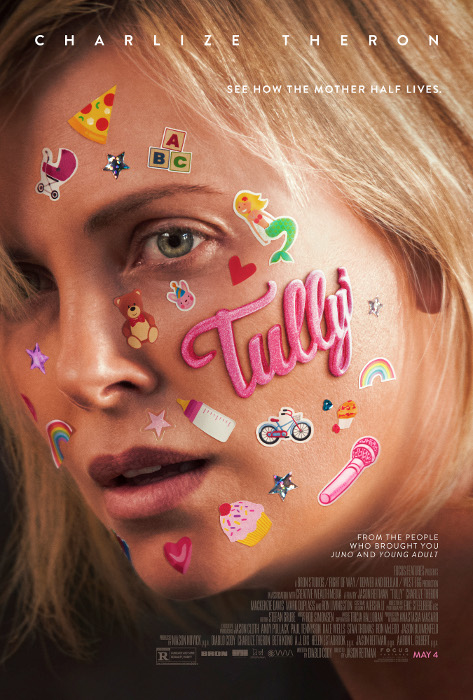 Travel consideration to the "Tully" press event was provided.
Between social media spoilers and over-long trailers that reveal every detail, sometimes it feels like I already know everything about a film before I even get to the theater. In a way, I understand the impulse to do your homework: Going to the movies is an investment of time, and no one wants to get stuck at a film they don't like. Unfortunately, the cinematic trend towards overexposure and playing it safe often makes me feel like I can see every plot line coming a mile away – which is precisely why I found Tully to be so refreshing. I had the opportunity to attend an advance screening of the film in Los Angeles last week, and Charlize Theron coming out to introduce the movie wasn't the only surprise the evening held.
Written by Diablo Cody and directed by Jason Reitman, Tully brings us in to the world of worn-down mom Marlo (Charlize Theron) following the birth of her third child. As Marlo struggles to adjust to life with a new baby while also caring for her older son with special needs, her well-meaning-but-obtuse husband Drew (Ron Livingston) stands by unsure of how to help. Growing concerned about Marlo's well-being, her brother Craig (Mark Duplass) hires a night nanny named Tully (Mackenzie Davis) to help the family as a gift. Ostensibly, this is a film about the quiet desperation of domestic life; but just like motherhood itself, there's a lot below the surface in this piercing and relatable dramedy.
Brutally honest and cleverly executed, Tully captures the bleak hum of depression in a very raw and real way without losing its sense of humor or hope. While the film's focus is on post-partum depression specifically, anyone whose life has been touched by clinical depression will see that experience reflected back to them in this movie. Indeed, one of the things that most struck me about Tully was how it so accurately captures the insidious nature of mental illness – at the end of the screening, I reflected on how many subtle red flags had appeared throughout the film that were all too easy to dismiss until the full picture came into focus, which made me immediately want to re-watch the movie so I could appreciate it from a different perspective. Tully tells a compelling story that will make you think and stay with you long after you leave the theater.
Tully hits cinemas next Friday, May 4th – learn more by visiting the official site and following #Tully on Twitter, Instagram and Facebook.