This post is sponsored in part by Oroweat. The recipe is 100% my own.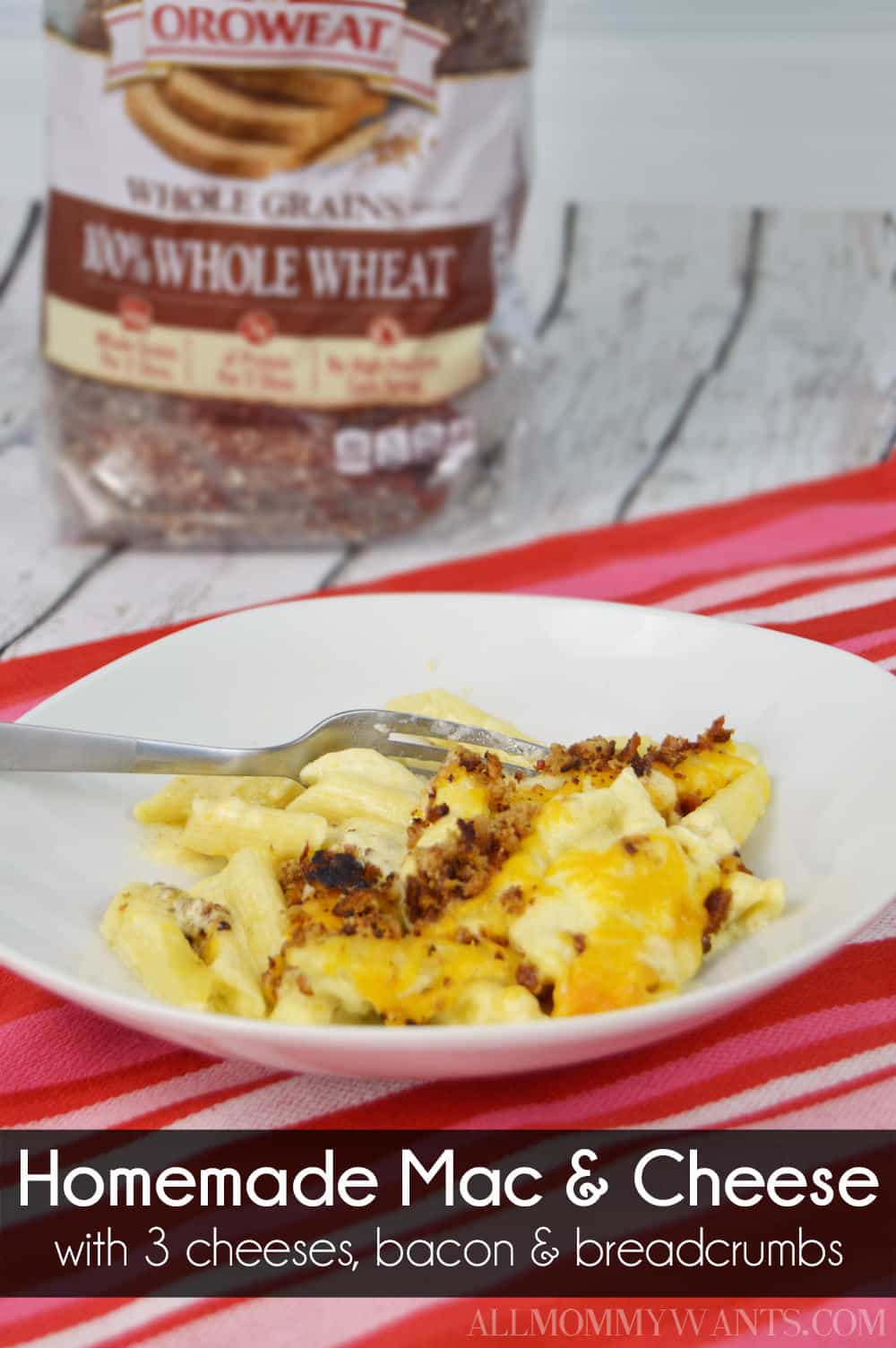 I love good old comfort food! Especially macaroni and cheese – there's something about the ooey-gooey goodness that just gets me. Adding toppings like breadcrumbs and bacon just adds to the amazingness too! My husband proclaimed it was the "best mac and cheese he's ever had", so I'd say it's pretty darn delicious.. This is also a great make-ahead dish for potlucks and more!
A word on the breadcrumbs… I used (and LOVE) Oroweat Whole Grain Whole Wheat bread to make the crumbs. It made all the difference in the world and gave a delicious earthy heartiness to the dish. Oroweat's 100% whole wheat bread is made with whole grains, is a good source of fiber, and every slice adds hearty flavor to sandwiches and more. So technically this Homemade Mac & Cheese is now health food.
Click HERE to PIN THIS recipe on Pinterest!
PIN THIS recipe on Pinterest!
3 Cheese and Bacon Mac & Cheese Casserole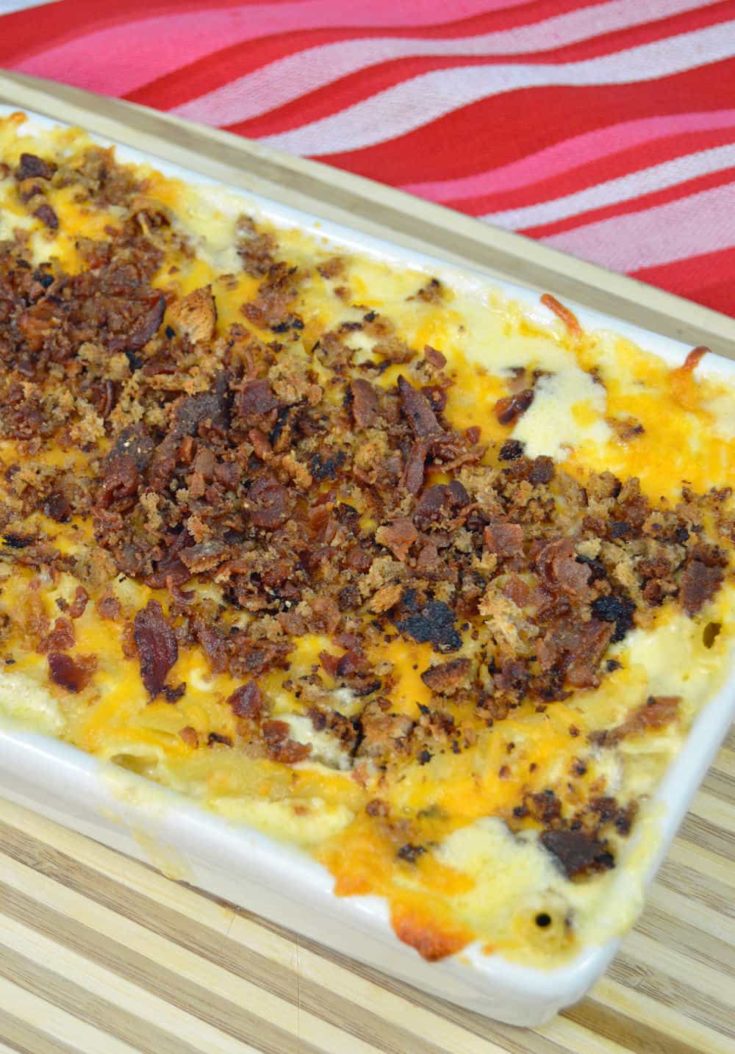 Prep Time 25 minutes

Cook Time 30 minutes

Total Time 55 minutes
Ingredients
1 cup shredded sharp cheddar cheese
1 cup Shredded Monterey jack cheese
1/2 cup shredded fresh parmesan cheese
1 1/2 cup milk
1 1/2 cup heavy cream
1 Clove garlic (minced)
1/4 cup butter (1/2 a stick)
1/2 tsp salt
1/2 tsp pepper
3 strips of bacon
1 slice Oroweat Whole Grain 100% Whole Wheat Bread, crumbled in a food processor
8oz uncooked macaroni (I love penne for this dish!)
1 tbs butter (for topping)
1/4 cup shredded cheddar cheese (for topping)
Instructions
Preheat oven to 365 degrees.
Boil macaroni in water until al dente (about 8-10 minutes).
In saucepan on medium heat melt butter with minced garlic, then add milk, cream, cheeses, and salt & pepper. simmer until cheese is melted completely and sauce is smooth.
Transfer drained cooked macaroni into a casserole dish and pour cheese sauce over, mixing well.
In a separate saucepan, cook bacon until crispy, then remove strips and crumble into a bowl or food processor.
Brown bread crumbs in the bacon grease plus a tablespoon of butter, then transfer to same bowl bacon is in and mix together.
Pour drained pasta into a baking dish, then pour cheese sauce over it, covering completely.
Sprinkle bread crumb/bacon mixture and 1/4 cup cheddar cheese on the top.
Bake for 30 minutes at 350 until brown and bubbly and serve immediately! Leftovers can be covered and stored in the fridge.
Heat up by placing in a 350 degree oven for 20 minutes.