Daisy Ridley is a newcomer to the world of entertainment – and she's a forcing her way onto the scene.
As the lead character Rey in Star Wars: The Force Awakens (in theaters Dec 18th) she was brought into the world of an iconic American pillar – a culture. Star Wars is one of those pieces of history that every one will think of and remember their first experience with the franchise – it's that groundbreaking.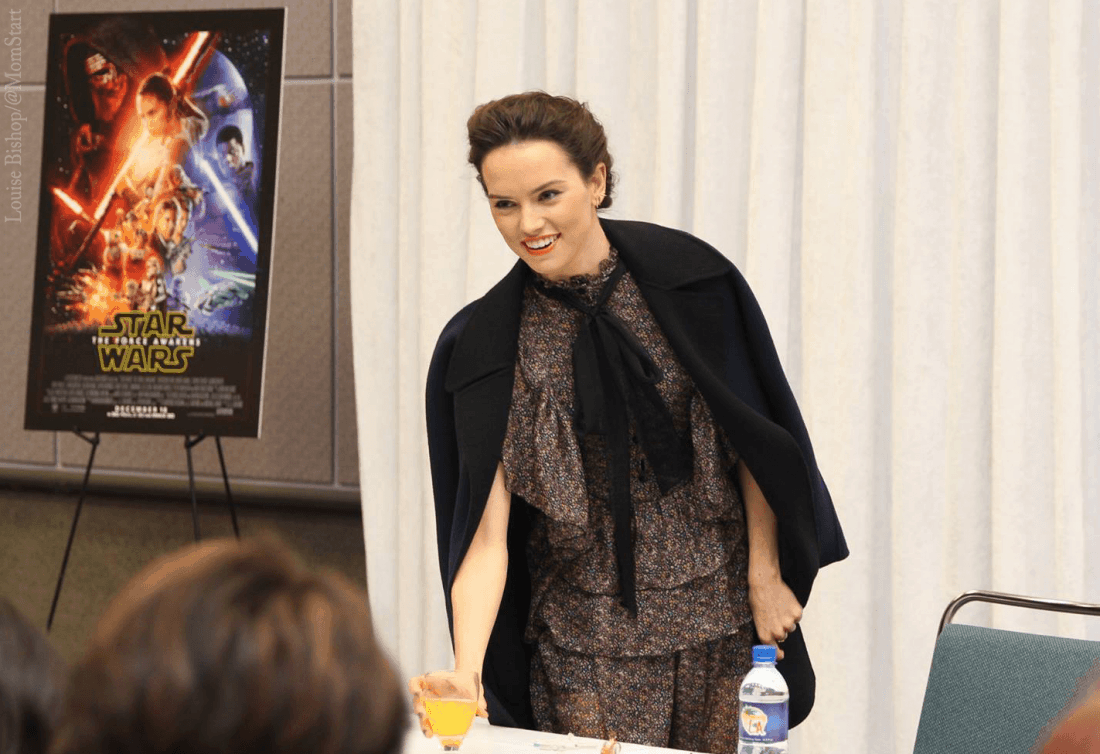 When Daisy came into the room of 25 bloggers she was taken a bit aback. She wasn't used to the hoopla surrounding her – she had been in some film shorts and small parts on a hadnful of television shows in the UK, but never a feature film, much less one of the stars of the highest anticipated film of this decade. She smiled and flashed her bright and endearing grin, while looking sheepishly around. The result was utter charm.
"My audition process was very long. Um, I've never been as nervous for an audition as I was for it, I turned up an hour early", she laughed, "and I was like, 'I can't be an hour early', so I went to a coffee shop to like sit and chill. And then I went in half an hour early, they were like, 'no you need to come back, because you're still too early'. It was just over in a flash".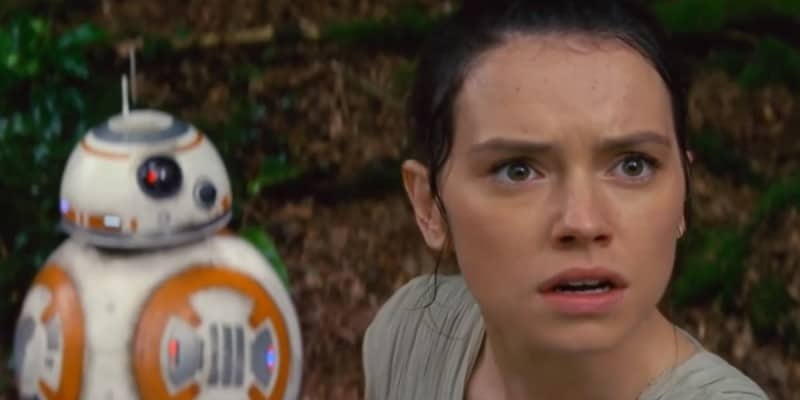 She went on to talk about the "sixth sense" she had about getting the role.
"Before I started auditioning two of my friends had said something about it and I was like, 'oh my god', I've got a really weird sense of – it sounds cliché, a sense of something that was going to come from it".
She put plenty of pressure on herself and felt like she was screwing up, but the last audition was the key (according to her) – "I was like obviously I still wanted the role but I was like even if I don't, I'm really glad that I've shown him really what I can do. And then luckily I got the role. So that was a good ending".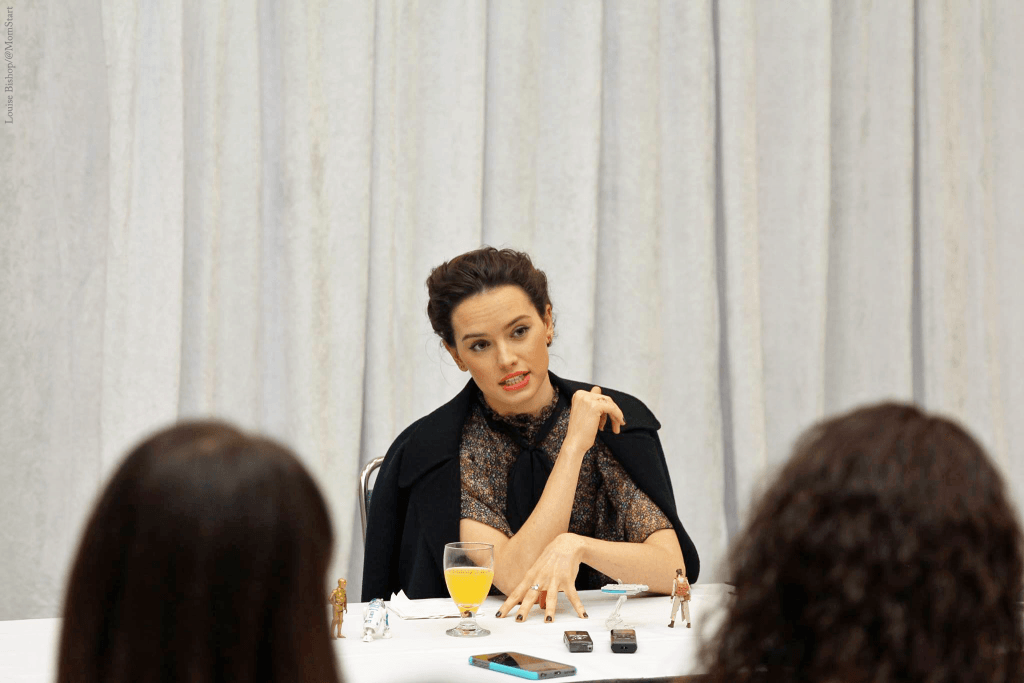 Daisy is getting used to the idea that her character is being called "this generation's Luke Skywalker", but feels like there is more than that. "I can kind of see all of them (the main characters) in her. She's a pilot so there's Han. And she's a kick-ass woman, so there's Leia. Definitely the humble beginnings and an incredible story is the same as Luke. But it's very exciting that I'm a girl and that more people hopefully will be able to relate to this story because of that".
Daisy mentioned that she sees herself in Rey, only Rey is amplified in those characteristics. "
I like to think I'm kind of brave but she's far braver. I like to think I try and do the right thing but she far exceeds that. She's not polished and she's nuanced and I think that's why she's so brilliant and so relatable. But she's far more of anything I think I could ever be because of her circumstances".
"Rey in her way has lived a life and she has wisdom probably beyond her years. And the thought of girls being able to relate to a character in a film where perhaps girls can't find in films so much of what they can physically like see themselves in. They can't follow a story sometimes if there's nothing that's representing them in the film. So to be part of that is incredible".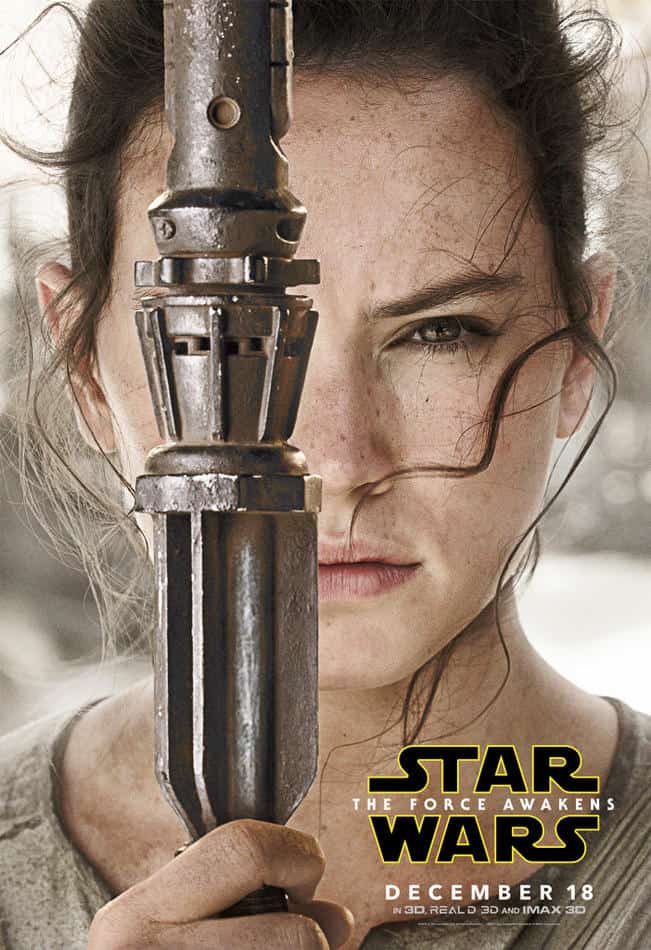 She does have personal female role models in her own life, whom she talked about fondly.
"Me and my mom have an amazing relationship," she gushed. "She's an amazing woman. And my Gram… My mom has a group of friends who we kind of grew up with. I don't really have very much close family so they formed ours".
Daisy did have an embarrassing moment during her audition with Lucasfilm president and producing powerhouse Kathleen Kennedy. "I met Kathy and I didn't really understand who she was at that point. That's obviously embarrassing now. But she asked me who I looked up to and I remember talking about them and now I look at Kathy and think, oh my god. She's another person. She's another woman I look up to".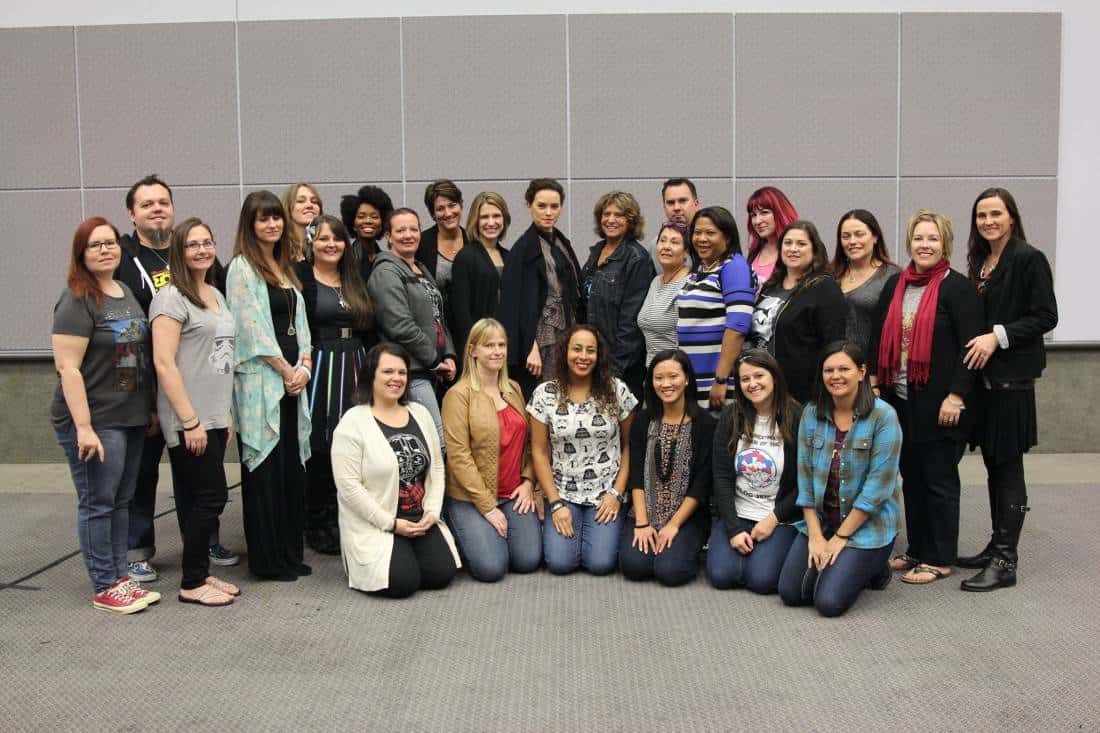 Since Daisy wasn't much of a Star Wars fan when she got the role, she had no idea just how far of a reach the franchise really has. She got a taste of it at San Diego Comic-Con this past year where she sat for panel interviews.
"Everyone is here for the same reason. I think that would have been quite overwhelming if I had been dealing with that while also dealing with the fact that I'm just a young girl being thrust into this thing and I don't quite know why I'm here. With everyone so obviously infected by this thing, it sweeps you along with it".
Many of you have probably seen the now-famous video of Daisy and Oscar Isaac (Poe) singing a Holiday classic. If not, check it out:
That time Oscar and I duetted… #dreamy
It turns out Daisy was in musical theater and would love to sing "I would love to be in a musical, I'd absolutely love to be in one. Uh, but it's funny because I just saw The Color Purple last week and I was watching it like- I can't be in a musical. These are people that should be in musicals with voices like this".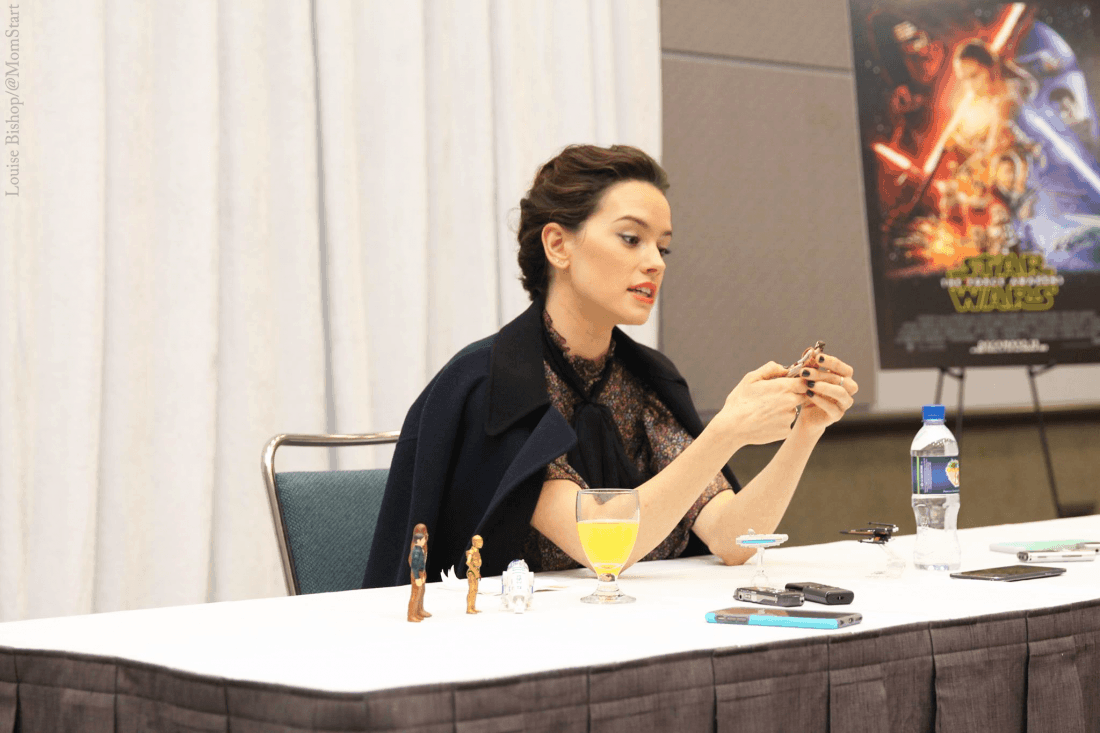 One thing she was downright giddy over was her likeness in toys. I've got this suitcase of stuff sent to me and I received it when I was alone, I don't I Instagrammed my reaction because it was so- my dog was there, my dog was like 'what up' (disinterested). I put everything away and like in the suitcase and then I came back the next day and there were figures everywhere".
OH MY GOD BEST GIFT EVER!!!!!!! Thank you Disney and Lucasfilm for the best toy box anyone could ever have!!! AHHH SO EXCITING I CANT BELIEVE IT!!! IM A TOY!!! Anyone else excited for #forcefriday?!!!!!!! A video posted by @daisyridley on
As far as the Star Wars legacy goes, she is still in the calm before the storm and is just soaking it all in. "I still can't believe I'm part of it. And that this is a thing and that people are going to enjoy this that much. But, um, I still grapple with the fact that that it is happening".
See Star Wars: The Force Awakens in theaters everywhere this Friday!