[vc_row][vc_column][vc_column_text]Shiseido is one of those brands that stands the test of time. Founded in Tokyo in 1872, it's one of the oldest cosmetics brands in the world and continues to be innovative in both color and collection.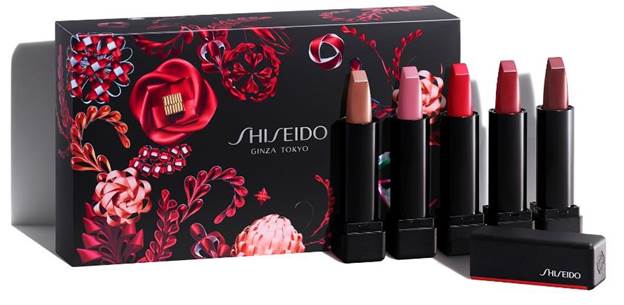 I was recently sent some Shiseido products to try out – keep an eye on my YouTube channel for a reveal of the perfect Holiday look with Shiseido.
This season is all about sparkle and lushness, and Shiseido's North America Color Artist Vincent Oquendo has much to do with it.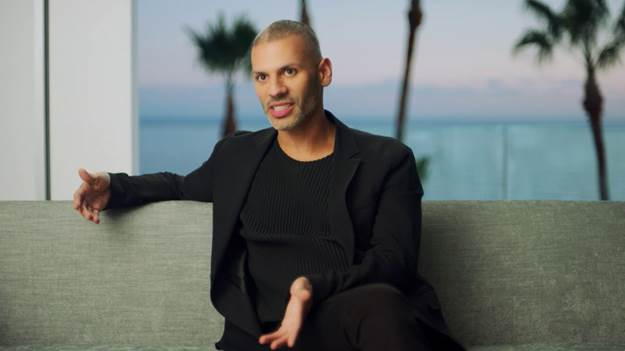 Vincent Oquendo's artistic eye, magnetic personality, and glamorous aesthetic have made him a highly sought-after makeup artist by many of the top names in the industry. Before becoming the go-to pro for celebrities like Emma Roberts, Hailey Baldwin, Lily Collins, Karlie Kloss, Paris Jackson, Hailey Steinfeld, Laura Harrier, Suki Waterhouse, and Priyanka Chopra, he honed his talent backstage in New York, Milan, and Paris as an assistant to Pat McGrath. After learning from one of the most renowned artists in the business, Oquendo struck out on his own and teamed up with notable photographers like Miguel Reveriego, Alexei Hay, Roe Etheridge, Marilyn Minter, Ben Watts, among many others. His work has appeared in publications such as Vogue, Elle, Harper's Bazaar, (-D, L'Officiel, V, and W. Born and raised in Queens, Oquendo credits his passion for beauty and makeup to his mother. He currently splits his time between New York City and Los Angeles.
Oquendo began his career modestly, working at Sak's Fifth Avenue in the makeup department. He was surrounded by many iconic brands, Shisheido being one of them. The Japanese roots Shiseido has intrigued him; the brand was always exotic and unique. It wasn't until later that he realized that makeup in every culture was a ritual — from the streets of Paris to Manhattan to Tokyo, women (and now men) everywhere treat self-care as an important aspect of their day. Shiseido's values aligned with this idea which is why Oquendo was so drawn to the brand.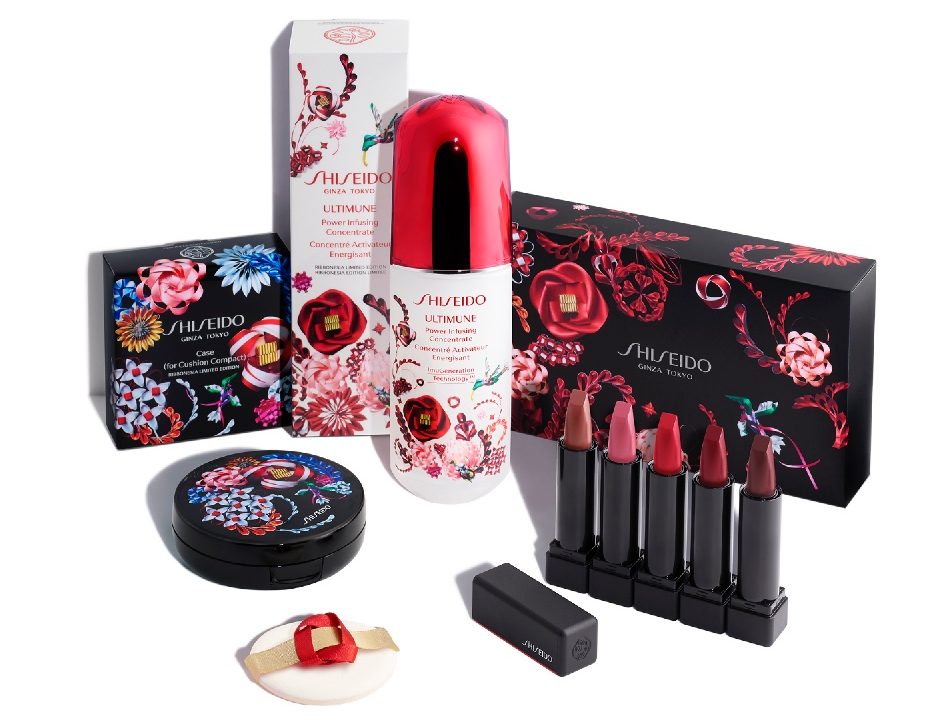 Vincent Oquendo's eye for makeup doesn't stop with color. He has a very unique outlook on texture, subtly layering texture with color on his clients.
As an assistant, I learned that you can achieve balance by using different textures to guide the eye. For example, if I'm creating a natural, no-makeup look, I juxtapose matte shadows with metallic highlighter near the inner corners and polish off lashes with a shiny black, brown, or navy mascara. These subtle differences in texture create depth, which is essential for creating a show-stopping look on the red carpet.
[/vc_column_text][/vc_column][/vc_row][vc_row][vc_column width="1/4″][vc_single_image image="1008184″][vc_wp_text]
The Gift Of Ultimate Lifting Set
[/vc_wp_text][vc_btn title="Buy Now" shape="square" color="white" link="url:https%3A%2F%2Fwww.macys.com%2Fshop%2Fproduct%2Fshiseido-6-pc.-the-gift-of-ultimate-lifting-set%3FID%3D6459189%26CategoryID%3D55537%23fn%3Dsp%253D1%2526spc%253D188%2526ruleId%253D77%257CADD%2520SAVED%2520SET%257CBOOST%2520ATTRIBUTE%2526kws%253Dshiseido%2526searchPass%253DexactMultiMatch%2526slotId%253D4|||"][/vc_column][vc_column width="1/4″][vc_single_image image="1008188″][vc_wp_text]
[/vc_wp_text][vc_btn title="Buy Now" shape="square" color="white" link="url:https%3A%2F%2Fwww.macys.com%2Fshop%2Fproduct%2Fshiseido-5-pc.-holiday-mini-lip-set%3FID%3D6459181%26CategoryID%3D30077%26isDlp%3Dtrue%23fn%3Dsp%253D1%2526spc%253D188%2526ruleId%253D77%257CADD%2520SAVED%2520SET%257CBOOST%2520ATTRIBUTE%2526kws%253Dshiseido%2526searchPass%253DexactMultiMatch%2526slotId%253D7|||"][/vc_column][vc_column width="1/4″][vc_single_image image="1008189″][vc_wp_text]
[/vc_wp_text][vc_btn title="Buy Now" shape="square" color="white" link="url:https%3A%2F%2Fwww.macys.com%2Fshop%2Fproduct%2Fshiseido-4-pc.-mens-skincare-essentials-set%3FID%3D6459188%26CategoryID%3D55537%26isDlp%3Dtrue%23fn%3Dsp%253D1%2526spc%253D188%2526ruleId%253D77%257CADD%2520SAVED%2520SET%257CBOOST%2520ATTRIBUTE%2526kws%253Dshiseido%2526searchPass%253DexactMultiMatch%2526slotId%253D12|||"][/vc_column][vc_column width="1/4″][vc_single_image image="1008190″][vc_wp_text]
[/vc_wp_text][vc_btn title="Buy Now" shape="square" color="white" link="url:https%3A%2F%2Fwww.macys.com%2Fshop%2Fproduct%2Fshiseido-2-pc.-the-gift-of-honey-cake-set%3FID%3D6459185%26CategoryID%3D55537%26isDlp%3Dtrue%23fn%3Dsp%253D1%2526spc%253D188%2526ruleId%253D77%257CADD%2520SAVED%2520SET%257CBOOST%2520ATTRIBUTE%2526kws%253Dshiseido%2526searchPass%253DexactMultiMatch%2526slotId%253D8|||"][/vc_column][/vc_row][vc_row][vc_column][vc_separator color="custom" accent_color="#dbdbdb"][/vc_column][/vc_row][vc_row][vc_column width="1/4″][vc_single_image image="1008192″][vc_wp_text]
The Gift Of Luxurious Eyes & Lips
[/vc_wp_text][vc_btn title="Buy Now" shape="square" color="white" link="url:https%3A%2F%2Fwww.macys.com%2Fshop%2Fproduct%2Fshiseido-5-pc.-the-gift-of-luxurious-eyes-lips-set%3FID%3D6459182%26CategoryID%3D55537%26isDlp%3Dtrue%23fn%3Dsp%253D1%2526spc%253D188%2526ruleId%253D77%257CADD%2520SAVED%2520SET%257CBOOST%2520ATTRIBUTE%2526kws%253Dshiseido%2526searchPass%253DexactMultiMatch%2526slotId%253D5|||"][/vc_column][vc_column width="1/4″][vc_single_image image="1008193″][vc_wp_text]
[/vc_wp_text][vc_btn title="Buy Now" shape="square" color="white" link="url:https%3A%2F%2Fwww.macys.com%2Fshop%2Fproduct%2Fshiseido-everyday-lip-set%3FID%3D7514018%26CategoryID%3D30077%26isDlp%3Dtrue%23fn%3Dsp%253D1%2526spc%253D188%2526ruleId%253D77%257CADD%2520SAVED%2520SET%257CBOOST%2520ATTRIBUTE%2526kws%253Dshiseido%2526searchPass%253DexactMultiMatch%2526slotId%253D56|||"][/vc_column][vc_column width="1/4″][vc_single_image image="1008194″][vc_wp_text]
[/vc_wp_text][vc_btn title="Buy Now" shape="square" color="white" link="url:https%3A%2F%2Fwww.macys.com%2Fshop%2Fproduct%2Fshiseido-crystal-gel-gloss-0.3-fl.-oz.%3FID%3D6696729%26CategoryID%3D30077%26isDlp%3Dtrue%23fn%3Dsp%253D1%2526spc%253D188%2526ruleId%253D77%257CADD%2520SAVED%2520SET%257CBOOST%2520ATTRIBUTE%2526kws%253Dshiseido%2526searchPass%253DexactMultiMatch%2526slotId%253D48|||"][/vc_column][vc_column width="1/4″][vc_single_image image="1008195″][vc_wp_text]
[/vc_wp_text][vc_btn title="Buy Now" shape="square" color="white" link="url:https%3A%2F%2Fwww.macys.com%2Fshop%2Fproduct%2Fshiseido-aura-dew-0.24-oz.%3FID%3D6692219%26CategoryID%3D30077%26isDlp%3Dtrue%23fn%3Dsp%253D1%2526spc%253D188%2526ruleId%253D77%257CADD%2520SAVED%2520SET%257CBOOST%2520ATTRIBUTE%2526kws%253Dshiseido%2526searchPass%253DexactMultiMatch%2526slotId%253D44|||"][/vc_column][/vc_row][vc_row][vc_column][vc_separator color="custom" accent_color="#dbdbdb"][/vc_column][/vc_row][vc_row][vc_column][vc_wp_text]This post is in collaboration with Shiseido[/vc_wp_text][/vc_column][/vc_row]