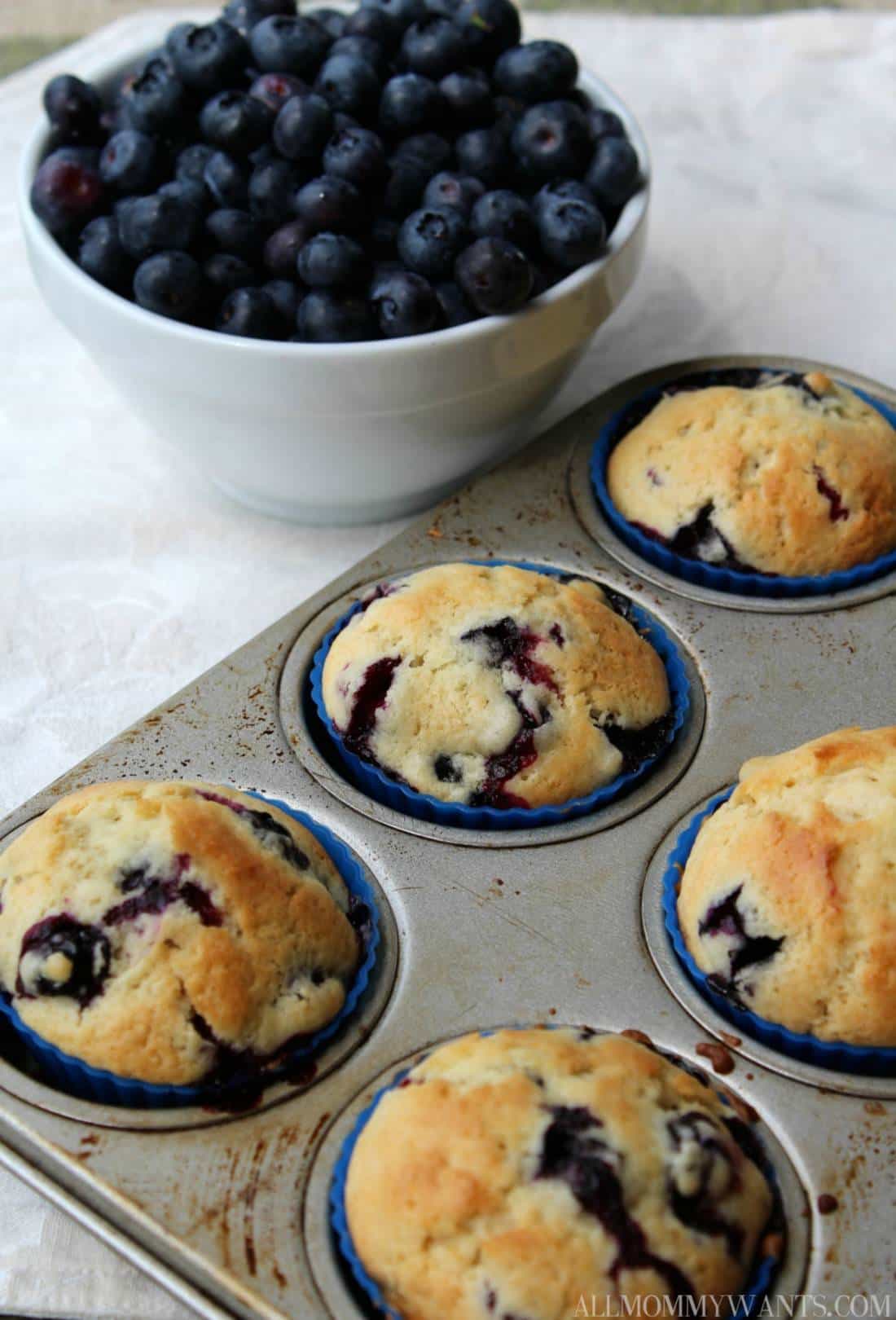 One of my favorite things in the world is waking up on a lazy Sunday and making blueberry muffins. The smell wafts throughout the house as they bake, and I can't wait to get them out of the oven to butter them while they are piping hot.
It reminds me of when I was little… My grandma used to make the BEST blueberry muffins. This recipe is darned close! Now I make them for my own children. We have a tradition – every Sunday morning they whole family knows that these blueberry muffins will be waiting for them when they wake up. I love the quiet time in the kitchen and they love waking up to that fresh aroma of warm blueberries.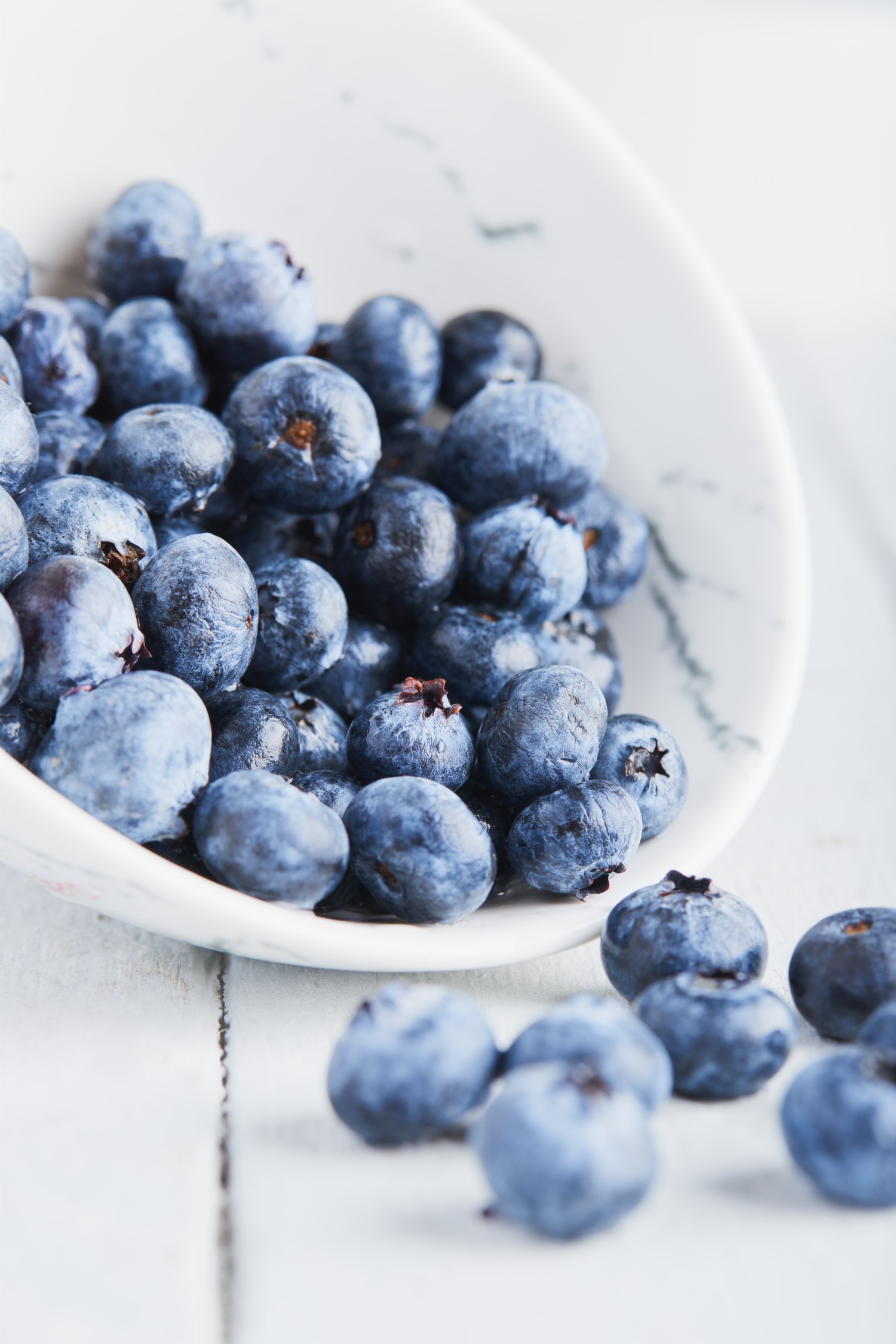 There's something about the smell of freshly baked blueberry muffins that makes me feel happy and warm inside. It's hard to be in a bad mood when I see those berries popping through the muffin tin. Hope you love this made-from-scratch recipe as much as I do! Let me know how they turn out – they are sure to be a crowd pleaser!
Can these blueberry muffins be frozen?
YES! You can make a batch and once they are cool place in a freezer bag. I like to push as much air out as I can without crushing the muffins. When you are ready for a blueberry muffin you can take them out to thaw and place in the oven (or toaster oven) to warm them back up. You can also place in the microwave but I personally love the oven method.
Can I double the recipe?
YES – just make sure you are measuring the ingredients carefully!
Feel free to share it with your friends and family and start that blueberry muffin making family tradition!

Recipe: Quick and Easy Blueberry Muffins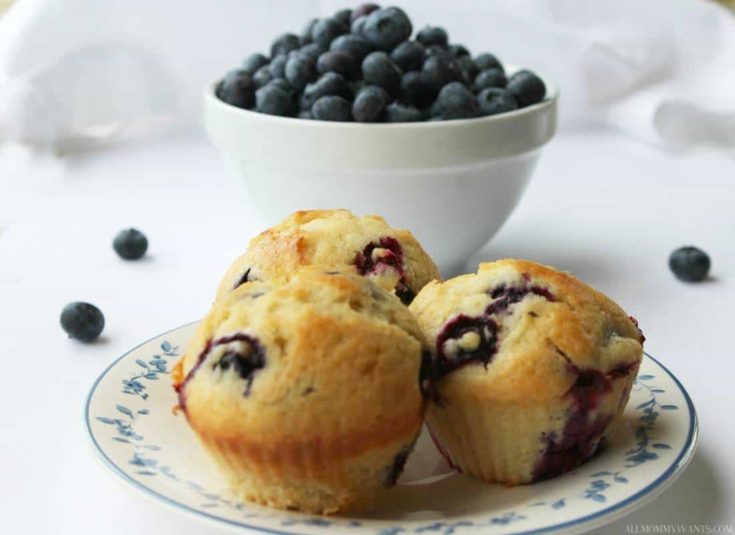 An easy and delicious blueberry muffin recipe the whole family will enjoy!
Ingredients
1 1/2 cups (all-purpose flour
3/4 cup granulated sugar, plus 1 tablespoon for muffin tops
1/2 teaspoon salt
2 teaspoons baking powder
1/3 cup vegetable oil
1 large egg
1/3 – 1/2 cup milk
1 1/2 teaspoons vanilla extract
6 to 8 ounces fresh or frozen blueberries (about 1 cup frozen blueberries)
Instructions
Preheat oven to 400º F
In a large bowl whisk flour, sugar, baking powder and salt,
Use a measuring cup that holds at least 1 cup and add vegetable oil, egg and then fill the cup to the 1-cup line with milk (about 1/3 to a 1/2 cup of milk). Add vanilla and whisk until combined.
Add milk mixture to the bowl with flour and sugar then use a fork to combine. Do not over mix. (The muffin batter will be pretty thick). Add blueberries and use a spatula or spoon to gently fold the blueberries into the muffin batter.
Divide the batter between the muffin cups filling about ½ full.
Sprinkle a little sugar on top of each muffin.
Bake for 15-20 minutes or until toothpick comes out clean.
Enjoy!
Notes
These are great with a little butter!