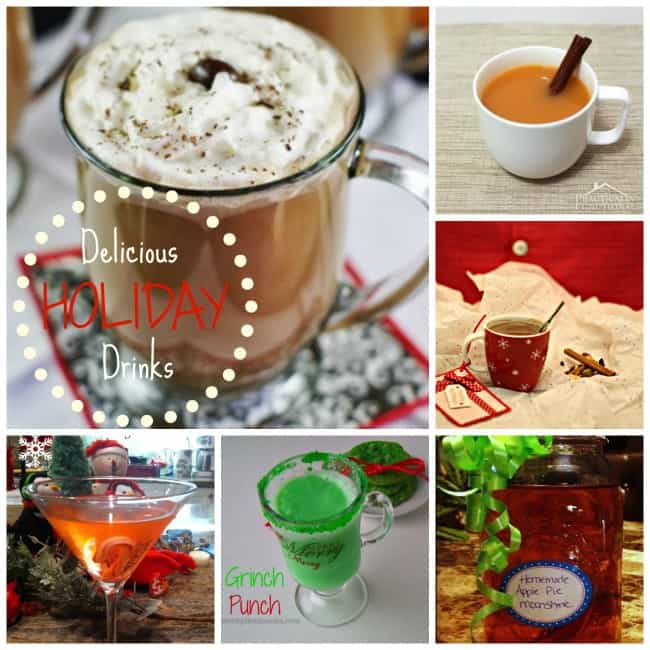 Do you finding yourself making the same holiday drinks year after year? Or, have you been looking for some recipes that you hope will become traditions for your family? I've got a list of some really yummy sounding drinks for you! There are several on here that I plan on trying this winter!
Grinch Punch – I love punches that include sherbet, and this is a fun one because you can use lime sherbet make it green for The Grinch Who Stole Christmas!
Slow Cooker Wassail – We drink Wassail every Christmas Eve at my parents' house, and I'm thinking about taking my slow cooker along this year to make this recipe. The crock pot makes everything so much easier!
Slow Cooker Caramel Apple Spice – I am SO making this! If it wasn't supposed to rain for the next 3 days straight, I'd make it immediately. I am all about anything that combines caramel and apples! Also, I am betting this will make your house smell fabulous!
Chai Hot Chocolate – My husband loves him some hot chocolate, so I totally want to try this for him – we're always up for something other than the traditional drink!
Mocha Eggnog – Give your eggnog a twist with this simple recipe! Plus, this is perfect for all you chocolate lovers!
Peppermint Hot Chocolate – Here's another yummy hot chocolate recipe! I LOVE the combination of peppermint and chocolate, so I'm definitely putting this on my list to try over the holidays! And, if you use gluten free candy canes, this would be a great recipe for those of you who don't eat gluten!
The following drinks include alcohol:
Apple Pie Moonshine – This sounds yummy and so easy to make! And, you probably have most of the ingredients already at home!
Candy Cane Cocktail – Mmmm – I love pretty much anything candy cane or peppermint! This is another yummy-sounding alcoholic drink for you!
Cape Code Kiss – And, one more for you! This one uses only three ingredients. Um – how much easier can it get??
What is your favorite holiday drink? Let us know in the comments!