Ant-Man and the Wasp is in theaters July 6th 2018
If you read my interview with Paul Rudd (which really, you should), you would know that I was on the set of Ant-Man and the Wasp with him and Evangeline Lilly as they filmed as scene. Go over and read up, then come back for the continuation…
Evangeline Lilly is kind of a bad-ass. I can say this because her character Wasp (Hope van Tyne) is the first female Marvel Superhero with her name in the title. That's pretty damn cool if you ask me. "I think for the first time it sort of hit me what it meant for just the female population" she said as she sipped her tea.
If you know anything about Evangeline, you will know she is a hardcore women's rights activist. I don't want to call her a feminist because she isn't a fan of the term (frankly, neither am I), but she does encourage women in Hollywood and in general to show their strength and push for gender equality. The subject quickly turned to the news of the time – Harvey Weinstein and the spotlight on how women are treated and how simply being Wasp has helped her show the strength every woman has within them.
[The news of Weinstein] is timely for me because I'm here shooting this film and essentially I think at the bottom line this film is about female empowerment and a woman being powerful and it made me feel very weak and very vulnerable and very emotional. It was a really hard thing because I think we've all experienced some level of sexual, whether it's harassment or discrimination or abuse like all the time. We always deal with it and all those little things for me just came tumbling all together and hit me like all at once.
As she spoke you can hear the pride and slight anger in her voice just thinking about how women are not treated the same as men in most societies. She softened a bit as she continued to explain how coming to terms with this fact ultimately played to her strength as a woman.
It starts to kind of get chipped away and you start to feel the hurts and the wounds of the things you really go through all the time that you essentially brush under the carpet 'cause you have to or because I feel I need to, to carry on with my work, to carry on being a mother, to carry on, you know, building a career and a life.
It's been such an interesting thing to be the Wasp at a time when I've been feeling extremely vulnerable and emotional but I just hope in some way that really brings ultimately what is the most powerful about women to the floor in this film which is, I hope, Hope is the heart of the film.
With this realization that, even though we fall, we get back up and are stronger for it, Evangeline talked about what she wanted for her female audience (and male) to come away with. That it's okay to admit we can't do everything. This is something that probably every mother has felt.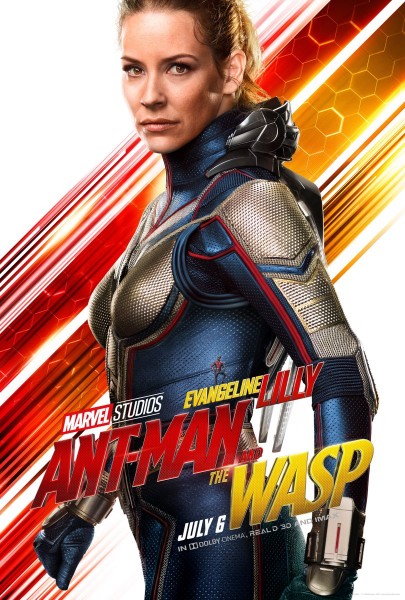 I've got two kids at home. I run an NGO (a form of non-profit organization). I am a writer. I'm an actor. I'm trying to produce. Like all these things and I think god, it just doesn't feel right. It doesn't feel balanced. Why am I not spending more time with my kids? Why don't I have time to do this? Why did my kid miss homework three nights this week? Like what's going on? You start questioning and if you sit back and really think about it it's because it's ridiculous what we're trying to do. I clean my house. You know, I cook. I do all the things and it's like somewhere something's gotta give and really that's the journey that Hope goes in is she finally realizes she's met a foe that is bigger than her and stronger than her and, and she will not win unless she leans on Scott and I think in this day and age men more than ever want women to lean on them because they feel like they've lost their place.
I hope for girls and women to take away from the film is a lesson that I have been trying to learn for the last I don't know 20 years which is that we can't do it all and everyone tells us we can and it's a very unfair expectation to put on us and I think we all feel like we're failing at everything 'cause we're trying to do it all.
My own feelings were immediately validated in small group of women, mothers, and spouses. You could feel the internal sigh from each of us. You could see the emotion on every face in that room.
Evangeline Lilly reprises her role as Hope van Tyne in Ant-Man and the Wasp, in theaters July 6th 2018. Tickets at Fandango