This is a great project for those of you who are expecting or who have newborn babies. When my daughter, Lucy, was an infant, a lot of my friends had taggie blankets for their babies. Taggies are great because babies get a feel for different textures with the tags sewn to the sides of the blankets. I wanted one for Lucy but, since I didn't necessarily want a large one like my friends had and I wasn't a fan of the patterns I found.
So, I decided to make my own. Of course, my mom had to help me because I, well, suck at sewing. I chose to make a small, 8×8 taggie so Lucy could easily handle it. Plus, she had PLENTY of blankets, thanks to all the baby showers I had. I picked four kinds of material, cutting them into 4×4 squares, and some coordinating ribbons with various textures and patterns. I used the patterned material for one side of the taggie and a very soft, pink material for the back side.
After cutting the material, I cut the ribbon into loops, alternating them, and pinned them to the underside of one piece of fabric. Don't pin them at the very end in the corner. It's not necessary. And, only do three sides. After pinning the ribbons, I put the other fabric on top, wrong side out, pinned it on top and began to sew. I made the mistake of picking a thick ribbon, and the needle had a hard time going through it.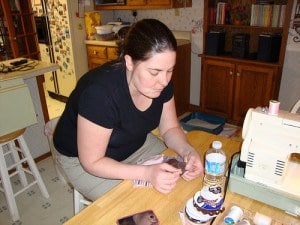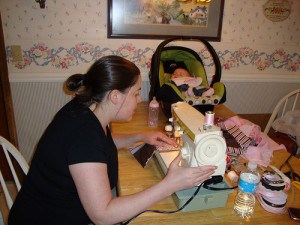 After I sewed the three sides, I folded so inside out so the right sides were out, pinned ribbon on the remaining side and then sewed it closed. If you're better at sewing than I, you can use a top stitch to close. It turned out great, and Lucy loved it!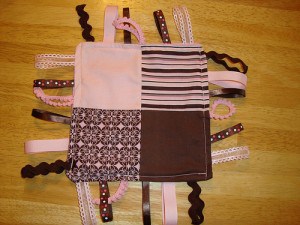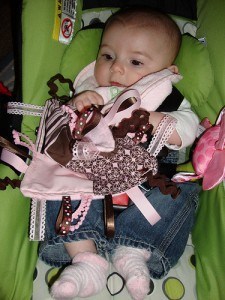 And, I loved that it was something I made rather than picking up at a store.