I LOVE granola – it's so good (and good for you too!) Try this delish recipe for Pistachio Cranberry Granola (courtesy of Spork Foods!)
Pin this to your favorite recipe board!
Follow Me!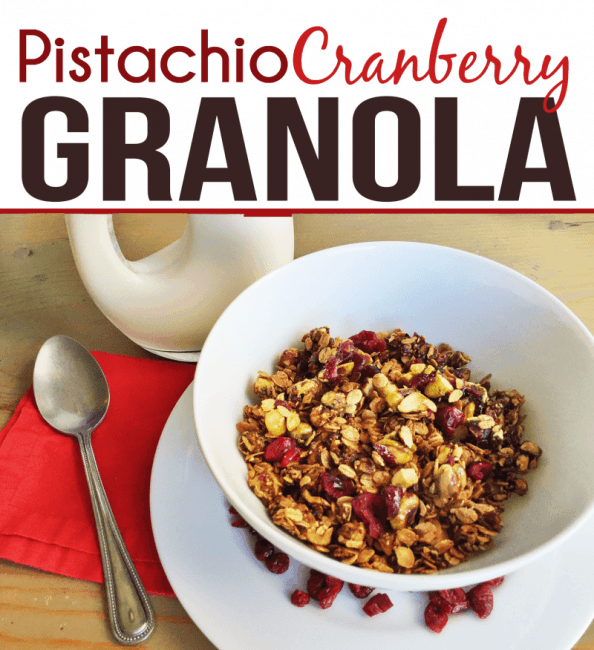 Pistachio Cranberry Granola
Yields about 2 1?/4 cups granola
Ingredients:
2 cups organic gluten-free rolled oats
2 teaspoons vanilla extract
1?/4 teaspoon sea salt
1?/2 teaspoon ground cinnamon
1?/4 teaspoon ground allspice
1?/4 teaspoon ground cloves
3 tablespoons neutral tasting oil or virgin coconut oil
1?/4 cup maple syrup
1?/2 cup Setton Farms shelled pistachio kernels, roughly chopped*
1?/2 cup dried cranberries*
*6 Setton Farms Pistachio Chewy Bites (1 bag) can be substituted for pistachios and cranberries
Directions:
Pre-heat oven to 350°F.
In a mixing bowl, combine oats, vanilla extract, sea salt, cinnamon, allspice, cloves oil, maple syrup. Coat evenly. Spread mixture on a greased, walled cookie sheet.
Bake for 10 minutes, then open oven and stir, bringing granola on edges towards center. Repeat every 5 minutes, until mixture has baked for about 20-22 minutes. Moving granola around during baking, prevents burning.
Fold in pistachios and dried cranberries or chop all 6 chewy bites into 12 pieces per Pistachio Chewy Bite, and fold into mixture. Let cool completely before serving or storing.
Note: The granola can keep for up to 2 weeks if stored in an airtight container. No need to refrigerate.