This post is meant for readers 21+, but I'm not going to stop you from making a non-alcohol version if you are under 21. Also contains affiliate links!
I am a big fan of Halloween – and I am LOVING this drink to celebrate! The best thing about this adorable shot glass mold is that you can use it for several other drinks with or without alcohol! Here's how to make Edible Ghost Shot Glasses with Marshmallow Infused White Rum! Enjoy responsibly!
Edible Shot Glasses with Marshmallow Infused White Rum
Servings: 8

Ghost Shot Glass
1 Wilton 8-Cavity Round Shot Glass Mold – Buy it HERE

Black Cake Mate Writing Gel
Marshmallow Infused Rum
1 cup Marshmallows

1 oz. White Rum (per shot)

8 Mini Orange Slices (garnish)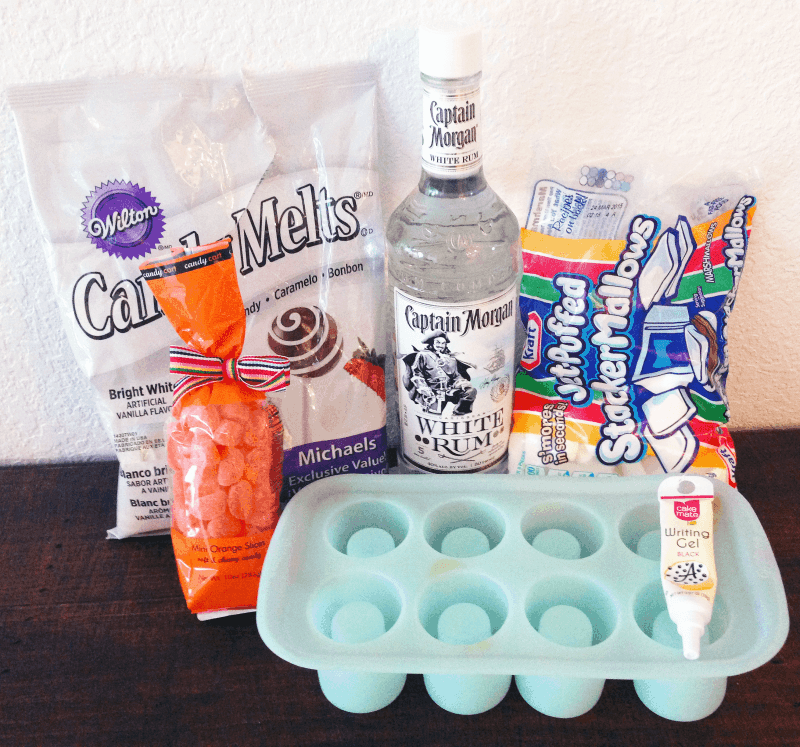 Instructions
One cup of bright white chocolate candy melts at a time, place in medium microwavable mixing bowl. Heat in the microwave for 60 seconds. Remove and stir. Repeat in 20-second intervals, or until completely melted. Be sure not to overheat. Remove from microwave and stir until candy melts are completely smooth and silky.

Using a small spoon, slowly pour bright white candy melts into each shot mold. Be sure that mold has been thoroughly cleaned and dried ahead of time.

Repeat this process until all 8 shot molds have been filled.

Tap mold against countertop to ensure all air bubbles have been eliminated. Lift mold above your head to check for air bubbles. If there are none, you may proceed to the next step. Otherwise, repeat tapping. You may also stick a butter knife into each mold to help eliminate hidden air bubbles.

Place mold in freezer for approximately 30 to 40 minutes. Remove mold from freezer. Slowly invert each shot mold until candy melt shot glass is released. Carefully place each candy melt mold upright onto a clean, flat surface.

Using your black writing gel, draw your version of a ghost. With these ghost shot glasses, I have drawn eyes and a mouth on all of them, but each looks slightly different.

Do NOT keep the shot glasses upright. Lay each down on its back (face up) and allow to dry for at least an hour or overnight before sitting upright. Otherwise, your ghost face will begin to slide off.

Pour white rum into sealable container. Cut marshmallows into pieces. Add marshmallows to rum. Seal. Shake. Refrigerate overnight. Remove and shake. Place a strainer against the glass and pour marshmallow infused white rum into each ghost shot glass.

Slice mini orange slices halfway down the center. Garnish each ghost shot glass with orange slice at rim. Serve immediately.
Enjoy!