This is a sponsored post written by me on behalf of Klement's Sausage for IZEA. All opinions are 100% mine.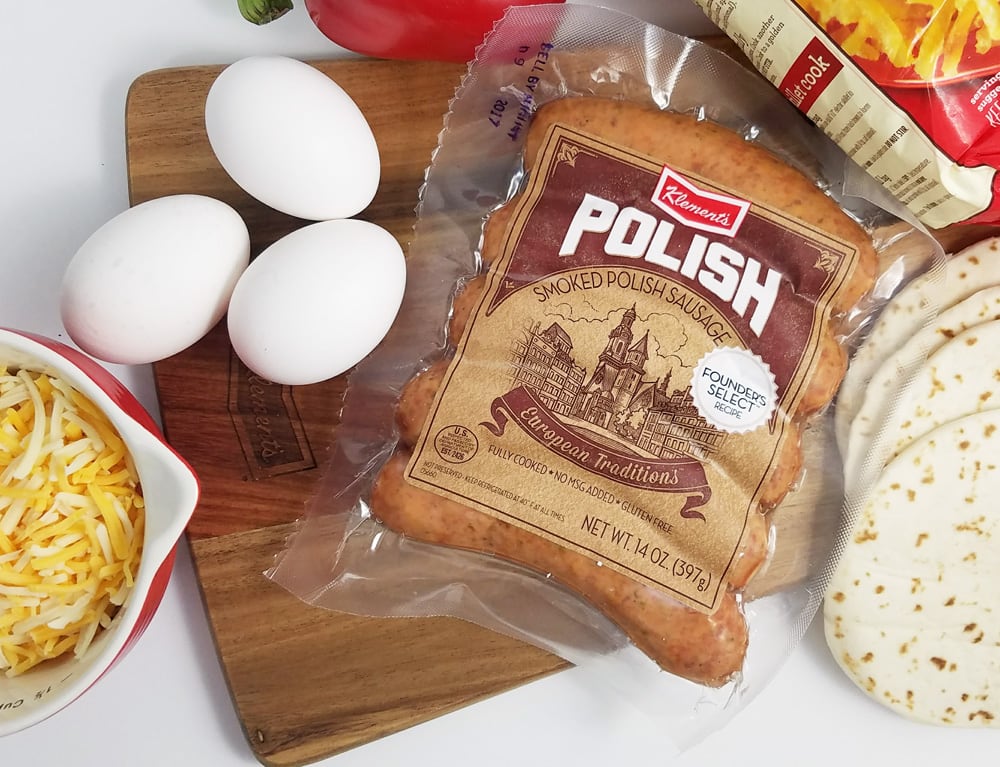 . I always struggle with breakfast ideas that my family will enjoy. One thing we can all agree on? Tacos! This recipe brings our love of tacos in with a fun and easy breakfast dish that celebrates those moments we often take for granted. These Breakfast Street Tacos are made with Klement's Sausage, a brand that has carried on the European traditions of sausage making for 60 years. Klement's is located in Milwaukee, Wisconsin but available nationwide at a store near you (store locator). Line includes: Snack Sticks, Dinner Links, Summer Sausage, and Cocktail Smokies.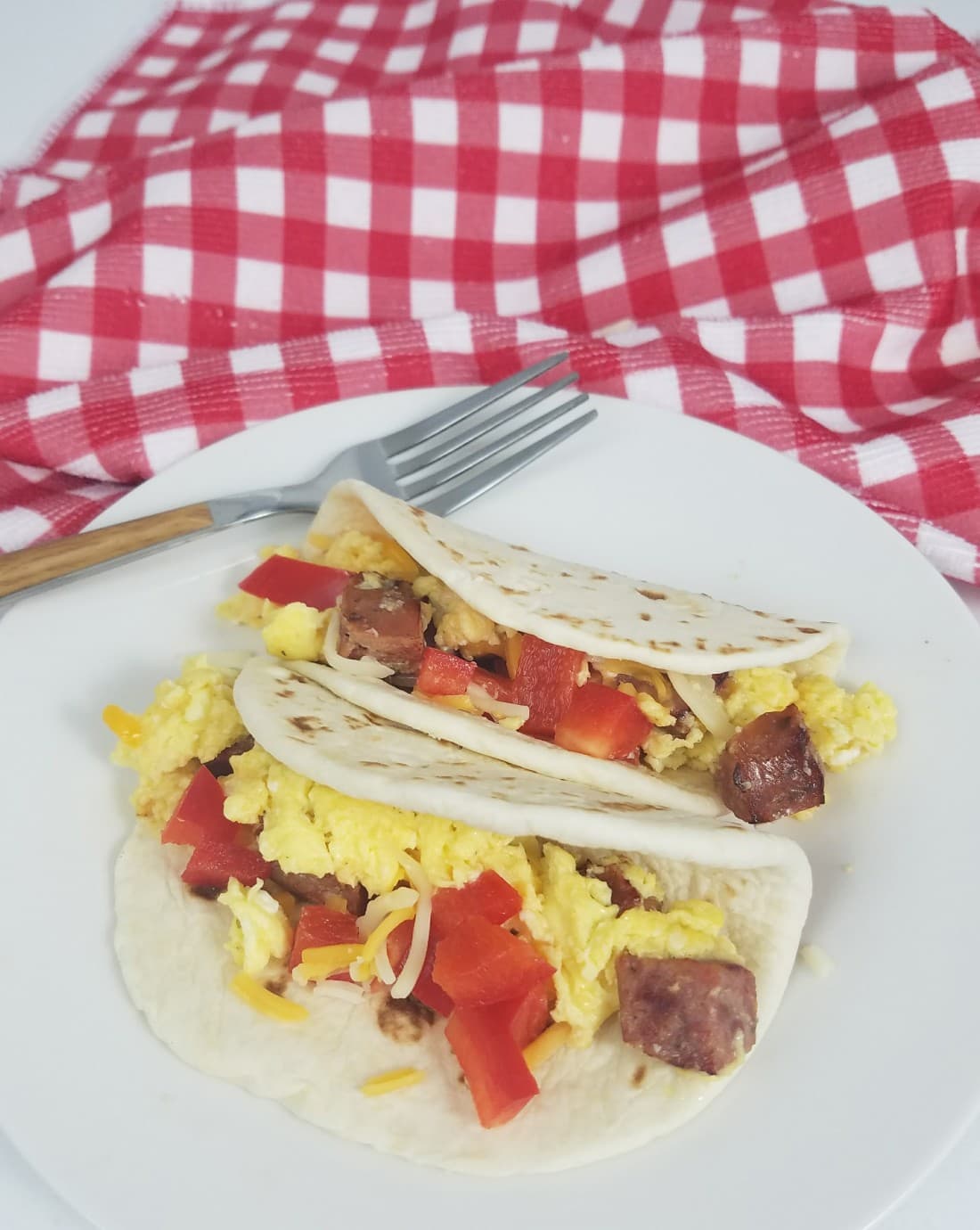 This recipe is amazing! So easy and perfect for mornings when all you want to do is celebrate your loved ones. They also make a wonderful dinner idea! Who doesn't love breakfast for dinner? I hadn't heard of Klement's Sausage to be honest – I love sausage and meat products but never really found something I liked. I love that Klement's Sausage uses techniques that are acquired from Europe and have been passed down. We get to enjoy it now! Here's some information about Klement's Sausage Co:
It began nearly 60 years ago, when three brothers – John, George and Ron Klement – purchased a small sausage company in South Milwaukee, Wisconsin. But, in many ways, the roots of the Klement Sausage Company can be traced back several generations to central Europe. For it was here, in a part of the world where sausage-making is knitted tightly into the fabric of the community, that the techniques and recipes which would one day make Klement's so special first started being handed down through the family. When the brothers first opened their doors, they found a natural market in the immigrant-rich neighborhoods of Milwaukee. These working-class men and women longed for the genuine, old country flavor that they left behind…and Klement's had a taste and texture that transported them back home. Word spread quickly, and before long Klement's was a favorite among people from all walks of life. Over the years, Klement's has grown from a humble 6-person storefront into Milwaukee's largest producer of authentic, handcrafted European sausage. In spite of our growth, we're proud to say that we've never lost sight of what made our family business a success: Hard work, a dedication to excellence, and the ability to look toward the future — without forgetting our past.
Yield: 4
Breakfast Street Tacos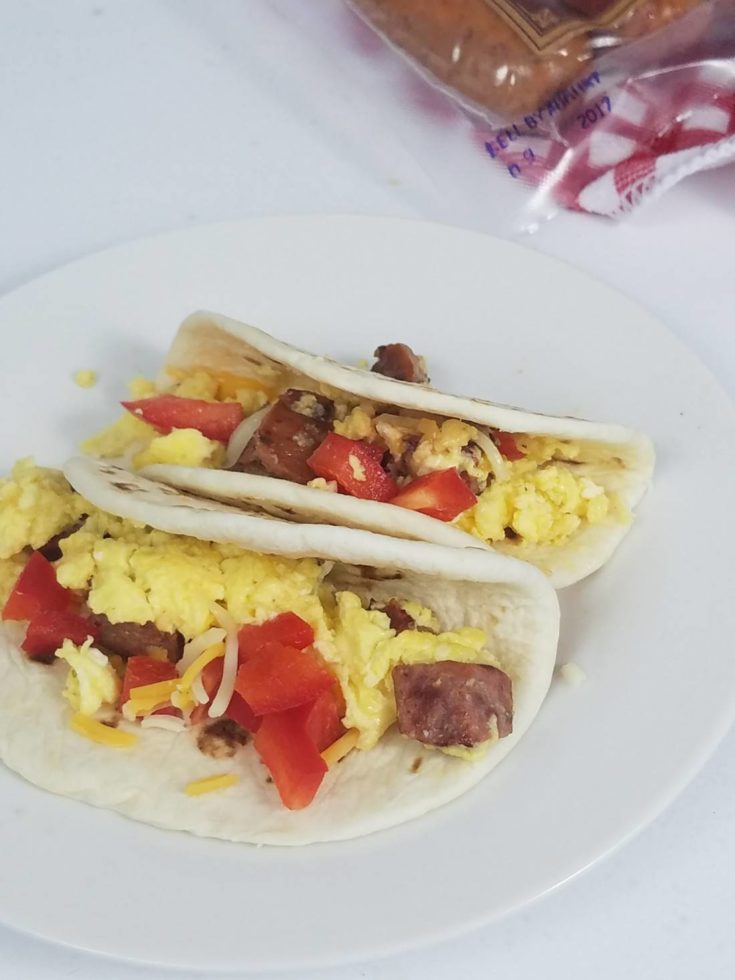 Ingredients
2 Klement's Sausages (any variety)
3 eggs
1/3 cup cheese plus cheese for topping
1/2 red bell pepper, diced
8 street taco tortillas
olive oil
Instructions
Dice sausage into small chunks, then brown in a skillet on medium-high heat.
Put aside.
Mix eggs and 1/3 cup cheese together until combined, then scramble in medium skillet.
Add browned sausage and mix until blended and hot.
Serve by spooning egg and sausage into tortilla, then top with diced red bell pepper and cheese.
Serve hot.
Nutrition Information:
Yield:
4
Serving Size:
1
Amount Per Serving: Calories: 722Total Fat: 43gSaturated Fat: 17gTrans Fat: 1gUnsaturated Fat: 22gCholesterol: 228mgSodium: 1647mgCarbohydrates: 50gFiber: 6gSugar: 4gProtein: 33g