I was given the product mentioned along with a gift card to facilitate this post. All opinions are my own.
Are you planning any road-trips? I am – the family and I are heading north for a few days to visit family and get away from our normal lives for a bit. We all need that getaway, whether it's for a week or a day. We also need snacks! Honey Bunches of Oats has us covered with new Breakfast Biscuits!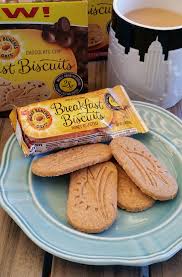 Summer is in the air, school is letting out and road-trip season is right around the corner! Before you pack up the kids, load the car and head off on a family getaway this summer, I wanted to tell you about a delicious new product from
Honey
Bunches
of Oats – 
Honey
Bunches
of Oats Breakfast Biscuits! This tasty anytime snack option is not only convenient and perfect to bring on-the-go, but also made with 100% whole grain for long-lasting energy that will make your trip a well-fueled voyage to remember.
If you're not planning on hitting the road this summer,
Honey
Bunches
of Oats Breakfast Biscuits are also a great on-the-go breakfast option that will help make your busy mornings easier. They're even perfect for dunking in your coffee or tea, or topping with yogurt and berries for a balanced breakfast to get your day off to a great start!
I personally LOVE dunking the chocolate chip Honey Bunches of Oats Breakfast Biscuits in coffee. Early mornings with my cup before everyone else wakes up… that's my mini-getaway, even if it's only in my head!
You can find Honey Bunched of Oats Breakfast Biscuits in your grocery store with granola bars and breakfast items. You may also be lucky enough to find a $1 off coupon near the display, so look for it and pick up a box!