WARNING! This post contains SPOILERS to the film Oz: The Great and Powerful!
Mila Kunis is arguably one of the most beautiful women in the world. Magazine photos and movies show that she glows – pretty much flawless. But I am going to give you another reason to love her – comic timing is impeccable! She's sharp witted and downright hilarious.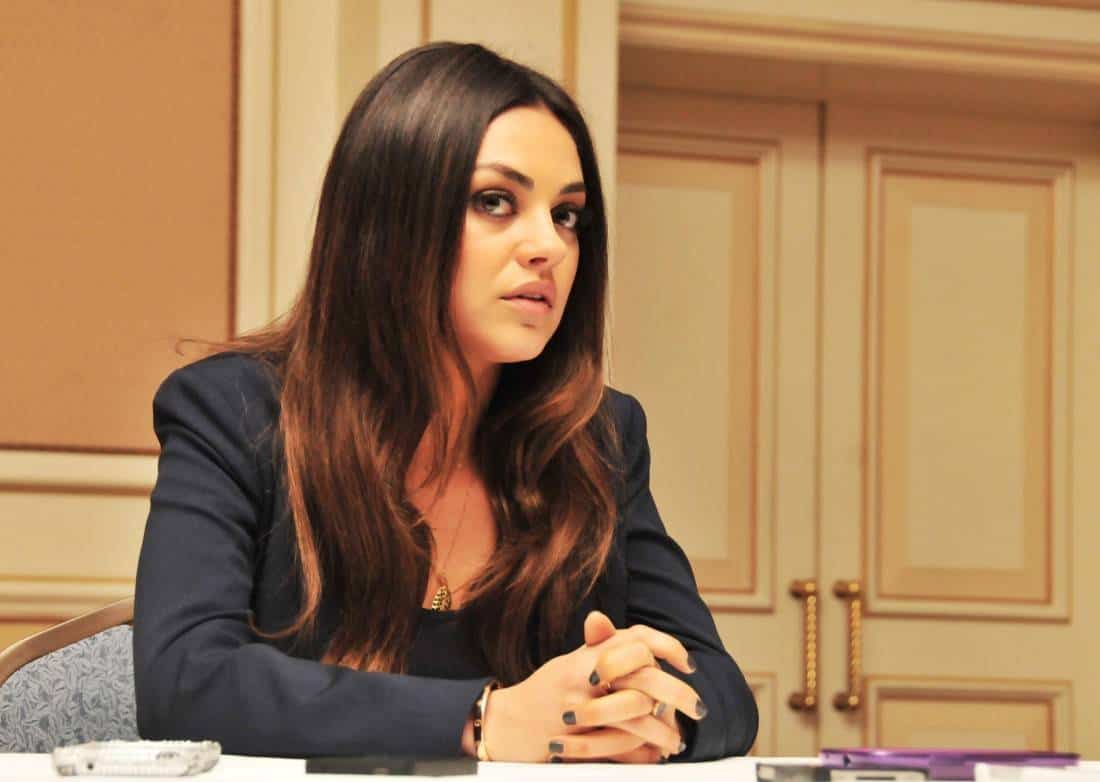 Mila came into our conference room wearing a smart little black suit – single button jacket, pencil trousers cropped at the ankle, a soft black tee, and her punch of color – bright orange/coral Christian Louboutin Pivichic heels. Her hair was down in the signature soft waves she often sports. Delicately layered necklaces from Jennifer Meyer Jewelry completed the look. I personally loved that her outfit was so nondescript but the punchy shoes just made it.
"When did this start happening?" she asked, referring to moms who blog. "This is the first time I have ever had this! This is the sweetest thing I've ever seen!"
One of the bloggers piped up to say she hasn't done a family film until Oz: The Great and Powerful. "I've never done a family movie. This is very true. Oh, touche" she said with a sparkle…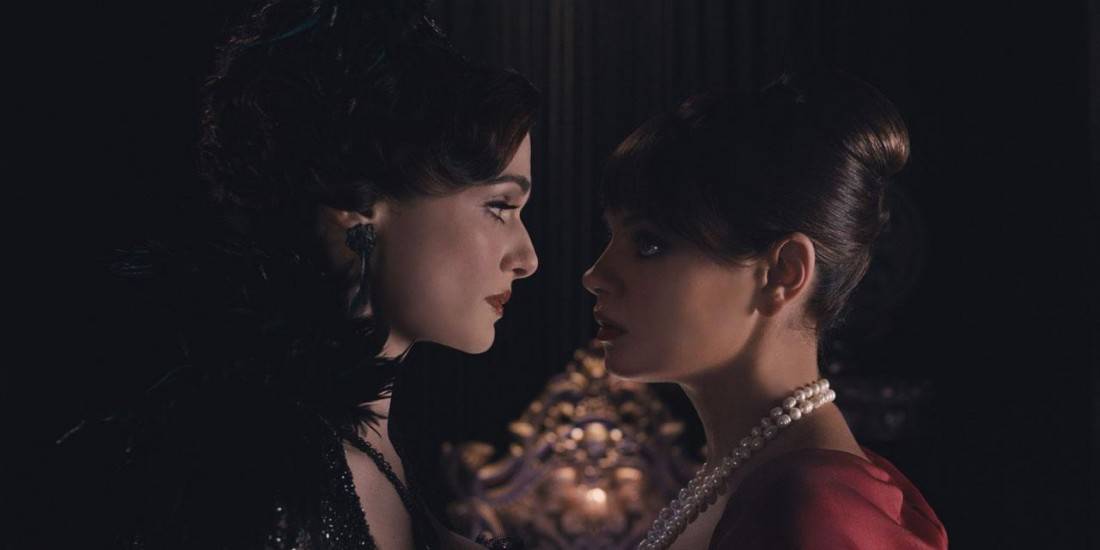 "Ok ladies – first question!"
Which witch do you like playing more?

MILA: Truth is I do find that it's the same character, I really do. I think it's just a woman scorned and it's a character that goes through a transformation, an emotional transformation of a heartache and just so happens to transform in color but I think that the deep rooted aspect of it is just a broken heart so I think it's the same thing. It was fun to play both, for sure.

How was the makeup?

MILA: I think the beginning process was four hours and by the end a little under two. Putting the makeup on, not a problem. Taking the makeup off, every night… it makes your face swell [she motions to her cheeks]. Like it legitimately puffs it up. If you imagine ripping your skin every day – that's what it does and it's a full prosthetic piece. I had two pieces – the bottom part [chin] and then the nose and the eyebrows. And it doesn't matter how gently Howard [Berger] did it, you rip the skin. You're constantly pulling at your skin every single night so it does, it makes it — wherever Tracy is. It puffs it up a little bit, right? Tracy did all the makeup for all my films on a normal basis. But like the prosthetics, I don't understand like you take it off. It's awful. It's awful. It's not even pleasant and the smell of something called Snappy G which is the gluing adhesive. They glue it with like a cement type glue to your face. I think that if I had to smell it today it would probably make me cry. Like that would be my natural reaction. It's not pleasant.

What was your experience with the Oz franchise as a kid?

MILA: The first book — I came to America when I was seven and a half in 91. I think the first book when I was nine years old, full length book in English that I read was Return to Oz. And I've spoken about this completely independent of this movie prior to ever being attached to this film that as a kid the first movie that I remember seeing that resonated with me was the Wizard of Oz. I think just visually the color, the spectrum of it and how fantastical it was and how much you wanted to live in that world, for a nine year old was so magical and so grand so I have the greatest, fondest memories of it.


How did you feel getting into this evil character?

MILA: Nothing different. I mean, you know, she's a young, naïve girl who gets her heart broken – and then grows a nose. Like everything kind of happens independent of me, just adds on to the fantastical element of it. I think, you know, truthfully it's just a great who gets her heart broken like I said earlier. I really don't find her to be any different. You can put her in a romantic movie, you can put her in a non-romantic film. A girl gets her heart broken. This one has a negative side effect. She takes a bite of an apple and things go wrong.

This is your first venture in family films – is there a different responsibility in promoting Oz: The Great and Powerful?

MILA: Honestly I thought the questions would be a little bit more demure like from not you guys but from other and, uh, they're not. They're just as obnoxious and awful as when you do an R rated film so I learned nothing changes. You can do a movie for Disney or not. People will still ask you inappropriate questions. So in order to answer it, do I feel like there's a difference in promoting it? Apparently not. They still put you in a room with these people that apparently have no difference whether you're making a family driven show or otherwise. But I do realize – this is the first film that I've done that's not R rated. It's a really weird connection.

What was your favorite scene?

MILA: I think appearing in Glinda's castle is really fun for me just because it was an extra day to shoot. It was a long day. Hindsight 20, 20 was really fun. If you asked me while I was there I probably would have been miserable but it was really fun to do, yeah, 'cause Michelle and I never had anything to do other than that one scene and we really wanted to work with one another and that was our one and only opportunity to do it.


At the beginning of the movie did your character think that Evanora was a good witch?

MILA: Yes, I do think that she had to have or it doesn't make sense as to why she would trust her sister and I can't believe I'm talking about this, in biting the apple. Uh, yes, so I think she had to have but there were many drafts where it wasn't clear and I wonder if it's not clear at a place. But, yes, I do think that she had to think that her sister was a good witch and that Glinda the good witch, is theoretically the wicked witch.

Did you like the technical aspects of the film, like with flying?

MILA: You know what? It actually wasn't so hard. I mean I think people prepared me for like a lot of green screen. I didn't have a lot of green screen. They build most sets. When this castle was tangible, Emerald City was tangible, the forest, the woods was tangible, the cemetery, everything was there. So it's not like I had to imagine things, uh, and as far as wire work goes, I had fun with it. The next project that I'm doing is a lot more wire work so I'll let you know after that one but in this one it was really fun, yeah.

Do you have the doll?

MILA: I do.

Do you play with it?

MILA: I just got it two days ago. It's still in his box. I won't lie – I've shown it to everybody that walks into the house because let me be clear. It's not just a doll, it's a Disney doll. Like that's a doll of me, like not of me green, of me like the early part. I'm like hey you guys, have you seen this? Check this out? Everybody that walks into the house. Like I don't even care. I'm like bring the doll because it's a Disney doll. It's insane. It's insane. Oh, yeah. But no it's still in its box. I think you can buy it at Target. Not to say that I know these things but I think you may, yes. [yes you can]

Tell me about working with the cast.

MILA: James and I, I think counted — it's our eighth project together so he doesn't count. We're stuck with one another. Rachel and I had a fantastic time. we had so much fun and Michelle and I literally get to do one thing together and I are dying to work more so we all had a great time and Detroit was really fun, FYI, in case anybody wants to go to Detroit. I love it. I did.

What age do you think is an appropriate age for the film?

MILA: Oh, I don't know. I don't. I, I think that what kids now watch now a days is different than what kids watch when I was young so I don't know. I think that it's up to the parents to decided. That's the truth. I'm not a parent. I have no idea, but, uh, I think some parents let a ten year old watch it and some parents wouldn't. I have no say in it.

For a 8 or 9 year old?

MILA: Oh, I think that that's fine. Listen, it's a little spooky at times 'cause like it's 3D and things poke out at you but like … They can see that on the internet. That's not frightening for children now a days.

The Hulk is green too.

MILA: The green thing I don't think frightens kids. like it frightened me when I was like little because I didn't have the internet and didn't have all these other things that were, you know, in front of me at all times and accessible. Now a days, I don't think these things scare kids. I think that kids are so desensitized to violence and I don't mean this in a negative way what so ever, but, I just think it's the reality that I think that it's just all changing so I don't know.
As Mila left she thanked us and said "we want the mommy bloggers at EVERY junket!" and then told her publicist that it was a lot of fun. So let's see – beautiful, talented, funny, smart. Mila Kunis is a force to be reckoned with.
Photo courtesy of Inside Out Motherhood http://www.insideoutmotherhood.com/

Oz: The Great and Powerful opens nationwide March 8th! Follow #Disneyozevent on Twitter for up to the minute news on all things Oz!

Disney provided me with an all expenses paid trip to Los Angeles to attend the red carpet premiere of Oz: the Great and Powerful and to attend a Wreck-It Ralph press day at Disney Animation studios. All opinions expressed are 100% my own.
All other film stills and promotional material courtesy of Disney.