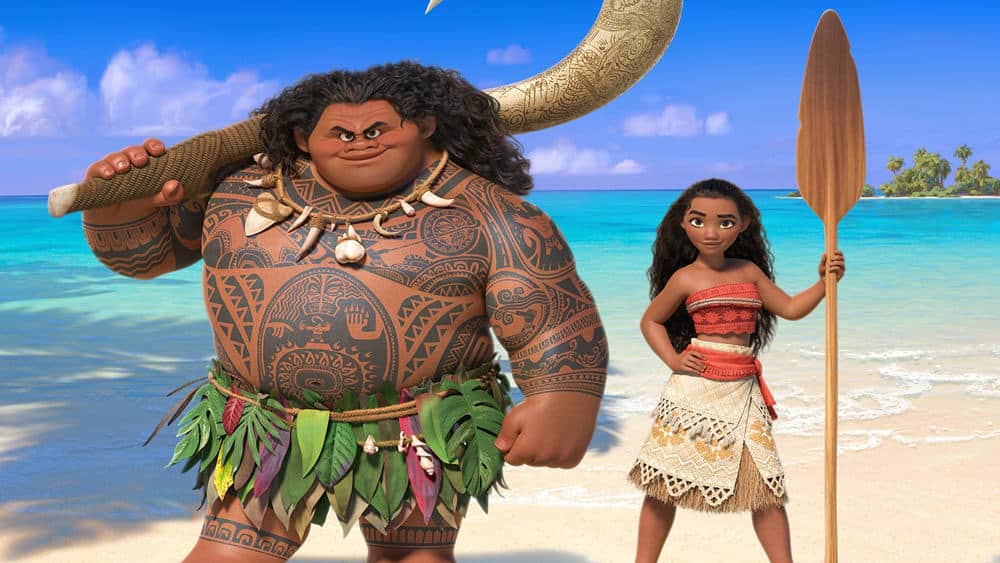 As with all Disney films of the last 20 years or so, Moana is filled with "easter eggs"- nods to other Disney movies, characters, and creators. I got to talk to John Musker and Ron Clements, the powerhouse creators of Moana (as well as The Little Mermaid and The Princess and the Frog to name a few) and my biggest question – WHERE ARE THE EASTER EGGS? While they gave me some really great clues, I had to search for myself. Here's a round up of what to look for when seeing Moana:

Sven makes an appearance
Probably the most obvious cameo, Sven from Frozen shows himself when Maui finds his magical fish hook and attempts to transform himself into various creatures.

Baymax is a Kakamora
In the Kakamora battle scene, Baymax from Big Hero Six makes a "blink and you'll miss it" appearance on the ship.
Baymax easter egg in the upcoming Disney's Moana movie. pic.twitter.com/a2jlSscW8P

— KH_Quotes (@KH_Quote) November 1, 2016
Flounder
During Dwayne Johnson's number "You're Welcome", he "takes" Moana to a 2 dimensional place. Look for Flounder there among the other fish!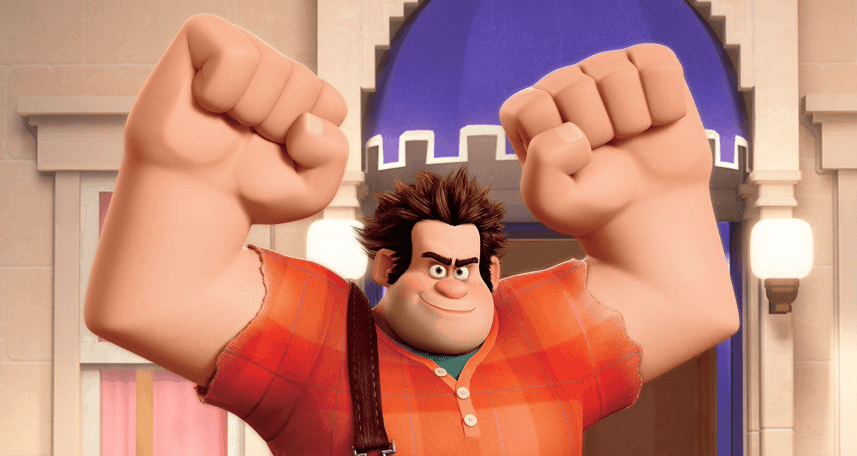 Wreck-It Ralph 2
Ralph is in the credits of Moana! It's a regular tradition for Disney Animators to have an next upcoming film character somewhere in a film that releases before. Wreck-It Ralph 2 is in theaters March 2018.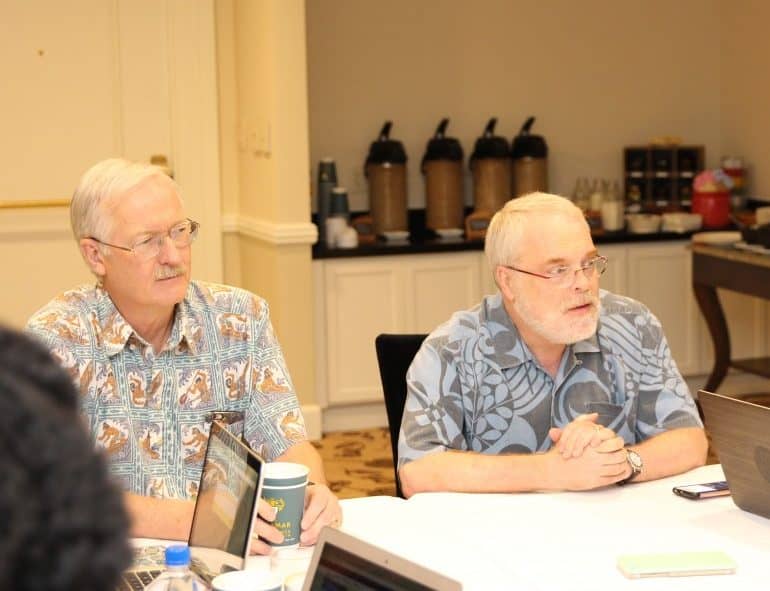 John Musker and Ron Clements are animated (again!)
The creators are often animated into the film as background characters – look for them in the first big musical number "Where you Are" as villagers.

Sebastian the Crab
You will want to stay after the credits for a fun scene with Tamatoa where he talks about Sebastian, the crab from The Little Mermaid. It's hilarious!

Olaf
Olaf – or rather just his carrot nose – show up on the island. It makes sense because, well, he's snow. Look for the carrot when Moana loads up her boat with fruit.

Ursula
While (as far as I know) Ursula herself doesn't appear, there is a cool parallel between her and Moana, namely their necklaces. In The Little Mermaid, Ursula wears Ariel's voice in her shell necklace. In Moana, she wears the Heart of Te Fiti in her shell necklace. The swirl on the heart is very reminiscent of Ursula's shell swirl. Coincidence?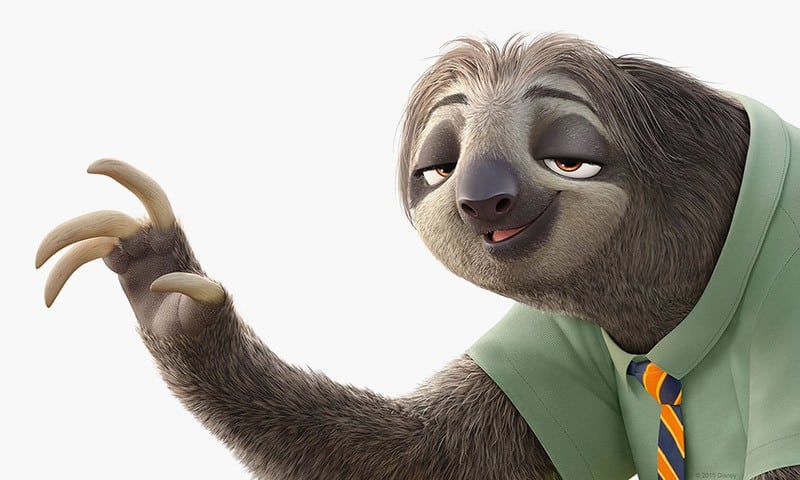 Flash, is that you?
During my interview with Musker and Clements, they did confirm Flash appears in Moana – and I think he has been found. In the underwater scene right before Moana and Maui meet Tomatao there is a masked monster that turns around and scares Moana. While I initially thought it was a nod to the runaway Netflix hit Stranger Things (they are in the Upside Down, there's a scary monster with long arms..), the claws look an awful lot like Flash, the sloth from Zootopia. It still also could be a fun nod to Stranger Things as well!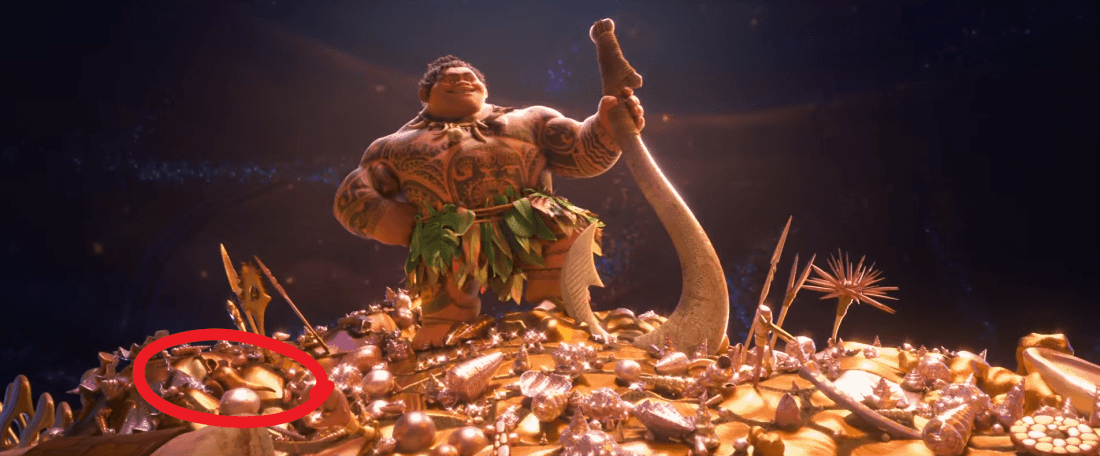 UPDATE – Aladdin's Lamp FOUND!
Thank you Brittany for the heads up! You can see Aladdin's Lamp in the Realm of Monsters on Tamatoa's back! Check out SHINY on Youtube!
Did you find these or any more easter eggs in Moana? Comment below!
*looking for MORE easter eggs? Check out Jana's post at Merlot Mommy!