Thank you to Sony and Marvel for hosting me on my visit to the set.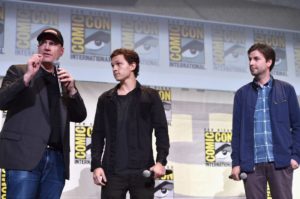 Kevin Feige, president of Marvel Studios, and I have a long history. I had the chance to interview him on my very first press trip during Avengers: Age of Ultron. A few months later I was in the audience during the Marvel presentation at D23 Expo. Just last month we met again during the Guardians of the Galaxy Vol. 2 press day. What I didn't realize until last September is that I had already been in the room with film producer Amy Pascal, too. I was shopping in the studio store on the Disney lot when someone picked up a pair of Spider-Man children's shoes and asked if they could be made in adult sizes. That's when I noticed Kevin Feige right beside her. I didn't put it all together until we sat down to talk on the Spider-Man: Homecoming set. So there's a tiny spoiler. Amy Pascal is rooting for adult-sized Spider-Man shoes.
While we wait for the shoes, let's dive into the changes that are taking place with Spidey. When you watch the trailers for Homecoming, it's immediately apparent that it's at least partially a high school movie. "The great thing about Peter Parker is that he is in high school," says Pascal. "He's fighting all these grown-ups, but he's just a boy, and that is what he is in the comics."
Speaking to previous versions of Spider-Man on the big screen, Feige says, "There isn't one that inhabits this sort of exuberant youth and enthusiasm. As Amy said, in those comics, that's why he stood out. That's why Spider-Man was so unique in the comics." 
The movie is a unique collaboration between two major studios, with Sony and Marvel Studios coming together to bring Spider-Man into the MCU. "I think Sony and Amy, as a producer here with us, have made sure that it can be just as we always want it to be," says Feige, "Which is just about the creative, just about the movie, just about the story, just about the characters. And Sony has been unbelievably supportive."
Pascal agrees. "I have to say that it's an incredibly unusual thing for three studios, because I am including Disney in it. Disney, Marvel and Sony all decided that the best thing was to make a great Spider-Man movie…It is the first time that I can think of-and I have been in this business for far too long-that the studios all decided that the character was the most important thing. And if we could make a great Spider-Man movie, it was good for all the companies, and all the success, all the stuff, there would be enough for everybody if we made the right movie."
Feige knows the way they address Characters in the MCU is special. "We treat Spider-man like he's a real person. Like he's a real member of the family, a real person that we know and care about and want the best for. We feel that way about all of our characters." 
They're excited about how this is resonating on the screen, especially with the inclusion of Robert Downey Jr. in the film. "When we cast Tom (Holland), Robert was there," says Pascal. "He was the one that read with all these kids. He whispered to us right after (Tom) and said, 'That's the one.' I think that he feels very responsible and he feels very paternal towards him. And their relationship in the movie mirrors their relationship (offscreen) and how they feel about each other as actors, and mentors in the way that Tom looks up to him. It's quite astounding."
Holland impressed everyone right from the start. "We saw hundreds and hundreds of kids, and kept narrowing it down. We brought five or six to Atlanta, to read with Robert," according to Feige.  "Robert goes off book almost instantly. He knows the scene, and he begins to riff instantly. Tom, in a very sweet, very funny, very authentic way, began to riff back with him. I think Robert got surprised for a second as that happened, because he was sort of steamrolling some of the others, which tends to happen with Robert and other actors, and Tom kept it (going), and it was pretty amazing."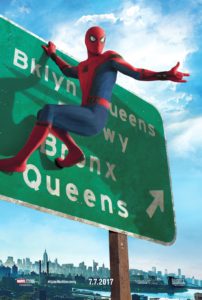 Marvel knew they were taking on a significant challenge welcoming Spider-Man into the MCU, with so many fans of the previous film versions. "One of the really interesting things that Marvel did is they all went on a retreat," according to Pascal. "The guys at Marvel all went on this camping trip, and they did this 'Spider-Man' retreat. They kinda looked through everything that ever existed about him and looked into their own hearts, and they came up with a document of rules of what were the important touchstones. That was very valuable."
"We never think about this movie as a reboot or as a 'new' origin story," says Feige. "As you saw in Civil War, we just jumped right into it as the first Spider-Man movie in the Marvel Cinematic Universe." That gave Spider-Man a chance to interact immediately with other Marvel heroes, something that happened frequently in the comics but hasn't been shown in previous films.  "So much of this-most of this-feels entirely fresh and entirely like the first time." 
There's a clear passion from the team at Marvel when it comes to the character of Spider-Man, and it's obvious why Feige wanted to bring Spider-Man into the MCU. "The greatest thing about him is that any of us could be Spider-man. Any one of us could have been randomly bit by that spider, can put on the mask and be challenged to do the right thing even though it's not always the easiest thing. Most of us don't have a billion dollars, like Tony Stark, or are a Norse God, like Thor, or have some 70 year frozen in ice backstory, like Captain America. He's all of us."
Spider-Man: Homecoming opens in theaters nationwide on July 7, 2017.