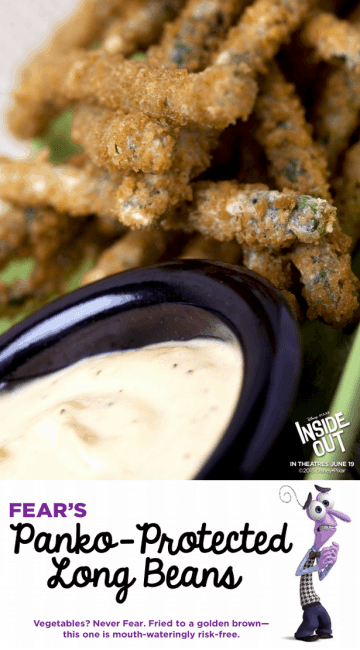 INGREDIENTS (serves 4)
• 1 cup all-purpose flour
• 1 tbsp. seafood spice
• 1 tbsp. cornstarch
• 1 tsp. garlic powder
• 1 tsp. onion powder
• 1/2 tsp. coarse salt
• 4 eggs, beaten
• 1/8 tsp. freshly ground black pepper
• 3/4-lb. Chinese long beans or thin green green beans, cut into 4-in.-long pieces
• 2 cup panko (Japanese bread crumbs)
• 4 cup canola oil, for frying
• Coarse salt, to taste
INSTRUCTIONS
1. Combine flour, seafood spice, cornstarch, garlic powder, onion powder, salt and pepper in a shallow bowl.
2. Line a baking sheet with paper towels; set aside.
3. Pour oil in a deep pot to a depth of 1-in. Heat over medium-high heat to 350°F.
4. Moisten long beans; dredge in flour mixture. Dip in beaten eggs, then roll in panko.
5. Working in batches, gently place in hot oil until golden brown about 2-3 minutes, using tongs or a slotted spoon to gently turn beans every 45 seconds.
6. Transfer fried beans to prepared baking sheet and season lightly with salt.
Be sure to watch All Mommy Wants for EXCLUSIVE coverage of Inside Out, including a first-hand look on the red carpet! June 7-9 2015
Some FUN Inside Connect the Dots for you to print out and have FUN with! Simply CLICK the image to print a set of 5!
Inside Out is in theaters June 19th, 2015!
https://www.youtube.com/watch?v=1HFv47QHWJU