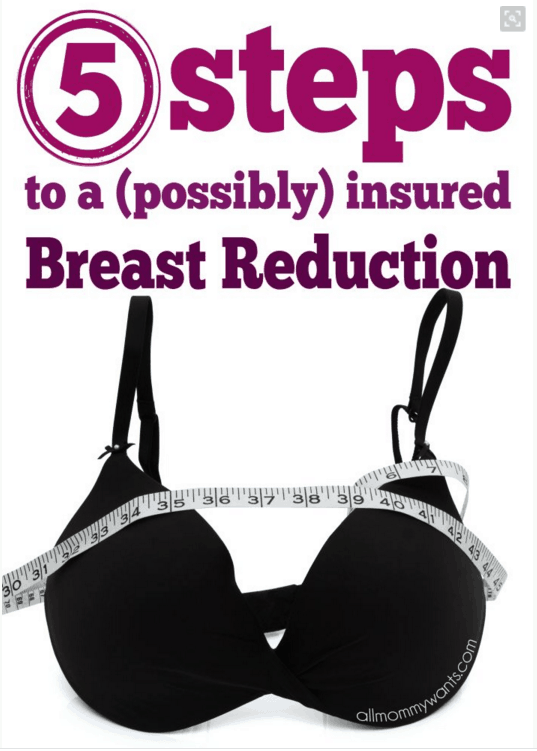 This has been a long time coming. I am finally getting a breast reduction! UPDATE: I did it! Here's my experience so far.
I have had large breasts for years. Although I was average in high school, it wasn't until I was in my 20's when I realized my chest was still growing. I was a b-cup at around 16, then a D when I got married at 26. Then I had hormone therapy for infertility and grew to a DDD before I got pregnant with my twins.
After having my twins 5 years ago my size settled into a small H. No matter what I have done to lose weight my breasts will just not get any smaller. As I continued to live with them I started getting back pain, pinched nerves, lack of sleep, and an overall sense of being constantly uncomfortable. Ladies – having large breasts is AWFUL. To top it off nothing fits me. Every dress is empire waist on me, every top I own is stretchy fabric, zippers don't zip past my ribcage. It's depressing.
Some indications that you might need a breast reduction:
Indents in your shoulders from bra straps.
Back pain – upper and/or lower.
Neck pain or frequent muscle cramps.
breast size does not change (or changes minimally) with weight loss.
Sleep issues.
Rash between and/or under breasts.
Breasts not proportional in size to each other.
Mental stress due to breast size (depression or anxiety relating to appearance).
Last December I was contacted by Dr. Ronald DeMars office about doing a feature on "mommy makeovers" – tummy tucks, breast lifts etc. Although the timing didn't align for me it got my wheels turning. Dr. DeMars is one of the top plastic surgeons in Portland and has an average rating of 4.9 out of 5 across the board on several review sites.
I went in to see Dr. DeMars in May 2015 to find out about getting a reduction. I felt instantly at ease in his office and with him and the staff. He explained the procedure and what to expect for recovery well. After looking at the before/after look-book I am confident I have the right surgeon for the job.
Want to know how to get started? Here's what my process looks like so far:
1. Check with your insurance.
You will want to check with your insurance to find out how to qualify for a covered reduction mammoplasty. The insurance code for this is 19318, although your code might be different. Some insurance companies might require you to have non-evasive treatment such as physical therapy or medication. Most require a certain height/weight maximum. I am 175lbs and 5'6″ and fell into the "medically necessary" category for a reduction, but it all depends on your body type.
2. See your primary care doctor first.
You primary care doctor will determine the need for a reduction and start the necessary paperwork and requirements for your surgery. You should also get a breast exam at your appointment.
3. Get a mammogram.
Most insurance companies will require you to get a mammogram depending on your age. If you are younger it may not be necessary, but check with your insurance. You should get results within a few days.
3. Consult with a surgeon.
There are many great plastic surgeons out there, but the most important thing is to do your homework. Make sure your surgeon is board certified and has their specialty in plastic surgery. Your best bet is to start with a reputable plastic surgery practice in your area or get recommendations from other patients. Check out sites like The American Society of Plastic Surgeons, Real Self, Yelp, Google Reviews, etc. Make sure you find a good one.
The consultation will usually consist of a conversation as to why you want a reduction, previous health issues, a physical exam, an educational video, and talking with the office manager about fees and insurance.
4. Submit to insurance and wait!
The surgeon's office will actually do this for you. The process usually takes about 6 weeks or so, so be patient! Your insurance will come back with 1 of 3 answers:
Denied. Lame. But they will tell you why.
Approved. YAY
Need more information.
You will get a letter in the mail with one of these 3 answers. When you get it call the surgeon's office for more information.
5. Schedule your surgery!
Your OOP (out of pocket) will be based on your coverage, your maximum deductibles, etc. You will find out all of this when insurance is billed.
My surgery is officially scheduled for November 11! Keep this page bookmarked for updates!