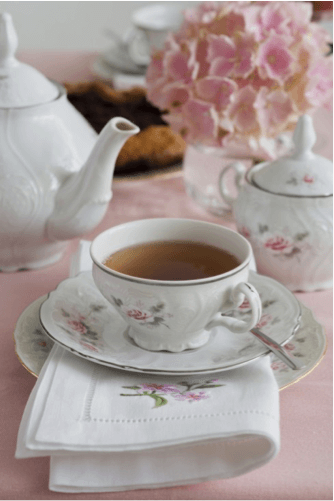 An afternoon tea is the perfect way to host a baby or wedding shower, celebrate a christening or birthday, welcome new neighbors, or just relax with friends. Since the English aristocracy first devised the idea nearly two hundred years ago, afternoon tea has been a respite from the busy world and an elegant treat.
And yes, we're talking about afternoon tea rather than "high tea." Oddly enough, high tea isn't the fancy tea with scones and sweets that you associate with Victorian England and all things civilized. High tea, while it sounds elevated, is merely a simple meal served at a dining table in the late afternoon or early evening. Afternoon tea is the one we're after, typically served from a side table while guests are seated in a congenial group in the garden or the living room… or in the drawing room, conservatory, or parlor, if you've got one.
Get out your finest china (or whatever passes for it), lay a pretty cloth and an arrangement of flowers on the table, and tell your guests to dress up a bit. Here's the way to do afternoon tea Downton Abbey style:
The Tea
Tea is the centerpiece of a tea party, of course, and it's nice to offer several choices brewed from loose leaves or bags in your best tea pots. Accompany the tea with a pitcher of milk (the English way) or cream (the American way), a bowl of sugar cubes, and a plate of lemon slices.
There are more wonderful teas available today than you might even imagine (check out this tea site for organic options), and you can serve herbal and floral teas as well as these traditional choices:
Earl Grey

is

the time-honored choice, a light-tasting blend of black teas from China and India infused with oil of bergamot for a stimulating touch of citrus somewhere between lemon and grapefruit. It's named for Charles Grey, a British prime minister of the 1830s who favored it.

English Breakfast

is a blend of strong black teas from India, Sri Lanka, and Kenya, with a hint of honey flavor that goes well with either with milk and sugar or with lemon.

Darjeeling

is a traditional Indian black tea with a delightful fragrance, golden color, and light floral flavor.
If you'd like to serve alcohol as well, sweet sherry or champagne are elegant additions to the party. And as an alternative for those who prefer something other than tea, and depending on the season, you can also serve hot chocolate or an icy pitcher of lemonade.
The Treats
Both savories and sweets are served at a tea party. The prettiest possible finger sandwiches, either closed or open face, along with small and beautiful pastries. Here are just a few ideas: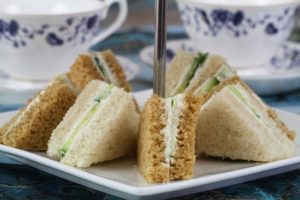 Cucumber sandwiches are the absolute classic. This is no time to go for a hearty and healthy 7-grain bread. You want soft white or wheat with the crust cut off. Spread softened cream cheese on the slices, and layer them with thinly sliced cucumber. Add a few sprigs of watercress or dill, or a few alfalfa sprouts for color and crunch.
Then slice each sandwich diagonally into four quarters or slice it across into three bars, what the English call "soldiers." You can make similar sandwiches with thinly sliced radishes on buttered bread with a little salt. They're surprisingly good and a nice, peppery contrast to the sweeter offerings.
Chicken salad sandwiches are another staple of the tea table. Use your favorite recipe, and think about adding raisins or slivered almonds. Alternatively, you can make sandwiches with thin slices of roasted chicken breast on bread spread lightly with mayonnaise. Present these the same dainty way as the cucumber sandwiches, please.
Curried egg salad sandwiches are yet another variety that's right at home at a tea party, and they're easy to make with hard-boiled eggs mashed with mayonnaise, and spiced with a bit of curry powder and dry mustard. A little orange zest adds a nice touch, too.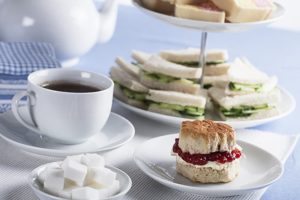 Scones have been a specialty of the British Isles for hundreds of years. They're traditionally served with jam and Devonshire (otherwise known as clotted) cream, luscious heavy cream that's been processed almost to butter. If you can't find the cream in a local specialty store, you can make your own.
Boston brown bread makes a delicious tea sandwich when it's spread with softened cream cheese blended with chopped walnuts and raisins. Date-nut bread with cream cheese is another choice.
Petits fours, lemon bars, and beautifully decorated small tarts and cookies are as decorative as they are delectable. Display a varied selection for both color and taste.
Victoria cake is especially tea-party appropriate to serve for a special occasion. It's an English sponge cake split and filled with jam or whipped cream and berries. Yum!