Restoring Your Doll's Hair (a tutorial)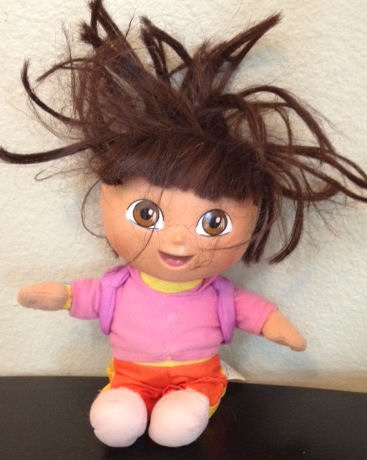 See Dora? Yeah, she's been out explorin' and has seen some better days. BUT I have just the thing to fix her wild and ratty hair and I am sharing it with you!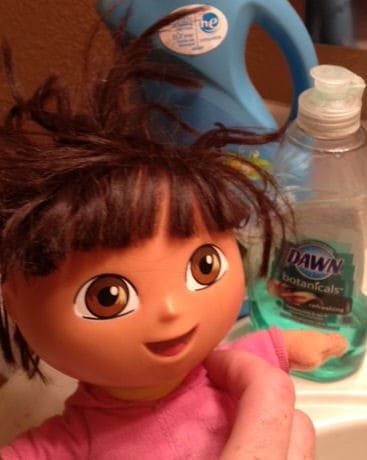 Here's what you'll need:
Doll with hair beyond help
Dish Soap
Fabric Softener
Brush or comb
HOT water
Scissors
Dish Gloves
Towel
If your doll is cloth body, has any kind of voicebox, or clothing that can't be removed I suggest wrapping her body tightly in a plastic bag. You can use a rubber band at the neck to keep it secure.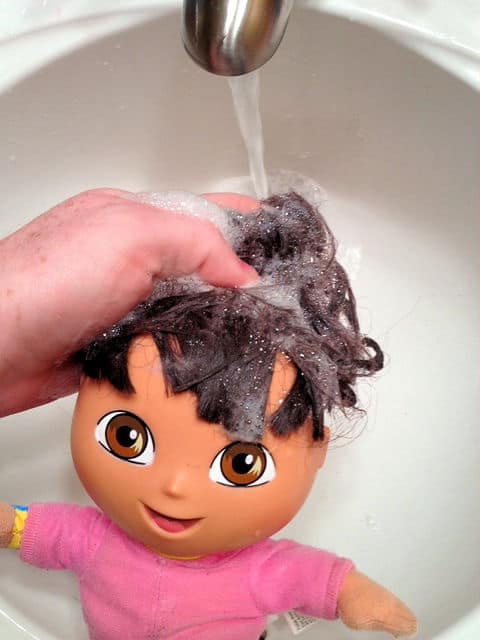 First thing you want to do is wash poor dolly's hair with dish soap. Don't use shampoo – shampoo has certain oils in it designed for human hair that could make your doll's hair sticky or attract dust.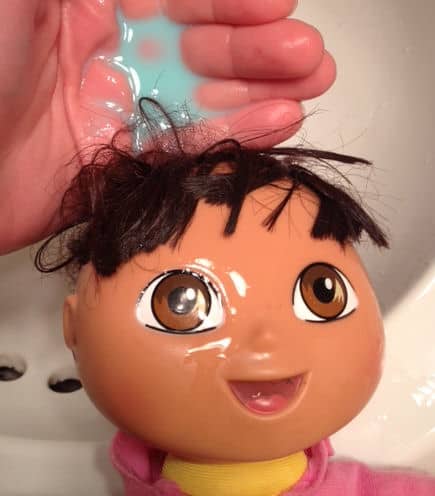 Then pour some fabric softener – about a tablespoon – onto her wet hair and comb it through well. Wring it out but don't rinse it. The next step will rinse excess out of her hair.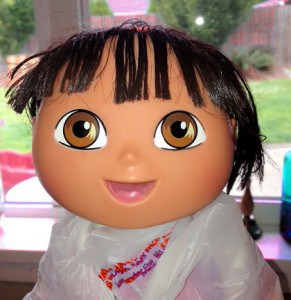 Next step – be sure to either wear dish gloves or do this carefully as to not burn yourself!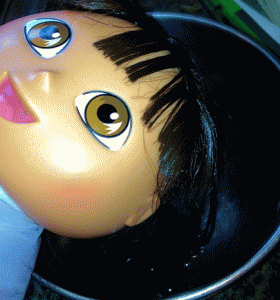 Take your hot but not yet boiling water and either dip her head into it or pour it on her hair. This helps make those pesky flyaway hairs lay straight and will also help seal those crazy ends down. Comb her hair again but this time make sure you comb it into the style you want. Dora's hair is straight so I just combed it straight down. If your doll has a part in her hair comb this to look right.
You could repeat the hot water step again – if you do I would recommend pouring it over her hair rather than dipping it!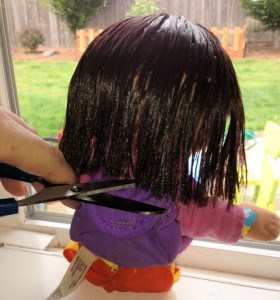 Once your doll has her hair combed correctly pat her head dry (don't rub), check for loose hairs and trim them a bit, then sit her in a window or some place she can dry. Little girls will want their doll back, so maybe this is a good time to practice "patience" 🙂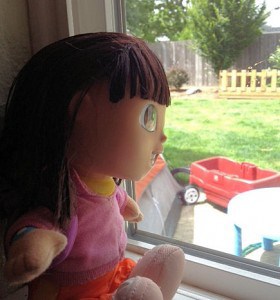 Depending on how much hair your doll has she could take a couple of hours up to a day to dry. Dora took about 3 or so hours.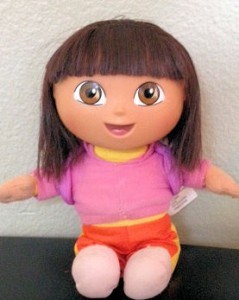 Good as new!!