Many women are often concerned about the way their legs and behind looks when tucked into a pair of pants. Depending on the style of pant, bulges and ridges can be rather apparent. Hold Your Haunches have developed some innovative compression pants to remedy the situation.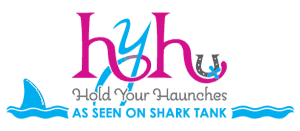 These compression pants are also know as body shapers. These body shapers come in three designs and are great to wear from any occasion! There is the Booty Up Designer Shapewear, which is dressy enough to wear to any party or special occasion. The Booty Up design can be worn with a pair of boots or even some heels. The Lean Mean is a stylish legging, and there is also the Caboose Boost which is the capri style.
What makes the Hold Your Haunches Designer Shapewear so unique is that it is manufactured with 2 layers of fiber. The underneath layer is made with special compression material (patent pending). This special compression material starts at the waist and continues to the end of the designer cut. The top layer is the visible material. The end result is lightweight material that keeps you cool, flattering, concealing, and fashionable. Their unique design keeps your bottom half tight and smooth.

I put Hold Your Haunches to the test and tried them against a regular pair of leggings. The result was, well… see for yourself…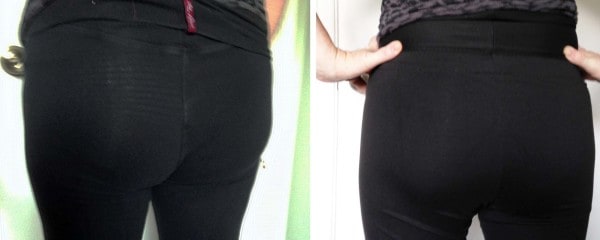 (we aren't going to talk about the striped underwear are we??)
As you can see, my butt in normal leggings is, well, not pretty. The pants are a little too thin, have NO structure or support, and I am a little shocked that I have worn them out in public… The Hold Hour Haunches Shaping Leggings? Everything is tucked and tight. Looks like I have a pretty good bootie, huh? My only issue is that I prefer a little more definition, um in the middle. Not exactly a wedgie, but just a little more there. Otherwise, I LOVE that the waistband can pull up or down and my tummy, thighs, and butt are kept nice & tight. I wored them under a short little dress with some flats and they looked really cute. I can also see wearing a fancy tunic and heels for a night out too! Or pair with boots and a sweater for the upcoming fall weather!
You can order Hold Your Haunches directly on their site – and be on the lookout for feature promotions on their Facebook and Twitter pages.
Want to WIN a pair? Enter below for your chance! Giveaway ends Sept 4th!
* I was supplied with a pair of Hold Your Haunches Leggings in exchange for my review. All opinions expressed are my own.