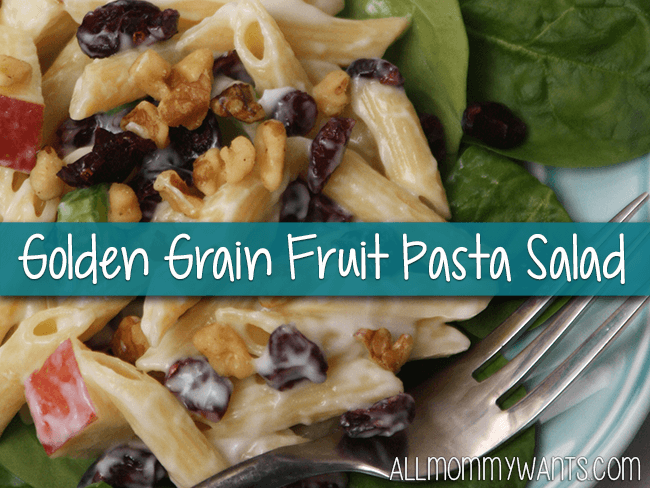 Golden Grain Pasta is a GREAT choice for your pasta dishes – lots of different varieties and healthy options. My Golden Grain Fruit Pasta Salad is a very healthy vegetarian dish that your family will LOVE – my kids ate it up! It's easy to make too!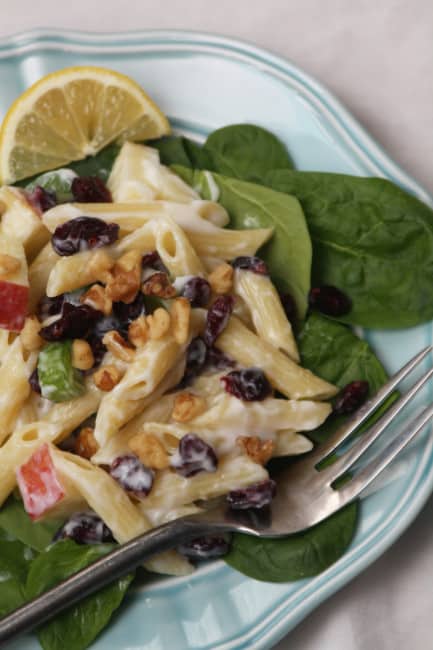 Golden Grain Fruit Pasta Salad
This salad is so easy to make and is a perfect side dish to compliment your dinner! It's a great dish for any time of year and easily adjusted for more servings – make some to take to your next potluck!
Ingredients:
2 cups Golden Grain 100% Whole Grain Penne Pasta
2 sticks celery
1 Fuji apple
3/4 cup dried cranberries
lemon
chopped walnuts, roasted
salt & pepper to taste
8oz plain or vanilla yogurt
Instructions
Cook Golden Grain pasta to box directions, drain and rinse with cold water, then place in large bowl. Core and chop apple, leaving the skin on. Chop celery sticks and mix with apples. Squeeze lemon juice on the mixture. Add to pasta and toss until well mixed. Add cranberries and toss again. Add yogurt, mix until coated. Serve on a bed of spinach or other greens topped with roasted walnuts and salt/pepper to taste.
To Roast Walnuts:
Spread chopped walnuts on a cookie sheet and place in 400 degree oven for 10 minutes or until golden brown.