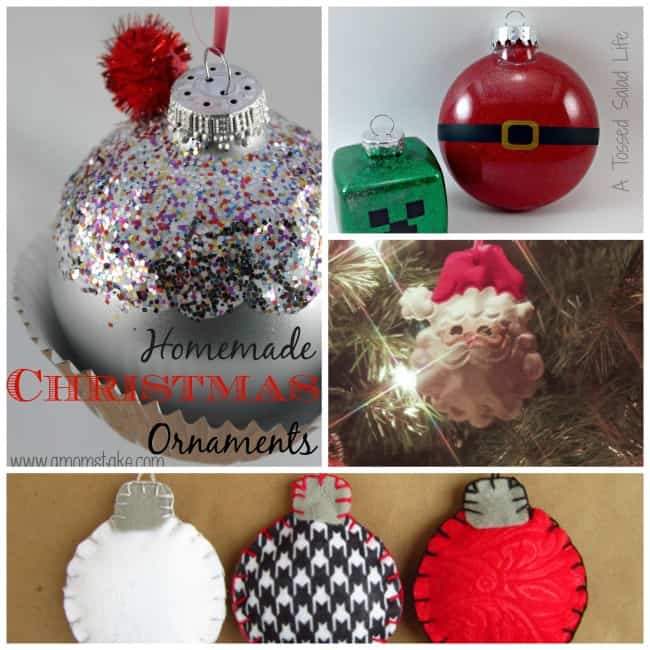 I love homemade Christmas tree ornaments and, though I've tried to make some in the past, they don't come anywhere near some that I found to share with you today. And, the best part? They're all super easy! That's required for anything I'm going to take on!
Check out some of these super cute and easy homemade ornaments:
Homemade Christmas Ornaments – I am TOTALLY doing this with my daughter! I don't know if we'll have time this year (why are the holidays always SO busy??), but definitely next year.
Marbelized Ornament – Y'all, this sounds SO easy and makes such a cool looking ornament! Yet another one I want to try with the kiddo – it's easy enough for even her to do!
Cute as a Button Ornament – Oh, this ornament is so stinking cute! And, it's a great way to display a picture of your child – my favorite  kind of ornament! This would be another fun one for the kids to help with – let them paint or color it and then glue on the buttons!
Cupcake Ornament – Oh.my.gosh – how ADORABLE is this?? I LOVE this idea, and it seriously looks like a cupcake!
Santa Belt Ornament – Here's another super cute and easy one! All you need is a red ball ornament, and gold and black Sharpies!
Felt Ornaments – I love these! I'm not the best when it comes to sewing and stitching, but I'm betting I could handle this!
Custom Glass Ornaments – How fabulous are these?? You could do pretty much anything – the possibilities are endless! And, these would make such cute gifts! Think teacher gifts!
Glitter and Vinyl Ornaments – Here are some more super cute ornaments. The person who made these used vinyl for decorating, but if you don't have a vinyl cutter, I think these would look cute with just the glitter!
Glitter Puzzle Snowflake – This is another great one to have the kids help with – let them coat the puzzle pieces with glitter! This is such a fun idea, especially for kids who love puzzles (like mine!)!