Dwayne "The Rock" Johnson walked into the room and towered over every one of us. His 6'5″, 250lb frame is nothing but muscle, as you'd expect it to be. Although he is gargantuan, the smile he gave set me at ease – in it I saw the mischievousness of his character Maui in Disney's highly anticipated film Moana (in theaters November 23), and the loving sincerity of a father.
Check out my review of Moana HERE
Being half Samoan (his other half is black), it was important for Johnson to take on the role to showcase his Polynesian background. He also wanted to be part of a sure bet animated classic, which many critics are saying Moana is.
I think that they did a tremendous job of representing our culture in a way that makes us proud, and first there was a little bit of hesitance, from all of us by the way, but it was quickly quelled when I sat with John Lasseter and our filmmakers and they had taken me through their process.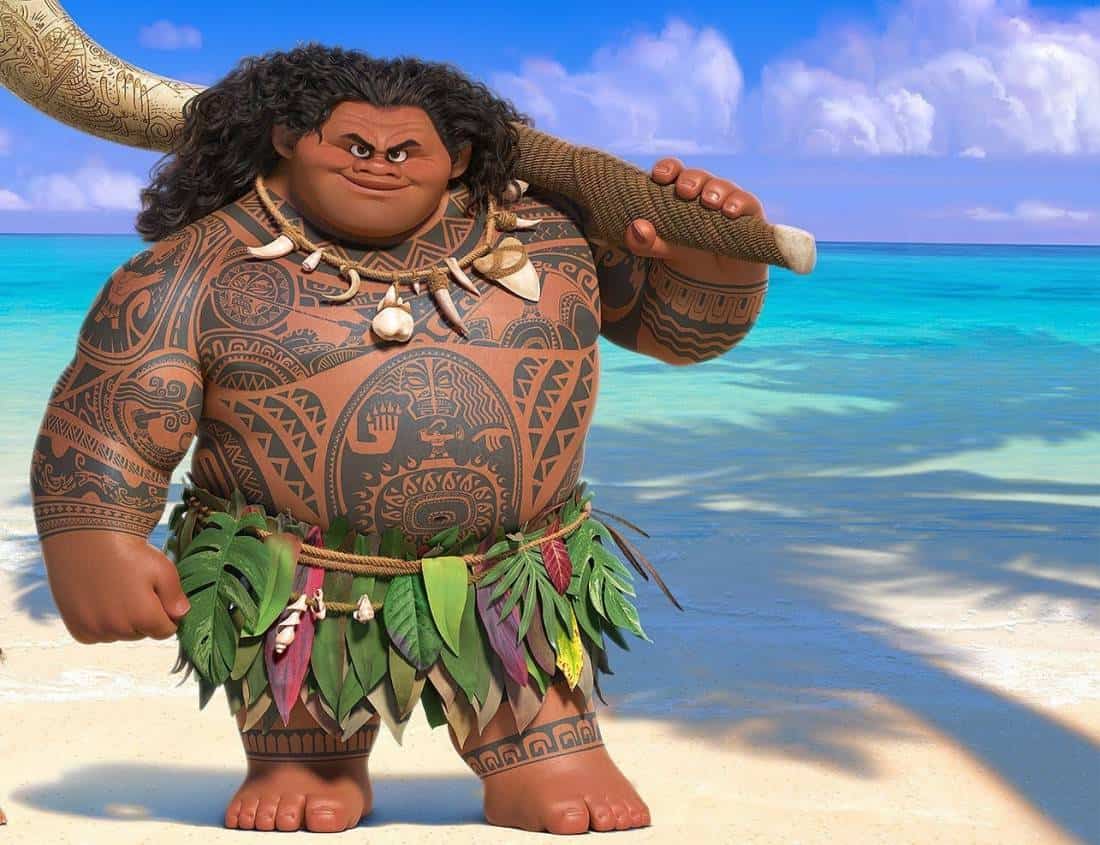 What many people don't know about Dwayne Johnson is he can sing which we will see showcased in Moana.
It was a great opportunity to push myself. The bar's set very high in a Disney movie when there's the element of music. I felt confident going in because I felt confident that I could prepare and do the things that I can control.
And also to surround me with really amazing collaborators – masterful musical people. Lin-Manuel Miranda ("Hamilton"), and Opetaia Foa'i (Te Vaka), (film composer) Mark Mancina, they're just very, very special. So I was excited to sing a song, and to Lin's credit, he did a lot of deep dive research. I've sung in the past, but fun, like I would go on a talk show – Ellen, or something – and I would break out a guitar and sing, and just make it kind of fun and silly. But he did his research and he found a comfortable range that I could sing in, and then he also pushed me a little bit. I had a real, real, real good time. And rapping too and the whole thing, so… I'm a rapper.
There are many obvious similarities in Dwayne Johnson and Maui – the eyebrows, the pecs (oh those pecs), the tattoos to an extent – but that's not where they stop.
There's a fun side to Maui, and a desire to keep things fun, and keep them a little bit on the lighter side. Also not quick to show the vulnerability. And some bravado, a lot of bravado, because you can mask a lot with bravado.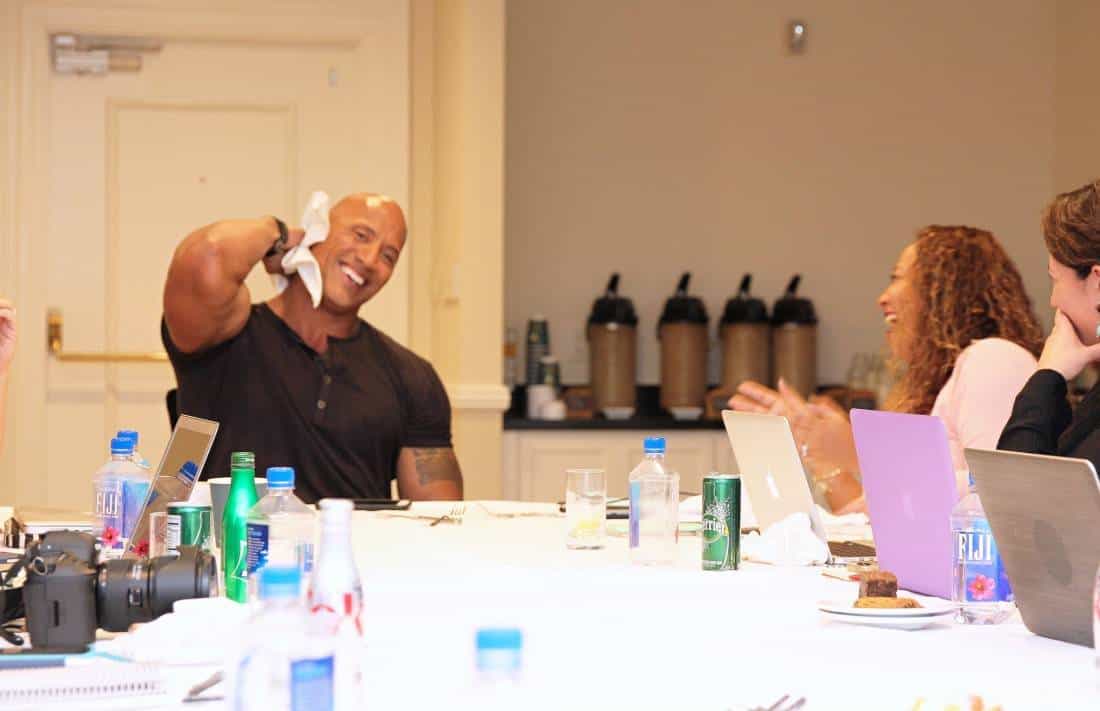 At this point in the interview there was an exchange between Dwayne and fellow blogger Leanette (Funtastic Life) that I don't think anyone will forget. Leanette had made a reference to the way Maui pumps his pectoral muscles in the film… but couldn't quite get the words out, so there was a… pantomiming of it. To which Dwayne Johnson burst out laughing, and started sweating enough to get up and grab a napkin. Imagine it – you are in front of the Sexiest Man Alive and making reference to his pecs. That happened.
Back to the interview. What I found out was that "The Rock" melts into a pile of goo when it comes to his children, especially 11 month old daughter Jasmine.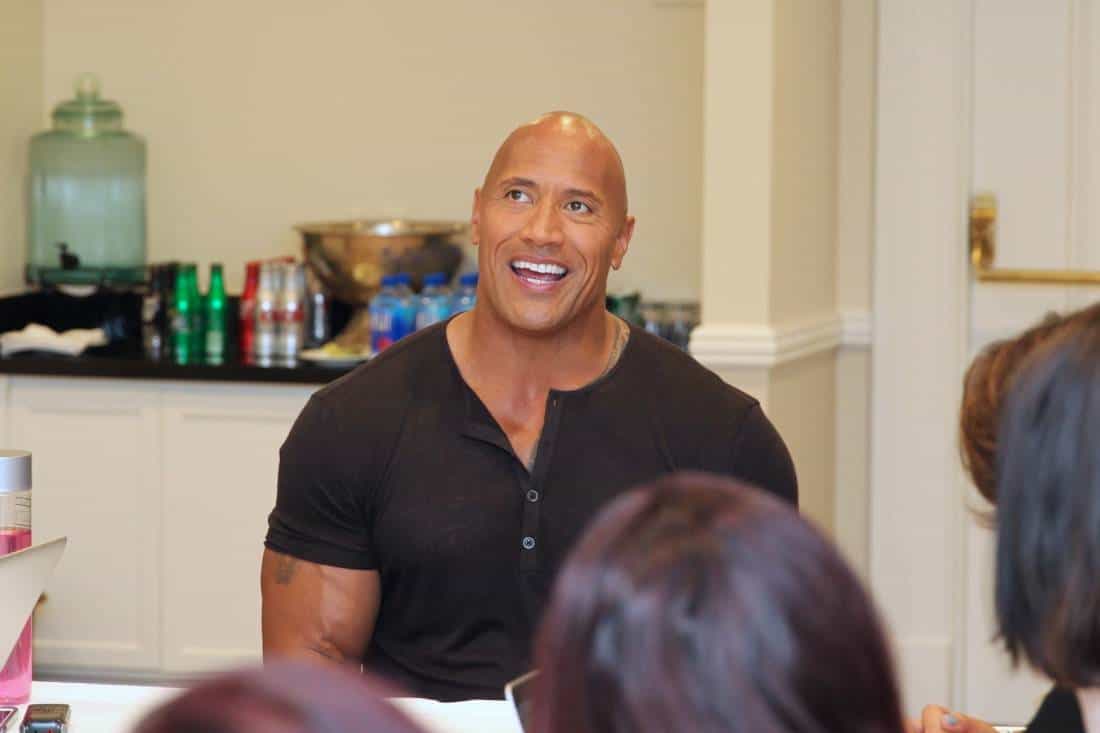 I think with every role there's that added responsibility and to think not necessarily is it appropriate for her or for them to watch, but more so, are there qualities there that we look for that are important, and is the takeaway there. The messaging is important, those questions always still come up, and I always make sure that those boxes are checked.
As a sidenote – I am sure many of you have seen the adorable video of Dwayne dressed as Pikachu entertaining his daughter with a little dance. What I found out is that this is a weekly occurrence in the Johnson house.
I dressed up as Pikachu for my daughter Jasmine, she's eleven months old. We were in Hawaii shooting, and she went to a pumpkin patch and she saw someone dressed up as Pikachu and she freaked out. She loved it.
So Lauren and I thought, 'Well you know, what if Pikachu came for Halloween.' So I became Pikachu. So the challenge was finding a Pikachu costume that was big enough. We did find one, and it was so hot, boy, in that thing… And so since then, Pikachu makes weekly visits. It's a whole thing. Pikachu goes to get dressed in another room and he has to walk out back and around the house; he has to ring the doorbell, and then he has his fun with with Jasmine, and it's very funny.
So, usually Lauren is there, my mom is there, and they mess with me 'cause I can't talk, so Pikachu just doesn't speak for obvious reasons and it's so hot, and after fifteen minutes, I'm getting ready to say goodbye, and Lauren goes, "Oh, uh, Pikachu wants to dance? He wants to dance?" And she puts on music and… another twenty minutes. But it's the best.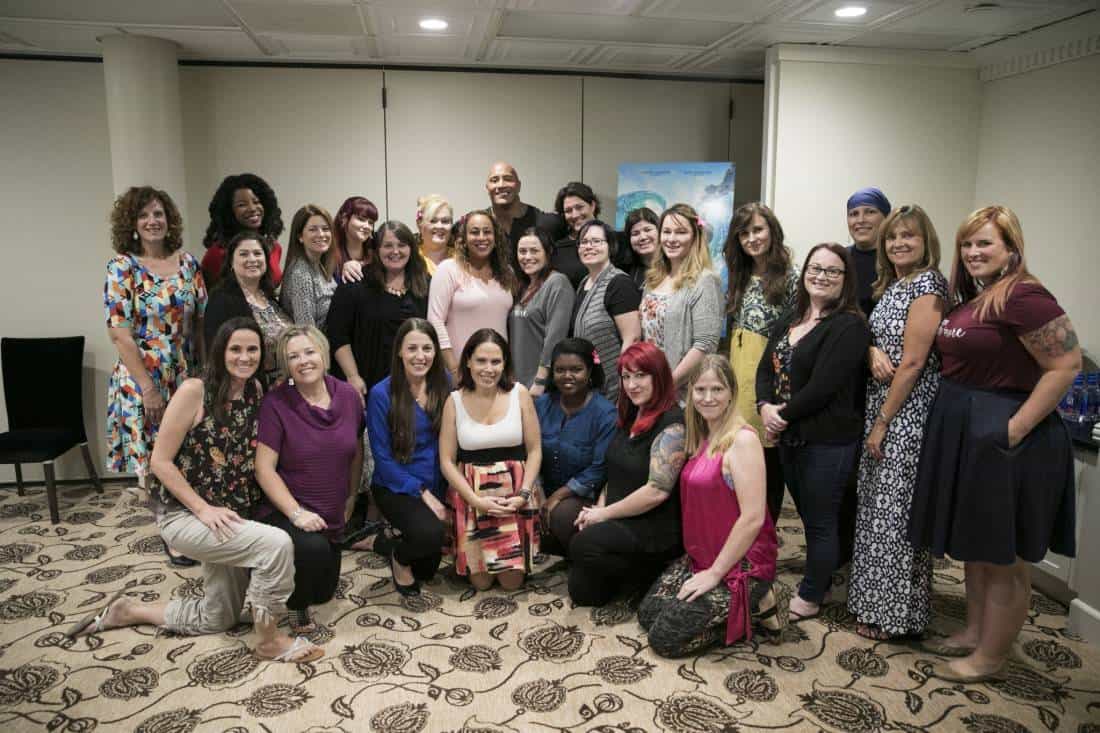 See Dwayne Johnson as Maui in Disney's Moana – in theaters November 23!
All photos © Louise Bishop/MomStart unless otherwise noted