* I was supplied with some organizational products courtesy of StoreWALL. All opinions are my own.
I need to print this out.
A big part of my life is art, crafting, and sewing. I love making things! It's unfortunate that my crafting items were kind of everywhere, this makes it really hard to be creative. I needed a space to work that had a place for everything and everything in its place. This started with a need for a desk.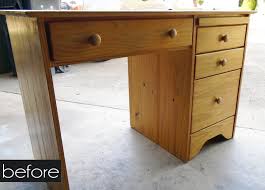 I found a basic wood desk at a garage sale for a mere $5 – SCORE! I took it home and spray-painted it white, with the drawers blue. Then I used a template of an ampersand to stencil the design across the drawers.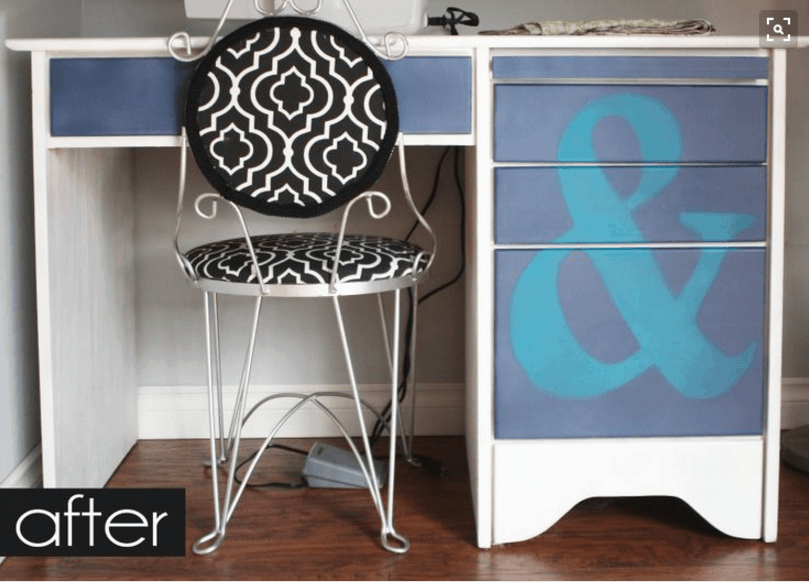 Now that I had my desk, I needed an area that would be easily accessed, had ample storage, and was attractive. I found StoreWALL would fit the bill perfectly! Although many customers use StoreWALL products for their garage, I decided that a craft corner would be the perfect choice to fit my needs. I was sent the following items to build my corner:
3 HD WALL (any color) with Installstrips
4 – Paper Towel Holders (can hold 2 paper rolls)
4 – 2.5″ hook
4 – 7.5″ hook
3 – Cube Bins
1 – Medium Totes (with 3 – 15″ brackets)
1 – 15 x 32″ shelf (with brackets)
1 – 5 X 32″ shelf 18.1
The products are worth over $500 but you can get items bundled at discounts with the StoreWall kits.
The heart of this modular storage system are the good-looking and incredibly strong wall panels that can be easily configured to fit any wall. Add to these panels a wide array of accessories including shelves, hooks, baskets and bins to create a storage system that gets everything off the floor and onto the wall. Plus installation was WAY easier than I thought.
I started by installing the InstallStrips. All I had to do was measure where to place them and screw them into my wall studs. Then I hung the HD slat wall on those. It took minutes – and I was able to do it 100% myself with no help needed.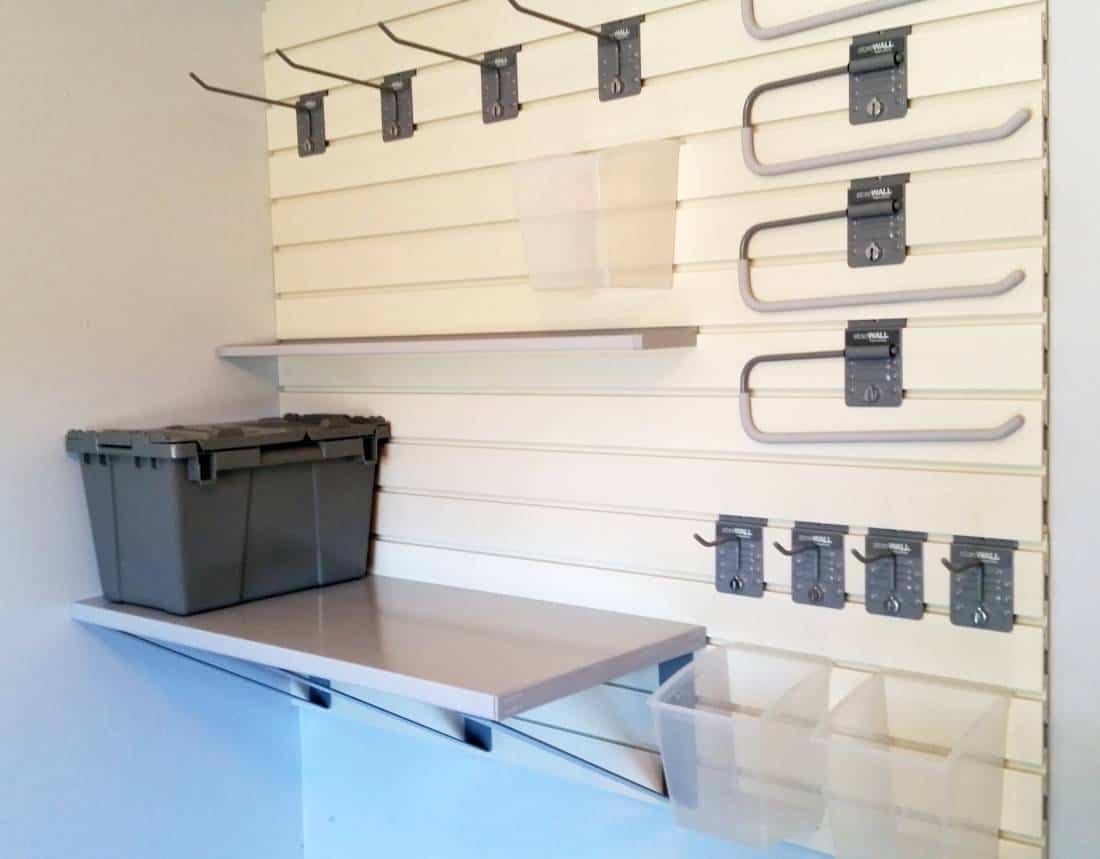 After that it was a matter of getting the right configuration for the modular accessories. I found that using the hooks for things like duct tape and ribbon was perfect, The bins were great for small items like scissors, a mini glue gun, and notions. Once I placed my desk below it looked complete and organized. A an added plus the hooks and brackets all lock into the grooves so no sliding around when I am grabbing things from the wall.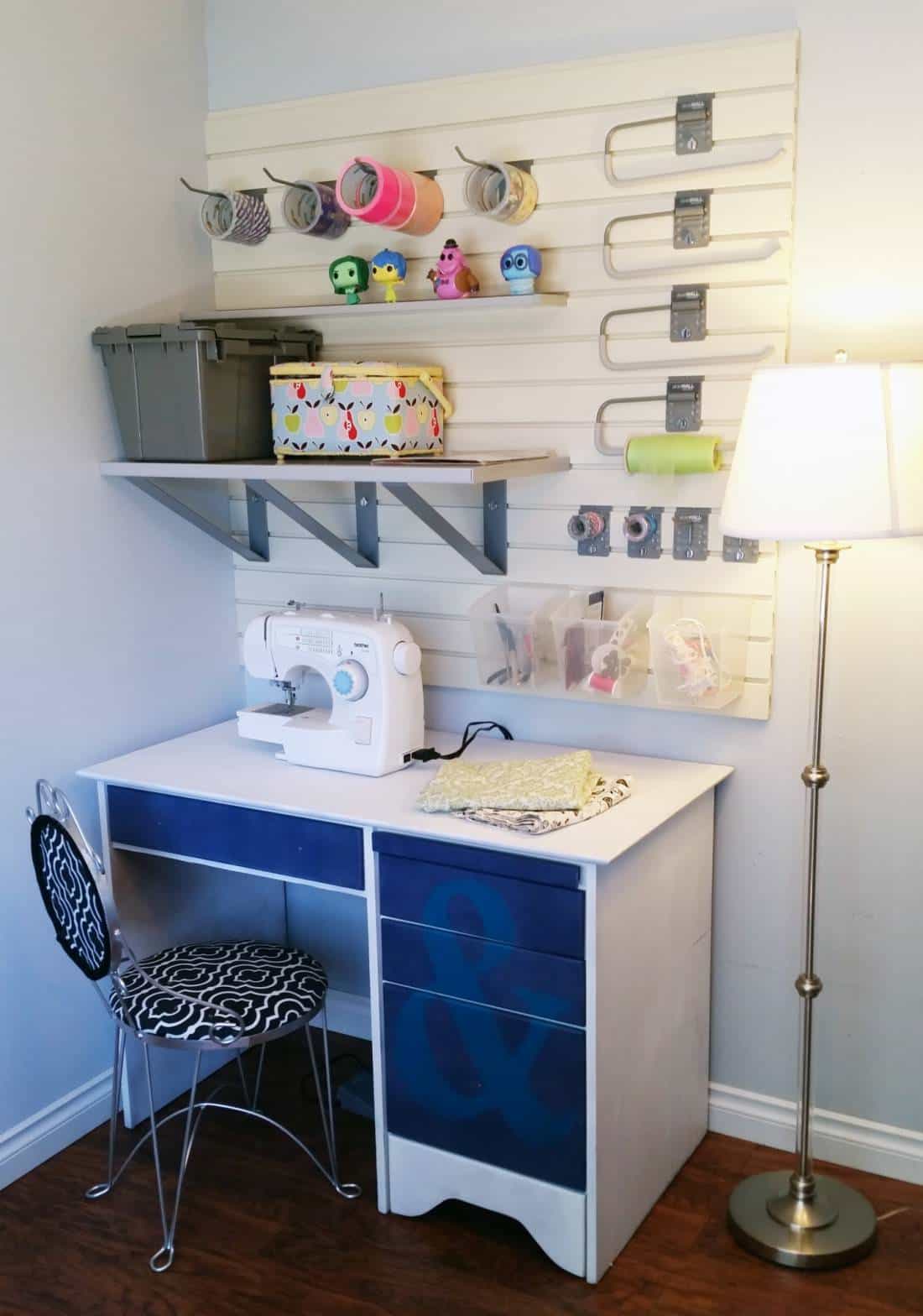 Now I get to go through my garage and guest room closet to find the rest of my crafting items – and I have a place to put them all! I'm loving the StoreWall modular setup – it's exactly what I needed to stay organized. Find out more about StoreWall on their site! There are a ton of other ideas – from a pet area, laundry room ideas, and pantry! See more at http://storewall.com
I kinda want to StoreWall my entire house now 🙂