Disney gets rotten to the core… In a good way.
July 31th will be the world debut of the NEW Disney movie Descendants. Think of it as a mashup of High School Musical and ABC's Once Upon a Time. Here, watch the newly released first 6 minutes and you'll see what I mean:
https://www.youtube.com/watch?v=1Zm9D1tXWVs
So now that you get the idea (AND have that fabulous song in your head!) you kind of see what I mean when I say mashup. Plus, one thing that they don't show you in the first six minutes is the fabulous Kristen Chenoweth as Maleficent and Kathy Najimy as the Evil Queen.
In the present day idyllic kingdom of Auradon, the benevolent teenaged son of the King and Queen (Beast and Belle from Disney's iconic "Beauty and the Beast") is poised to take the throne. His first official proclamation: offer a chance at redemption to the trouble-making offspring of Cruella De Vil, Maleficent, The Evil Queen, and Jafar, who have been imprisoned on the Isle of the Lost, a forbidden island where all the other villains, sidekicks, evil step-mothers and step-sisters are placed upon their defeat.

These villainous descendants are allowed into the kingdom to attend prep school alongside the offspring of iconic Disney heroes. However, the evil teens face a dilemma: Should they follow in their nefarious parents' footsteps and help all the villains regain power by stealing the Fairy Godmother's magic wand, or embrace their innate goodness and save the kingdom?
I watched Descendants and I have to say – this new Disney movie is a great way to reignite the musical genre to a new generation. My daughter is anxiously waiting to watch it. You will be able to read more of my full review next week, because this post is about the guy who made it happen – iconic director/choreographer (and really nice guy) Kenny Ortega.
https://instagram.com/p/4Z5WYNTbgj
You may not know his name, but you certainly know his moves. Kenny Ortega's background includes director of all 3 High School Musical movies (which catapulted Zac Efron, Vanessa Hudgens, and Ashley Tisdale and into A-listers), choreographed Christian Bale's first big break Newsies, and was behind "that lift" that was made famous by Patrick Swayze and Jennifer Grey in Dirty Dancing. Yes, that lift.
Not to mention, choreographer and personal friend to Michael Jackson, who he holds dear to his heart.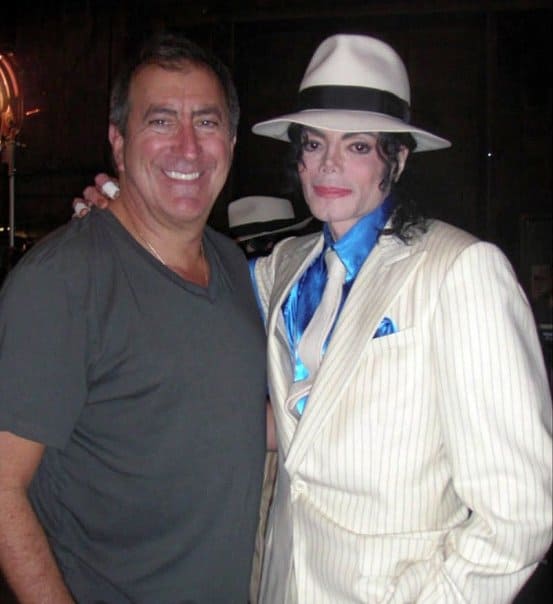 Let me start out by saying that Kenny thanked US for coming out to talk to him. That's how I knew this would be a good talk. This man is incredibly genuine.
Descendants is an evolution of his work. Kenny caters to the new generation – the one who is over the heavily choreographed dances and wants the looser, high-energy moves that have their own personality. He compared the dancing to that of Michael Jackson's Thriller, sort of an homage to Michael, who he said is "one of my favorite human beings ever that I've ever worked with in my life and a huge influence in my career" (He did not choreograph Thriller, but was the director of the famed documentary "This is It").
Another huge influence? The late Gene Kelly, who starred in classics such as Singin' in the Rain and cult classic Xanadu.
"Gene Kelly was someone who I grew up so wanting to be like – singing, dancing, acting, directing, choreographing. I loved all of it and we became friends. He became my mentor and he used to say to me that there needs to be a reason at the center of your ideas that motivates all of your work."
When Kenny read the script of Descendants he knew he wants to be part of the process. Descendants excited his creative thought process.
"Here I was a kid that grew up watching Disney and watching Disney animations, Cruella Deville, Maleficent, all of these magnificent Walt Disney characters and suddenly they were on the page, I was being invited to be able to like play with these iconic heritage characters and their offspring to develop brand new characters for Disney".
It took 5 months to find most of the cast. some are known to Disney – Dove Cameron and Cameron Boyce both are Disney channel stars in their own right – some are icons of film and stage like Kristen Chenoweth and Kathy Nijamy, but some were budding talent that Kenny looked for in all corners of the earth. Mitchell Hope, who plays Beauty & Beast's son Ben, hails all the way from Australia. Some of the actors had dance background, but some had none – like Dove Cameron.
"All these amazing kids were these amazing actors had this sort of drive and ambition and they were ready for anything, they wanted to be challenged. And they were brave and courageous kids. And that I've always found that like with High School Musical we incorporated sport into choreography, sport as dance and so we would use real baseball players with actors and dancers. What it did was the actors would raise the bar of the dancers and the athletes and all the way around it worked".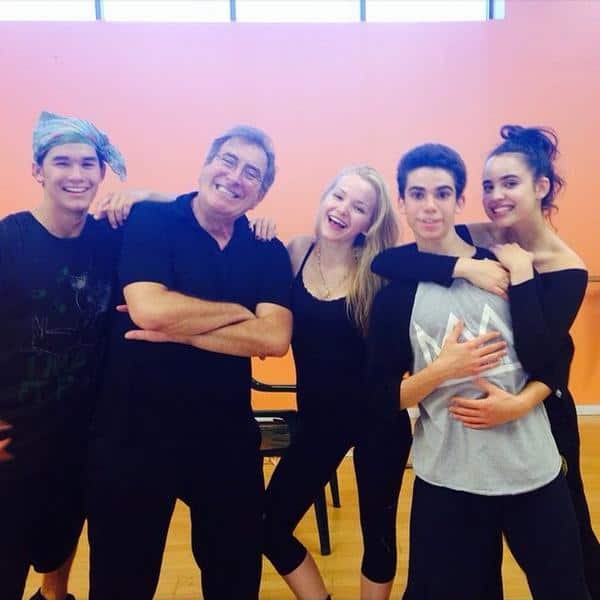 "On Descendants we had kind of a factory. We had three different rooms. I had an amazing group of assistants that worked with Paul Becker, my associate choreographer and I and these kids were given dance class, improv. They were stretched. They were given private tutoring and then also the dancers generously sort of took it upon themselves to sort of mentor the actors. So you watched kids learn really ten times as fast as they might in an ordinary situation. Dove went from being a non-dancer to being able to attack the movement as ferociously as anybody in the room. It takes not only focus and determination but a lot of bravery. We had some brave kids working on this movie".
Kenny's favorite number in Descendants was the opening sequence "Rotten to the Core" (which I have to say is also my personal favorite). "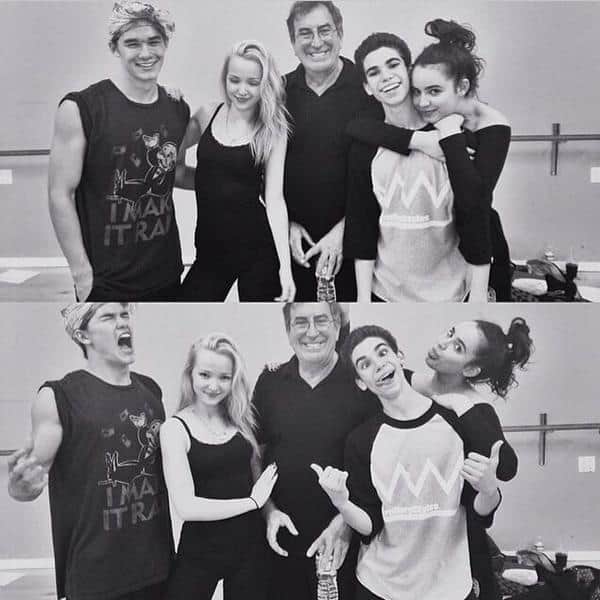 "I started as an actor at 13 years old and I was lucky enough to be in the original London touring production of Oliver. When I first read the script and started to imagine the world I thought a bit of Dickens and a little kind of old London town under the bridge, that darker underworld. I always loved the idea of being able to take Rotten to the Core, use it as character introduction and also to introduce us a bit to the island, what this place is. That particular number was just lots and lots of fun to create as a choreographer and to imagine as a designer".
So what WAS is that made Kenny jump out of his seat?
It was the dream of who to work with next… When I asked him this question, he stood up, paced for aboout 30 seconds while we all waited with baited breath.
"Meryl Streep. Janet Jackson, Bruno Mars, George Clooney and I would love to work with Christian Bale again. There are a lot of people, a lot of people out there. There's so much talent in the world, Broadway talent".
With that he said –
Broadway needs to wake up and get all of you out there for like a week. They do. They really do.
I cant agree more, Kenny.
"I'm going back in July. I can't wait. There's so many more things that I wanna see. I was there for Kristen Chenoweth's opening and I got to see On the Town and the Curious Incident of the Dog and the Nighttime and I got to see Lynn Miranda's new musical, Hamilton, which is absolutely unbelievable, a hip hop opera about the American Revolution. There's a lot of people in New York on the Broadway stage and in England on the west end and in music and in film and in theatre. I'm thirsty to work with lots and lots more people".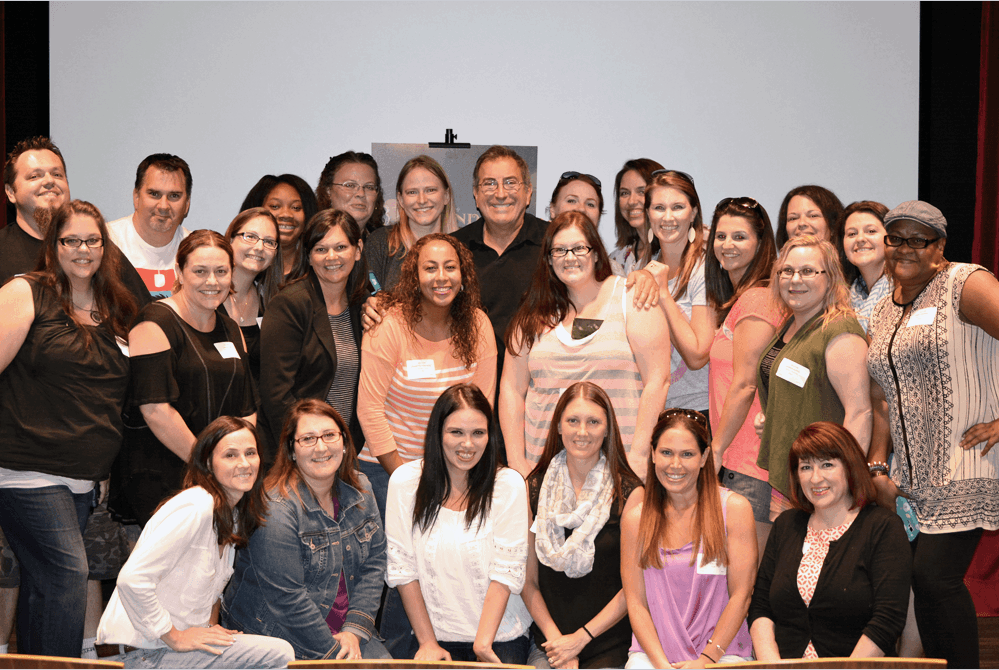 Here's what two of the stars of Descendants said about working with Kenny and filming:
"Filming "Descendants" was some of the most fun that I've had in my entire life. It was the most incredible and magical cast and crew. Kenny Ortega is a genius. All of my costars are absolutely talented and magnificent, and everybody was handpicked so specifically. They're all my heroes, and I really hope that we get to work more together." -Dove Cameron – Mal, Disney's "Descendants"

"The experience was amazing. We worked with Kenny Ortega, and Vancouver, Canada is beautiful. We had a really great time, the cast was really close. We spent a lot of time together just hanging out, and we were a really tight knit group." –Cameron Boyce – Carlos, Disney's "Descendants"
Sidenote – during the interview I kept getting messages from my dear friend Gayle over at DisneyGals about how much she loved Kenny. So when we walked out of the screening room I happened to be right next to him and took that opportunity to ring Gayle and hand the phone to Kenny. Yes, he was so friendly and comfortable to talk to that it was a natural thought which he thanked me for. He enjoyed hearing from a real fan about how appreciated his body of work is.
Descendants is on Disney Channel July 31st at 8pm!