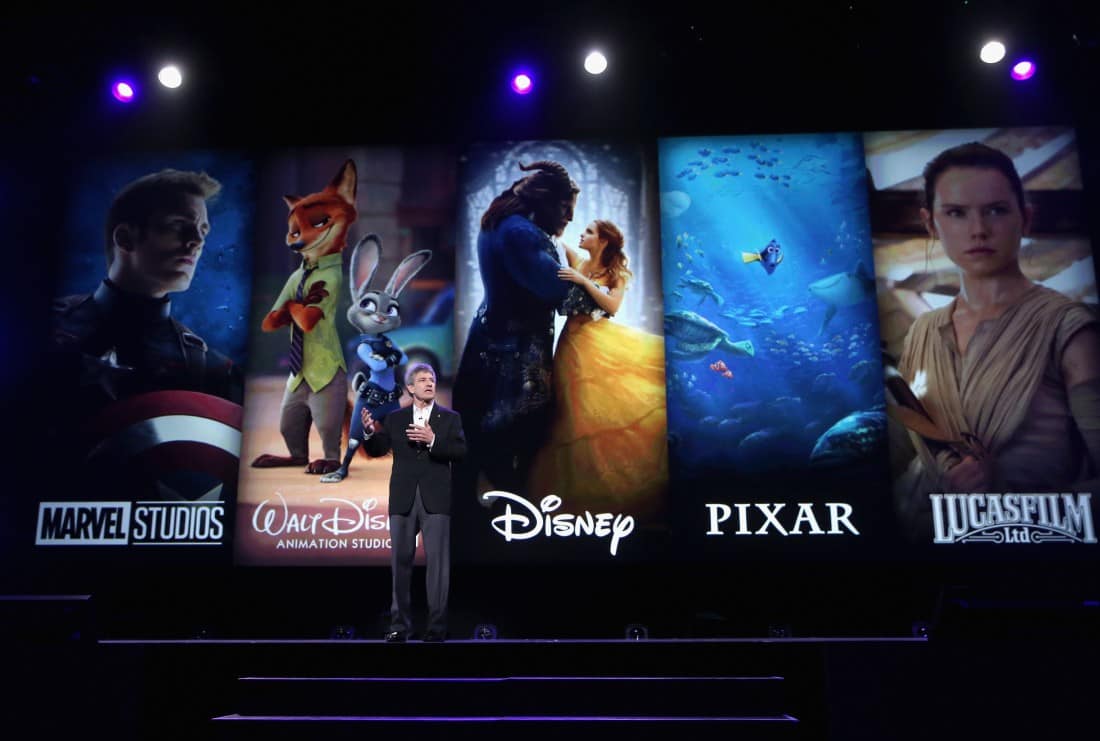 Late Sunday night I got back from a whirlwind experience – the D23 Expo! The D23 Expo happens every 2 years and is an even not to be missed!
One of the highlights of my trip was being able to sit in some of the best panels I have ever experienced. Being able to see announcements from the TOP Disney peeps themselves. I wasn't able to take any pics (all pics here are courtesy of Disney/Getty images), but I did tweet my fingers off!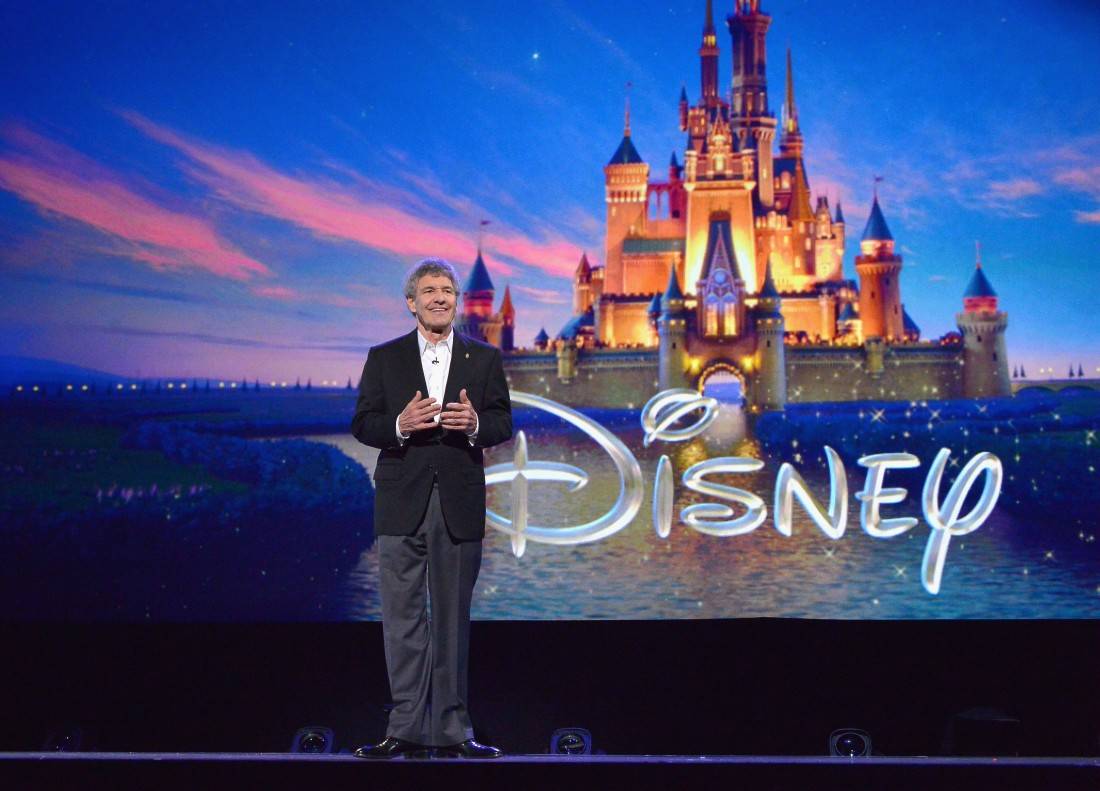 Bob Iger, the Walt Disney Company CEO himself introduced John Lasseter, Chief Creative Officer (and highly animated himself) of Walt Disney Animation Studios, Pixar, and Disneytoons Studios. If you have never seen John Lasseter speak, I can tell you he probably has the most energy I have seen in a presenter, or most people for that matter. He first noted that his shirt (he's well known for wearing Hawaiian-style shirts with a Disney flair) had every Disney/Pixar character printed on it. Sidenote – the shirt became available for purchase at the Disney Fantasy Store in the Expo after the presentation and sold out within hours.
The first announcement was a Disneytoons feature film. Although this film is not yet titled, it explored the future of aviation. We watched a teaser about it, very "Top Gun" with fighter jets streaming through the air, then shooting off into space. One of the jets looked suspiciously like Dusty Crophopper from "Planes", but there was no confirmation of that. Still, something in the eyes… This film is not yet named, but Lasetter teased with a title card that simply read "SPACE", followed by "where the title would be if we had one". Ha, good one!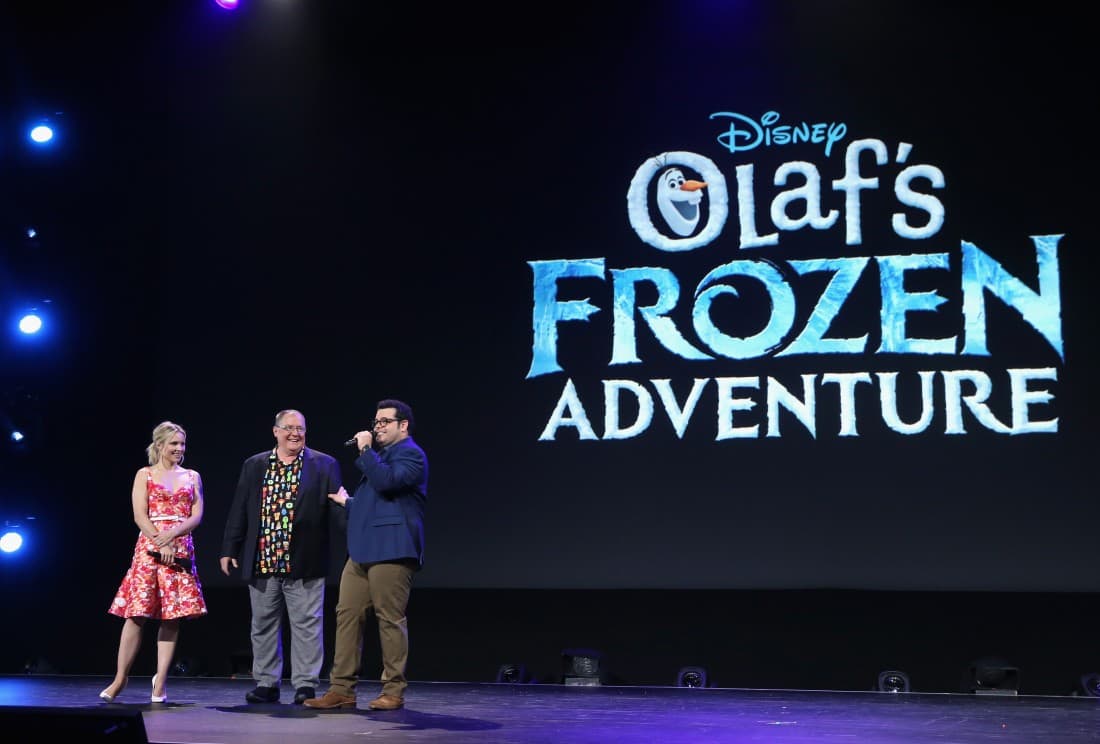 Next up was the new Disney short "Olaf's Frozen Adventure" which will play before the highly anticipated COCO this November. Joining Lasetter onstage was none other than Olaf and Anna themselves, Josh Gad and Kristen Bell! We got to hear a brand new song from Olaf sung live by Gad and it was SO cute! All about finding out what Christmas traditions are. After all, Olaf is a snowman and has no idea what Christmas is, but is giddy at the thought of it. Bell and Gad also talked about Frozen 2 which will be released sometime in 2019.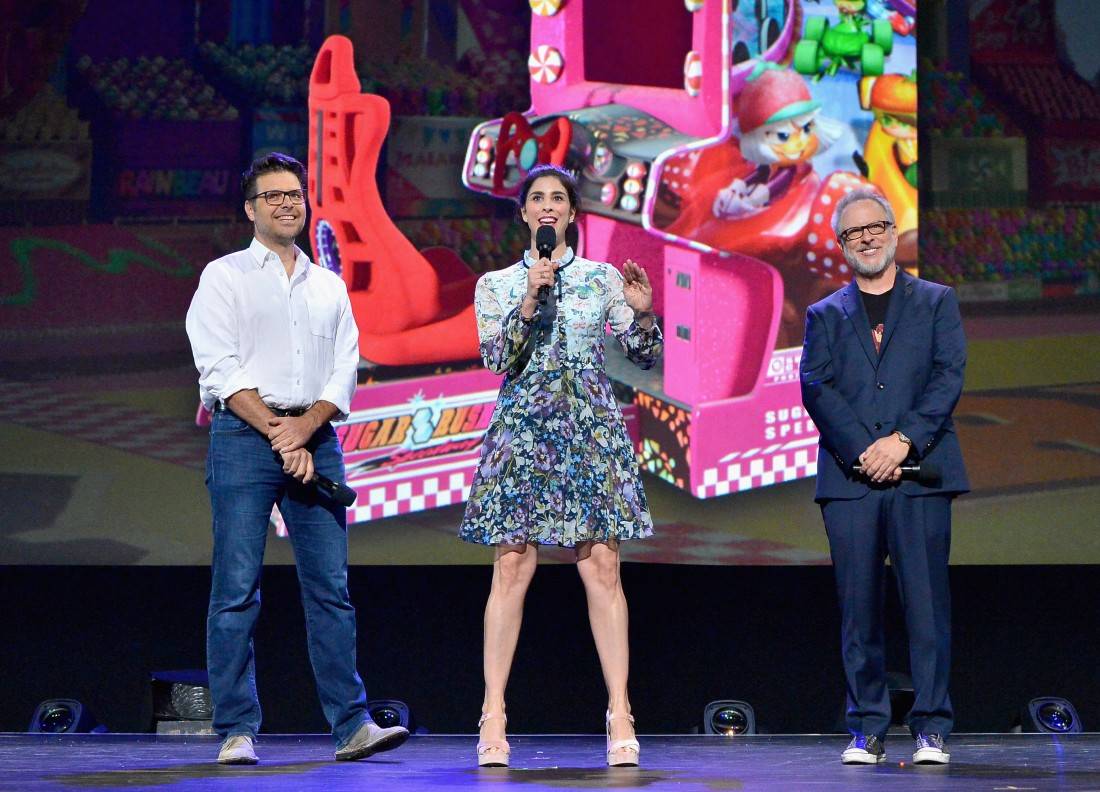 Another BIG announcement was all about Wreck-It Ralph 2: Ralph Breaks the Internet starring Sarah Silverman and John C. Reilly. Sarah herself was there to announce a HILARIOUS clip involving Vanellope meeting all of the Disney Princesses at the Oh My Disney! HQ. THEN several of the voice actresses came onto the stage one at a time and then announced that Vanellope was officially a Disney Princess (we find out about her royal status at the end of Wreck-It Ralph.). It was exciting to see how much modern pop-culture references will be in Wreck-It Ralph 2: Ralph Breaks the Internet 😀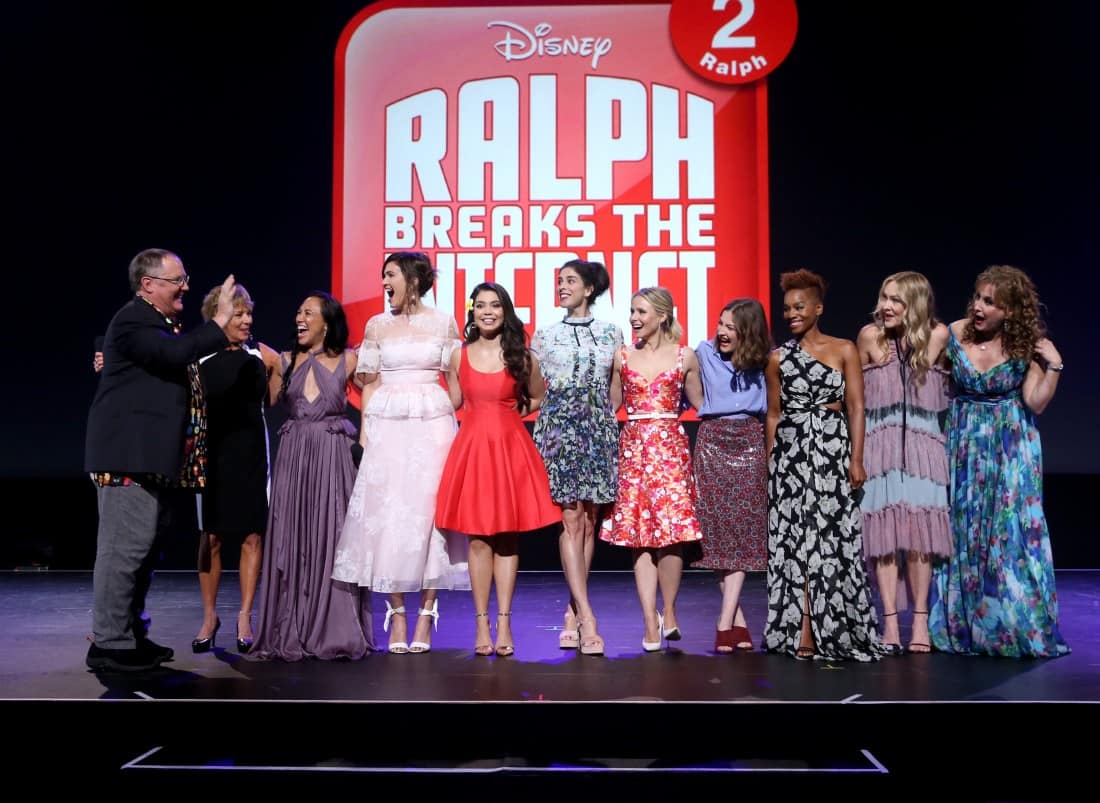 In MORE animated news – The Incredibles 2 is coming June 15th 2018! We got to see a glimpse of one of the favorite characters Edna Mode through the eyes of icons like Heidi Klum, Zac Posen, and Rachel Zoe. Check it out:
Onstage for The Incredibles 2 – Craig T. Nelson, Holly Hunter, Samuel L. Jackson, Sarah Vowell, and new voice of Dash Huck Milner. Each seasoned star had some advice for Milner as a newcomer. My favorite was Holly Hunter tell him to get used to the phrase "Where's my limo??".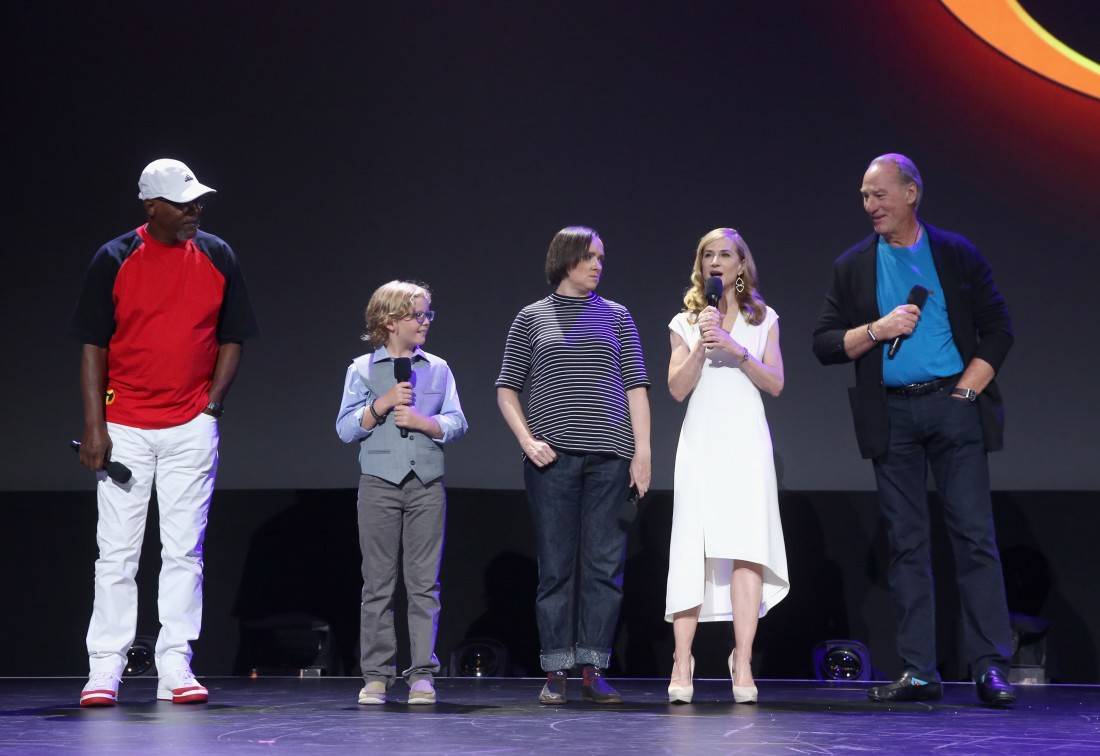 My favorite part of the entire presentation was all about COCO, in theaters November 22 2017. Not only were we treated to an AMAZING extended clip of the film all about Miguel, the boy who is transported to the Land of the Dead through the guitar of his idol (and possibly relative) Ernesto de la Cruz, played by Benjamin Bratt. It was SO cool. But even cooler were the traditional Mexican folk dancers who twirled and spun down the aisles to the stage as Benjamin Bratt himself led a mariachi band in a colorful and exciting rendition of "Remember Me", the main song in the animated film.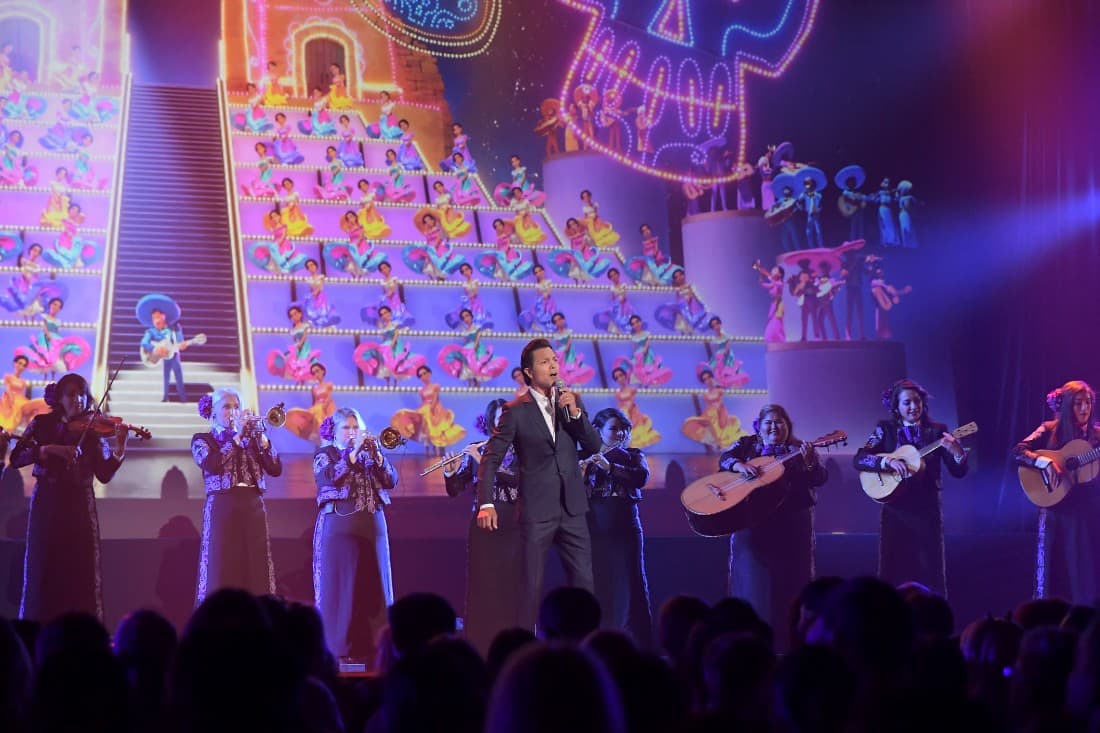 I really can't wait for Coco!
Here's a full list of Disney/Pixar Animated films coming up:
Coco (with Olaf's Frozen Adventure): November 22, 2017
Wreck-It Ralph: Ralph Breaks the Internet: November 21, 2018
The Incredibles 2: June 15, 2018
"The Speed Test" (untitled Disneytoons film): April 12, 2019
Toy Story 4: June 21, 2019
Frozen 2 (working title): November 27, 2019
Untitled Suburban Fanstasy Film (Pixar): June 2020
*Thank you Disney for hosting my experience. All opinions are my own