While at Blogger Bash, I got the opportunity to visit Shop Ireland – A mini-expo filled to the brim with products directly from Ireland.
I'm about 1/3 Irish, you know…
As I went from booth to booth checking out all of the lovely products and meeting the wonderful owners of these brands, I thought to myself "gosh, I would love to have some of these items for my own…" I made notes of who I wanted to talk to more (all of them), what I wanted to order (again, everything), and I also got a couple of samples (I had kept my sample requests to a bare minimum while I was there). But then….
Oh my gosh. I won the grand prize for #shopireland at #bbnyc!! I just received my prize and WOW.
I won the grand prize raffle drawing!
I couldn't believe it either! So I wanted to thank the sponsors by highlighting each one…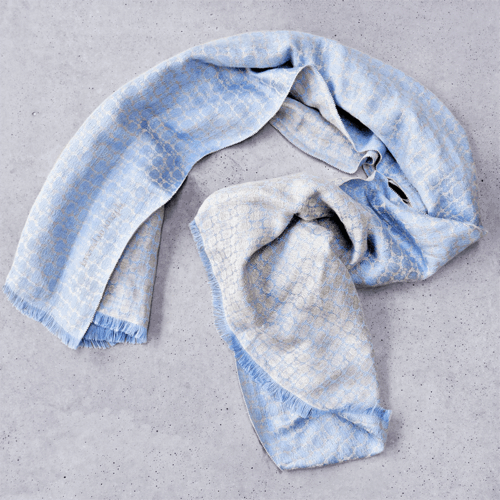 This scarf… it's exquisite. Brendan Joseph's products are all hand-made in his studios in Dublin, Ireland. The softness of the silk and roughness of linen make it one of a kind and so luxurious. I'm almost afraid to wear it. ALMOST.
"Ireland's heritage of handcraft is visible in Dublin artist and designer Brendan Joseph's handmade woven silk scarves. Each silk scarf is individually hand made in Ireland by a team of artisan craft producers at the studio and our mills."

available Sept 2016
I am looking forward to my son playing with this. He has a special love for building (really who doesn't), and ArcKit is a great way to show him just what he can create.
ARCKIT is a freeform model building tool that allows architects and everyone to physically explore designs and bring their projects to life. The interconnecting components use no glue and are completely modular, making it possible to create a diverse range of scaled structures that can be used as working models to communicate ideas to clients and to showcase finished projects.

Chupi I Can Fly Swan Feather Ring (About $100 ARV)
I love this ring. It's so delicate but strong and absolutely beautiful. I love that it can go from casual to dressy. It's so unconventional that it's sure to be a conversation starter.
This gold feather ring is cast from a real swan feather. Chupi has adored swans ever since she was little, for their beauty and strength. Chupi collected hundreds of feathers from along the banks of the Royal Canal in Ireland before she found the perfect one.

A little story – before I got my prize box in the mail I was given a medium EasyDry Towel as a sample while in New York. I was a little excited about it, but it wasn't a product that really stood out. Until I tried it. I was drying my daughter's hair and had grabbed it. Normally her hair takes a while to blow-dry – although it's shoulder-length, it's thick. The EasyDry towel cut the dry time down to HALF. No joke. So now? I use the big one to wrap my own think hair in after the shower and it's crazy how fast it dries now.
What can I say about this? It's magical! We decided to put the fairy door in our house – in a cabinet away from kitty cats who would most definitely try to chase her. Then, she came! Every once in a while she leaves little trinkets for the kids, and the kids leave her stuff too. It's very sweet!
The Irish Fairy Door Company was specially selected by the International Fairy Council to provide fairy doors for all locations – be it your home, your garden, the office, school or care centre. Each fairy door is given a special portion of magic so that your new fairy can live comfortably in their new human home!
Each fairy is waiting eagerly to find his or her new home and have trained very hard to be the best House Fairy they can be! Our doors are sent out all over the world, just bursting with magic and wonder enabling every fairy to find his or her perfect home and family.

I have a little girl who loves her dolls. I love that Lottie is very age appropriate and is a child, just like my little girl. She is fun, multi-faceted, not all PINK, very diverse! We love Lottie in our home, and I am very excited to see her get rolled out in stores like Toys R Us!
Her clothes are vibrant in colour and have significant attention to detail. Lottie's clothes are very much activity based, in line with those of a 9-year-old instead of an adult. She wears pretty dresses, as well as hard-wearing clothes for muddy, outdoors play. Lottie allows kids to be kids and enjoy their childhood, in all its facets.
Lottie's motto is 'Be bold, be brave, be you'.

I am in love with this necklace. Being more Irish than anything else in my blood I have a soft spot for Celtic Knots, and this one is no exception.
Many centuries ago, in an Irish Monastery, the Celtic Knot was created on the pages of illuminated manuscripts. From dawn till dusk, monks would work with infinite care to illustrate the gospels, stopping only to eat and pray. This patience and devotion produced the richly decorated knot work which today is instantly recognizable as Irish.
This. Smells. AMAZING. Can't wait to try it! @tanorganicofficial #bbnyc #shopireland

A photo posted by Carol (@mommywants) on
When I was at the Tan Organic booth I met creator Noelle O'Connor, an absolutely delightful Irish woman. She demonstrated Tan Organic on my colleague and I was hooked – not only does it give pale women like me a natural glow, but it also doesn't transfer. I can literally rub some of the oil on my legs and go to bed on white sheets, wake up to a soft glow and clean sheets. Brilliant.
TanOrganic's natural ingredients work gently on both your face and body to deliver stunning tanning results. Our products are specifically designed for the women of today who want to look beautiful and feel confident, but want to know the products they use care about the environment.
TanOrganic Products combine the highest quality natural tanning and skin care ingredients that are perfectly formulated to give you a natural looking, streak-free tan. Our Aloe Vera rich products also help to reduce the appearance of fine lines and wrinkles as they actively nourish the skin, ensuring a perfect fade, unlike traditional water based tans.

I am very much looking forward to ordering my customized book from Writing for Tiny. It's such a great idea to teach children about pretty much anything!
Writing for Tiny makes highly personalized children's books, we include everyone. These books are about changes, worries, milestones and positive messages. Our job is to help you find the words. We are a new, innovative children's book publisher . We make personalized children's books with a difference. Our books are made in Ireland from start to finish with great care and detail. Everyone can be designed and added into your story.