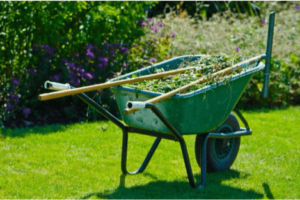 If you thought spring cleaning your home was grueling, you probably shouldn't look outside. After a long winter of weird weather, your yard is bound to be a major mess, with patchy grass, dead plants, and swamps of mud and debris. Yet, you and your kids will soon come to rely on the yard during the beautiful warm-weather months, which means it is high time you start transforming this dreary wilderness into a welcoming garden.
Yard work and landscaping doesn't come naturally to most moms, but performing your own backyard makeover doesn't take skill so much as time, energy, and ingenuity. You can follow these simple steps to find outdoor success before spring sets in.
Gather and Sort
During the course of the cold, wet season, it is easy to let junk accumulate in your backyard. However, before you can start a true outdoor makeover, you need to clean up everything ― especially the stuff you no longer need or want. This includes everything, from dead plants to grimy furniture, from rotten toys to the broken-down family boat. Items that are still in good working condition can go to charity; there are a surprising number of local and national organizations that will accept household goods in nearly any condition. Everything else can go straight into the garbage bin. In the end, you should have three piles: stuff you will keep, stuff you will donate, and stuff you will throw away.
Store Sensibly
Once you have rid yourself of the latter two categories, you must direct your thoughts to organizing the items that will remain in your backyard. Many families see the outdoors as a wild, untamed space, but if you want your backyard to be worthy of entertaining in a few months, you should seriously consider some form of outdoor storage. Deck boxes and weatherproof cabinets are excellent for small stuff like toys and minor gardening tools, but you might need a small shed to hold larger yard equipment, like shovels, rakes, and lawn mowers. Fortunately, sheds are also useful for stashing seasonal stuff you use inside, like holiday decorations or winter clothing, so the space won't go to waste.
Pick Your Plants
More likely than not, all of your backyard plants won't survive the harsh winter weather, which means you should start to consider what greenery you should use to fill in the holes. Not every plant is appropriate for every yard ― or every gardener, for that matter. You should research carefully, looking only for plants that suit your regional climate, your space, and your style. For example, a lawn is perfect for rambunctious kids, but if half of your yard is covered by the deck and the other half is sunk into the pool, you don't have space for green grass. Instead, you might tastefully decorate with annual flowers or easy-to-manage perennials indigenous to your area.
Of course, plants often do more than just look good. If you have the time and energy, you might attempt to tend a vegetable or herb garden, which can supplement your family dinners ― and give your kids a fascinating reason to explore the outdoors. You can also use large shrubs to create boundaries in your yard, allowing privacy in some areas and openness in others. You can be creative with your use of greenery to create the perfect space for your family.

Design, Design, Design
Unless you live in the woods, your backyard isn't just a jumble of plant life; it is a somewhat structured space where you can enjoy a more civilized version of the outdoors. As such, it is your prerogative to adapt your backyard to your design tastes. In addition to specially chosen plants, you should add ambiance with special lighting, cozy furniture, and attractive art. After all, your backyard is simply an extension of your home, and your style should carry through and through.
Remember Safety
Still, before you get too caught up in the redesign of your backyard, you should think about the needs of your kids. While experts agree that playing outside is especially beneficial to developing minds and bodies, you should remember that the outdoors can be dangerous, especially for wild and crazy young ones. While you makeover your yard for spring, you should avoid including pointy or rough areas, like gravel, where kids can get hurt. You must inspect all fences and gates to ensure they are secure, especially around bodies of water like pools. Finally, no sharp or heavy garden tools should ever be within children's reach. Then, when your backyard makeover is done, you can sit back, relax, and let the kids play without worry.