Perfect for a hot day, CPK's newest Next Chapter cocktails and sodas are always a thirst quenching bang for any get-together. These two party favorites are delicious, refreshing, hand-crafted and super easy to make at home. You and your readers can learn how to create these party-friendly beverages and more amazing seasonal recipes in CPK's latest cookbook (which includes food & beverage recipes), "Taste of the Season" (available for purchase in all CPK restaurants).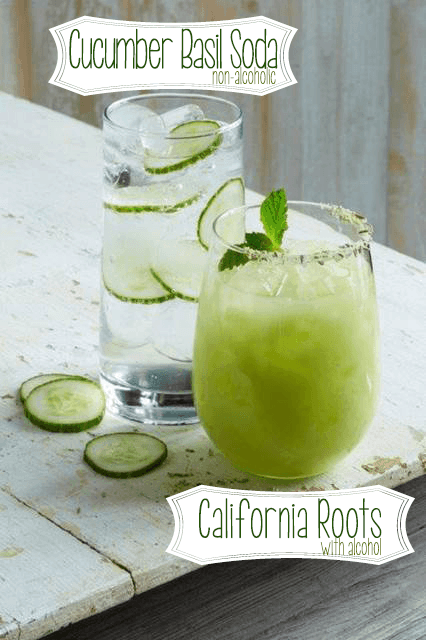 California Roots is a cocktail made with fresh avocado and mint, vodka, fresh Agave Sour, a fennel salt rim AND their famous Cucumber-Basil Soda is filled with thinly-sliced cucumbers, fresh basil leaves and sweet homemade syrup.
California Roots:
Makes: 1 drink
Ingredients:
Lime wedge
Fennel salt
1 ½ ounces vodka
1 ounce fresh agave sour
½ ounce agave nectar
¼ of a ripe avocado, mashed ice
Mint sprig
Procedure
In an electric spice grinder (or clean coffee bean grinder) combine 1 tablespoon kosher salt and 1 tablespoon fennel seeds. Blend until fennel seeds are coarsely ground, about 5 seconds. Store at room temperature in an airtight container.
Run the lime wedge around half of the rim of a 6- or 8-ounce old fashioned glass. Spread some fennel salt on a small plate or shallow dish. Dip moistened half of rim in salt. Fill glass with ice. Fill cocktail shaker with ice, add vodka, fresh agave sour, agave nectar and avocado. Cover and shake vigorously, until avocado is completely incorporated with mixture. Strain into prepared glass. Garnish with mint sprig and serve immediately. ENJOY!
Cucumber Basil soda:
Makes: 12 servings
Ingredients
1 cup granulated sugar
1 cup water
1 medium cucumber, thinly sliced
12 large basil leaves
9 cups of soda water, chilled ice
cucumber slices and fresh basil leaves, for garnish
Procedure
In a medium saucepan combine sugar and water over medium heat. Cook, stirring occasionally, until sugar is dissolved and mixture just comes to a boil, about 5 minutes.
In a small bowl muddle the cucumber and basil leaves with the back of a wooden spoon. Add to the hot syrup. Cover and let steep for 30 minutes. Strain the syrup, pressing the solids through a fine-mesh strainer to release the flavors. Discard solids.
For each serving, combine 3 tablespoons of the syrup with ¾ cup soda water in an ice-filled glass. Stir gently to combine. Garnish with cucumber slices and a basil leaf.
Note: Cucumber-basil syrup can be stored in a tightly sealed container in the refrigerator for up to 3 days.