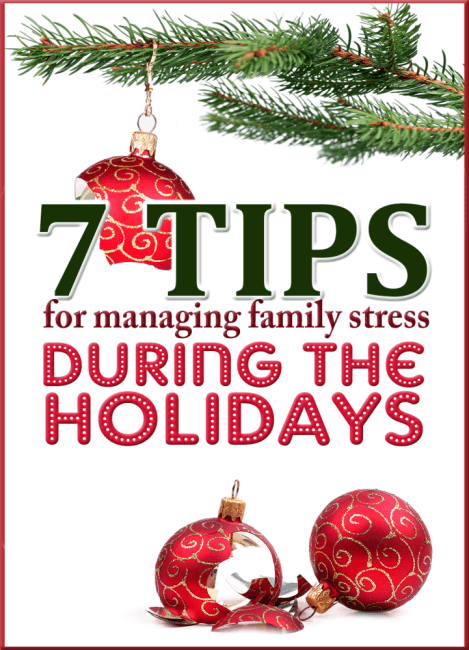 I know how stressful family visits during the holidays can be, and the pressure of making everyone in your immediate and extended family happy is a daunting task. Make sure you can enjoy your holiday time to the fullest and create wonderful memories for you and your children.
1. Schedule Your Visits for Different Days
If you have multiple families to see during the holidays, make sure you spread the festivities out so you don't spend your day rushing around town instead of enjoying your time. Letting your commitments build up on a single day will guarantee you don't enjoy your holidays. Spread yourself out; one day at your spouse's, one day at your family's, and one day with just your immediate family. This will allow you to create your own traditions and have special time with your kids.
2. Accept Help
If someone offers to help you with the dishes or plating some of your entrees—even if it's a family member you're not raring to spend time with—accept it. Taking the load off during this stressful time is sure to make things a bit easier, and it may help you see a family member you have a hard time with in a new light. Their asking to help you may be an ill-disguised attempt at a peace offering, so make sure you take the extended olive branch.
3. Plan a Volunteering Adventure
If spending time cooped up in the house with your family members sounds like the worst way to spend the holidays, do some good this winter. Bundle up and head out to a local soup kitchen to spend time spreading cheer with those who need a little extra help this year. Who can say no to doing some charity on the holidays? Spending time with those who are less fortunate may also enable you and your family to get a bit more perspective and focus on the important elements of the season: love and family.
4. Let It Go
I know it's easier said than done, but do your best this holiday season to simply let things roll off your back. If you have a meddling in-law that seems to nitpick everything you do, or an uncle whose political views make you want to pull your hair out, just breathe in for five seconds and let it out. Don't respond, and don't let negative statements get to you. Most of the time, disparaging comments have nothing to do with you personally; it's often insecurities coming through. Understanding this can make it a lot easier to ignore.
5. Stress Relievers
Make sure you have a way to partake in your favorite stress relievers. If a run will help you clear your head, lace up your tennis shoes and head out for a 30-minute jog. If you have family staying with you, they can definitely entertain themselves for a half hour, especially if you hop up and get your run done before breakfast. If you're a smoker, grab an e-cig from www.njoy.com that you can enjoy in the comfort of your bedroom without braving cold temperatures and judging eyes. Spend 10 minutes each day meditating in your room and rebalance before heading back into a house full of visiting family members. Or do something crafty like print out your best photos and have fun decorating with them.
6. Feel Like You Can Say No
Don't feel like you can't say no. If you can't house all 15 family members in your three-bedroom home, let them know. You can suggest nearby hotels or ask to relocate the festivities to someone else's home this year. If you're not looking to host an entire family dinner, offer to bring a delicious cocktail to the house of another family member and feel like you're still contributing. Note: Don't overdo it on the alcohol. Family drama and liquor do not mix well.
7. Stick to Healthy Habits
While the holidays are filled with delicious treats and scrumptious feasts, don't indulge too much. Stick to healthy eating habits and make sure you load up on energy-boosting fruits and veggies. We've all gained the holiday pounds, but you'll feel a lot better if you make a concentrated effort this year to maintain a beneficial diet—post-holiday you will be so grateful.
The holidays should be a time of enjoyment and a reflection on the blessings of your year, not a time to stress. Make this season better than ever by following these stress-reducing tips and learn how best to cope with family tension during the holidays.